You're invited to join Young Pioneers of Birmingham to experience a Birmingham treat after Halloween! Back Forty Beer Co. Founder & CEO Jason Wilson and Back Forty Birmingham Owner & CEO Doug Brown will share their stories and lead a tour of the new Birmingham brewery on Thursday, November 1 at 5:30 p.m.
The free event is open to the first 50 who register through Eventbrite. Tickets are first come, first served!
Back Forty Founder and CEO Jason Wilson will discuss the impressive history of Back Forty Beer Company, its Gadsden roots, and his vision for Alabama. Jason started brewing way back in 2008, right when Alabama decided to free the hops and make commercial brewing easier.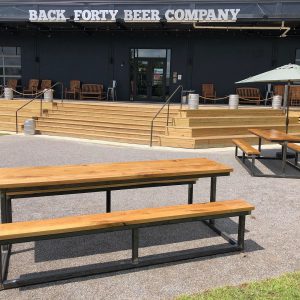 Back Forty B'ham Owner and CEO Doug Brown will show us the newly renovated Sloss Docks facility, discuss how he broke into brewing after a long career in consulting, and discuss his dreams for Birmingham.
The beer is amazing. The food is delicious. The conversation is fascinating. And of course, the Young Pioneers will be there with you!
Grab your free ticket now before they run out: https://www.eventbrite.com/e/tour-the-back-forty-on-all-saints-day-with-young-pioneers-tickets-50705474439
REV Birmingham creates vibrant commercial districts by filling vacant spaces and growing sustainable businesses. In support of that mission, Young Pioneers of Birmingham hosts events that allows young professionals an opportunity to celebrate Birmingham triumphs and meet with the influencers, risk-takers, and businesses owners who have been instrumental in our city's successes.
Register before tickets sell out! Claim your free ticket at https://www.eventbrite.com/e/tour-the-back-forty-on-all-saints-day-with-young-pioneers-tickets-50705474439
Related News
Filed Under: Downtown Birmingham, Family Friendly, Front Page, Get Involved, Small Business, Yaysayers

With summer just around the corner, kids will soon be out of school and insisting on getting out of the house. Luckily, Downtown Birmingham has an abundance of family-friendly activities that will keep your kiddos entertained and create lifelong memories.

We know taking kids out for extended periods can be challenging; that's why we have curated a list of experiences designed to be enjoyable within a manageable 3 – 4 hour timeframe. This way, both children and parents can make the most of their time without feeling overwhelmed or exhausted. These four experiences include lunch options and are tailored to different ages and personalities.

Filed Under: Downtown Birmingham, Front Page, Get Involved, REV Team, Yaysayers

Meet Michael Symes, the new City Center District Manager for the Business Improvement District (BID). As a long-time resident of Birmingham, Michael brings a wealth of knowledge and experience to the role, having been an active member of the community since graduating from the University of Alabama. In this article, we will explore Michael's journey and learn about his "accidental roots" in the city, as well as his passion for working with the Business Improvement District (BID) of the Magic City. Follow along  as we get to know the person behind the job title and uncover the unique perspective he brings to the role.

Filed Under: Filling Vacant Spaces, Front Page, Small Business, Woodlawn, Yaysayers

Lights, Camera, Action! The rebirth of the Woodlawn Theater is happening this weekend in the heart of Woodlawn. The theater is opening its doors to the public with two extraordinary opening events that are FREE to the public. The 1400 square foot venue has a wide range of amenities and even has a full-service bar. Because of the Mason Music Foundation, this venue is filling a much needed resource for local musicians to perform. Keep reading to discover how the theater came back to life and its impact on the community.