You're invited to join Young Pioneers of Birmingham to experience a Birmingham treat after Halloween! Back Forty Beer Co. Founder & CEO Jason Wilson and Back Forty Birmingham Owner & CEO Doug Brown will share their stories and lead a tour of the new Birmingham brewery on Thursday, November 1 at 5:30 p.m.
The free event is open to the first 50 who register through Eventbrite. Tickets are first come, first served!
Back Forty Founder and CEO Jason Wilson will discuss the impressive history of Back Forty Beer Company, its Gadsden roots, and his vision for Alabama. Jason started brewing way back in 2008, right when Alabama decided to free the hops and make commercial brewing easier.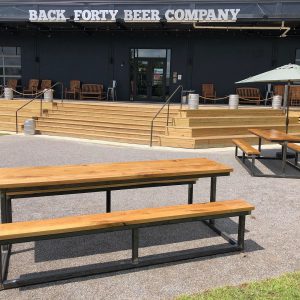 Back Forty B'ham Owner and CEO Doug Brown will show us the newly renovated Sloss Docks facility, discuss how he broke into brewing after a long career in consulting, and discuss his dreams for Birmingham.
The beer is amazing. The food is delicious. The conversation is fascinating. And of course, the Young Pioneers will be there with you!
Grab your free ticket now before they run out: https://www.eventbrite.com/e/tour-the-back-forty-on-all-saints-day-with-young-pioneers-tickets-50705474439
REV Birmingham creates vibrant commercial districts by filling vacant spaces and growing sustainable businesses. In support of that mission, Young Pioneers of Birmingham hosts events that allows young professionals an opportunity to celebrate Birmingham triumphs and meet with the influencers, risk-takers, and businesses owners who have been instrumental in our city's successes.
Register before tickets sell out! Claim your free ticket at https://www.eventbrite.com/e/tour-the-back-forty-on-all-saints-day-with-young-pioneers-tickets-50705474439
Related News
Filed Under: Downtown Birmingham, Filling Vacant Spaces, Front Page

Birmingham's city center is fortunate to have many of its iconic historic buildings restored and in daily use now. But where would Birmingham be without the buildings in between the landmarks? 

Filed Under: Downtown Birmingham, Front Page

Coming from a place where people did not necessarily receive the help they needed, Jessica is striving to be that person as CAP's Street Outreach Advocate in Birmingham's City Center.