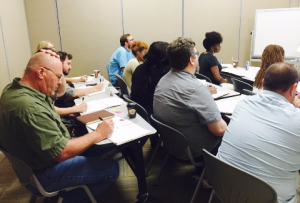 Did you make New Year resolutions to start a new business or take your current one to the next level? Here's your chance to keep that commitment. Friday, February 17 from 8:30AM-11:30AM, REV's Business Growth team will kickoff our introductory business workshop — BIZ 1.0: Startup Essentials — for the new year. This interactive class is designed to help you flesh out the ideas and concepts currently in your head. And by the end of the session, you'll leave with an understanding of what steps to take to move forward. Using 11 core business concepts, we'll walk you through the business creation and idea validation process. Register HERE, and be sure to spread the word on social media!
Related News
Filed Under: Small Business, Woodlawn, Woodlawn Street Market

We caught up with Element and Vibe owner Aisha Taylor to ask a few questions about selling t-shirts with a purpose and her experience thus far with the virtual Woodlawn Street Market.

Filed Under: Front Page, Small Business

REV's Director of Business Recruitment and Growth Taylor Clark Jacobson is teaming up with Reginald Smith of Sabre Finance to talk to business owners—both large and small—about how they can keep things as new and fresh as these times require on Monday, July 13.

Filed Under: Front Page, Small Business

REV kicks things off Monday, July 13 at noon with the Innovating Your Business For Future Growth workshop hosted by Taylor Clark-Jacobson, Director of Business Recruitment and Growth.