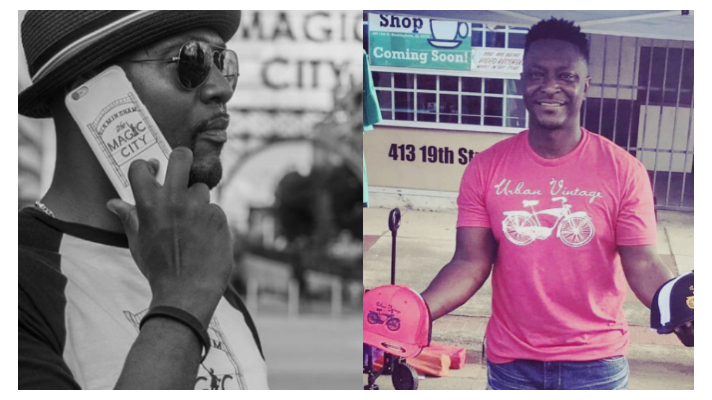 Percy Jones and Ty King have known each other forever—they're high school classmates, college mates and fraternity brothers.  
Now, the two are joining forces again for REV's Upswing— a three-month demonstration project designed to prove and improve downtown's market for retail. 
Starting this weekend, they'll be combining their individual brands— Jones' Magic City T-Shirts and King's Urban Vintage— in a converted shipping container on the Upswing lot until December.  
"I am looking forward to seeing what we can do together. I've done well on my own but I'm so excited to see what we can do when we put our minds, talent, and resources together," King said.  
This won't be the first time they've sold together. They occupied a similar retail location at Railroad Park for two seasons.  
Magic City T-Shirts will be selling their signature t-shirts, children's wear, coffee mugs and flasks. They will also be introducing a new pet line. All products will feature the iconic "Welcome to Birmingham" sign, a callback to the sign that graced the outside of the long-demolished Birmingham sign.  
Urban Vintage will be selling clothing options for men, women and children as well as accessories featuring its own reference to history. 
"The concept of Urban Vintage was to take a look at the things of yesterday that helped shape city living whether it was the music we listened to, the cars we drove, the people and quotes they made, or the simple bikes we rode such as the 1956 Schwinn Phantom which was known as the Urban bike of its time," said King.  
Jones says Upswing gives the two a chance to capitalize off the traffic in the area and introduce themselves to another market.  
"Being around other retailers kind of helps to attract people and helps drive your market," he said. "The location of Upswing, across from Pizitz, is a great looking location, but it also is right there with my target market."  
Both also name working with REV as an additional benefit.  
"I see and share the vision of this project. Having a viable shopping district in the heart of any downtown elevates the downtown experience for people which in turn fosters growth," said King.  
Jones said Upswing is simply something cool for downtown Birmingham.  
"The look of it, the feel of it, the people over there, it all kind of fits the character we're trying to build around this brand," he said.  
Upswing is a sign of progress in a rapidly changing Birmingham, according to them.  
"I'm a proud son of this city and to see the movement and progress that's being made inspires and pushes me to grow and progress with it," King said. "I'm proud to see what my city is striving to become." 
Jones agrees and the project is a good way to associate positive feelings with downtown retail as well as all of the participating local shops.  
"Bringing the retail is one thing, but giving it something the community and a person can latch on to by doing events…the way a person feels about it is how they're going to remember it," Jones said. "The next time they see one of our brands, the feeling that they had at the event is going to be attached to their thoughts about the brands."  
Related News
Filed Under: Big Pitch, Front Page, Small Business, Uncategorized

If you've been following REV for a while, you probably remember The Big Pitch Competitions we used to hold back in the day. The Big Pitch presented by PNC was essentially our own little version of Shark Tank. And a lot of your favorite local businesses that participated in this competition now have active retail storefronts that you can go check out. Let's start with some of our finalists that are based in the City of Birmingham and see what they've been up to!

Filed Under: Developer, Downtown Birmingham, Filling Vacant Spaces, Front Page, Potential-Proving, Uncategorized

Have you been to Downtown Birmingham's newest development located on 25th Street? If not, you need to head down there ASAP and check it out! This new single story development is a product of a collaboration between David Baker Architects (DBA) and Locke General Contractors, led by DBA's very own Amanda Loper. It is intended to be a "collaborative commercial space in a catalyst development area of Birmingham." Both DBA and Locke General Contractors will be tenants of the space, along with June Coffee Roasters, Zephyr Barber, and Last Call Baking Cooperative!

Filed Under: Downtown Birmingham, Events, Front Page, Uncategorized

One of Birmingham's many hidden treasures is the music scene downtown. The sheer volume of concert venues we have in downtown Birmingham is something most people aren't even aware of – but it really is remarkable! There is truly something for everyone, whether you're into the smaller, more intimate venues or the large-scale venues for those big name artists. Keep reading to check out some of the cool venues downtown Birmingham has to offer.