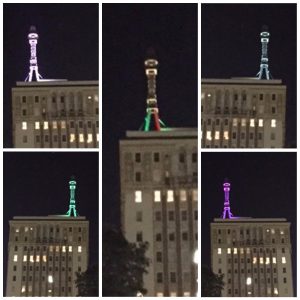 Congratulations and thank you to Merrill Stewart, his team at Stewart Perry Construction and the entire TJ Tower redevelopment team for continuing to go the extra mile to restore the iconic dirigible mooring mast on the roof of this elegant former luxury hotel-turned-apartment tower. They've continued making additions… the structure now lights up in changing colors! Considered the future of travel when the Thomas Jefferson Hotel opened in 1929, dirigibles never gained widespread popularity, but the architecture of this structure has captured the hearts and minds of Birmingham ever since.
Next time you're close to downtown after dark, look to the sky above the TJ Tower and enjoy the light show. Thank you, Merrill!
Related News
Filed Under: Downtown Birmingham, Front Page

CAP is coordinating directly with leadership of Birmingham Police North Precinct and will continue to operate a full schedule as long as staffing and ambassador safety allows.

Filed Under: Downtown Birmingham

To protect one of Birmingham's most vulnerable populations, CAP and One Roof are coordinating education and sanitation services for people who are unsheltered.