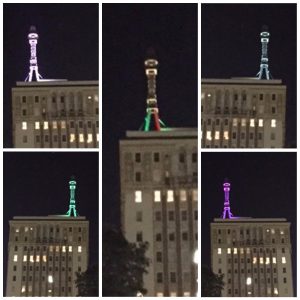 Congratulations and thank you to Merrill Stewart, his team at Stewart Perry Construction and the entire TJ Tower redevelopment team for continuing to go the extra mile to restore the iconic dirigible mooring mast on the roof of this elegant former luxury hotel-turned-apartment tower. They've continued making additions… the structure now lights up in changing colors! Considered the future of travel when the Thomas Jefferson Hotel opened in 1929, dirigibles never gained widespread popularity, but the architecture of this structure has captured the hearts and minds of Birmingham ever since.
Next time you're close to downtown after dark, look to the sky above the TJ Tower and enjoy the light show. Thank you, Merrill!
Related News
Filed Under: Downtown Birmingham, Filling Vacant Spaces, Front Page

Birmingham's city center is fortunate to have many of its iconic historic buildings restored and in daily use now. But where would Birmingham be without the buildings in between the landmarks? 

Filed Under: Downtown Birmingham, Front Page

Coming from a place where people did not necessarily receive the help they needed, Jessica is striving to be that person as CAP's Street Outreach Advocate in Birmingham's City Center. 

Filed Under: Downtown Birmingham, Front Page

Downtown Birmingham residents, workers and visitors will notice something new about CAP in early 2019. As part of its strategy to be more visible, approachable and helpful in the City Center, CAP is rolling out new helpful gadgets in downtown.