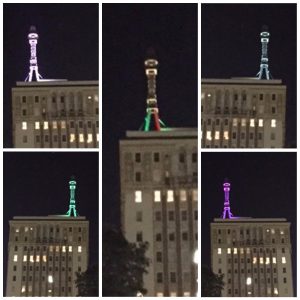 Congratulations and thank you to Merrill Stewart, his team at Stewart Perry Construction and the entire TJ Tower redevelopment team for continuing to go the extra mile to restore the iconic dirigible mooring mast on the roof of this elegant former luxury hotel-turned-apartment tower. They've continued making additions… the structure now lights up in changing colors! Considered the future of travel when the Thomas Jefferson Hotel opened in 1929, dirigibles never gained widespread popularity, but the architecture of this structure has captured the hearts and minds of Birmingham ever since.
Next time you're close to downtown after dark, look to the sky above the TJ Tower and enjoy the light show. Thank you, Merrill!
Related News
Filed Under: Downtown Birmingham, Events, Front Page, Yaysayers

Brian Allen, a talented cornerback, has made the remarkable transition from a small town in Texas to the vibrant city of Birmingham. Choosing Birmingham for his football career for two consecutive seasons, Brian's unwavering dedication and exceptional skills have made him a standout figure in the world of football. To dive deeper into Brian's journey and discover his genuine appreciation for the city, watch this video with the link below!

Filed Under: Developer, Downtown Birmingham, Filling Vacant Spaces, Front Page, Potential-Proving

Many historic buildings, including the John Hand and The Frank, have been successfully redeveloped while preserving their original charm. May is Historic Preservation Month, which aims to raise awareness about the importance of preserving historic buildings. Currently, numerous buildings possess a solid foundation but have been left vacant and require immediate attention for preservation. Find out which treasures are in need of your help today!

Filed Under: Developer, Downtown Birmingham, Front Page, Transportation, Yaysayers

Parking lots are dead spaces. Nothing we can construct sucks the life and vibrancy out of a place more than a parking lot. Yet we cannot seem to live without parking. Views on parking dominate almost every issue related to downtown growth. From not enough parking to being too expensive, learn from David Fleming why parking is essential to Birmingham's growth.