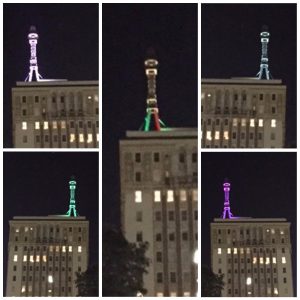 Congratulations and thank you to Merrill Stewart, his team at Stewart Perry Construction and the entire TJ Tower redevelopment team for continuing to go the extra mile to restore the iconic dirigible mooring mast on the roof of this elegant former luxury hotel-turned-apartment tower. They've continued making additions… the structure now lights up in changing colors! Considered the future of travel when the Thomas Jefferson Hotel opened in 1929, dirigibles never gained widespread popularity, but the architecture of this structure has captured the hearts and minds of Birmingham ever since.
Next time you're close to downtown after dark, look to the sky above the TJ Tower and enjoy the light show. Thank you, Merrill!
Related News
Filed Under: Downtown Birmingham, Front Page

Sept. 15, 56 years to the day that a bomb killed four little girls— Addie Mae Collins, Denise McNair, Cynthia Wesley and Carole Robertson— a new interactive museum will open honoring the girls and the chain of events their murders set off in the Civil Rights Movement.