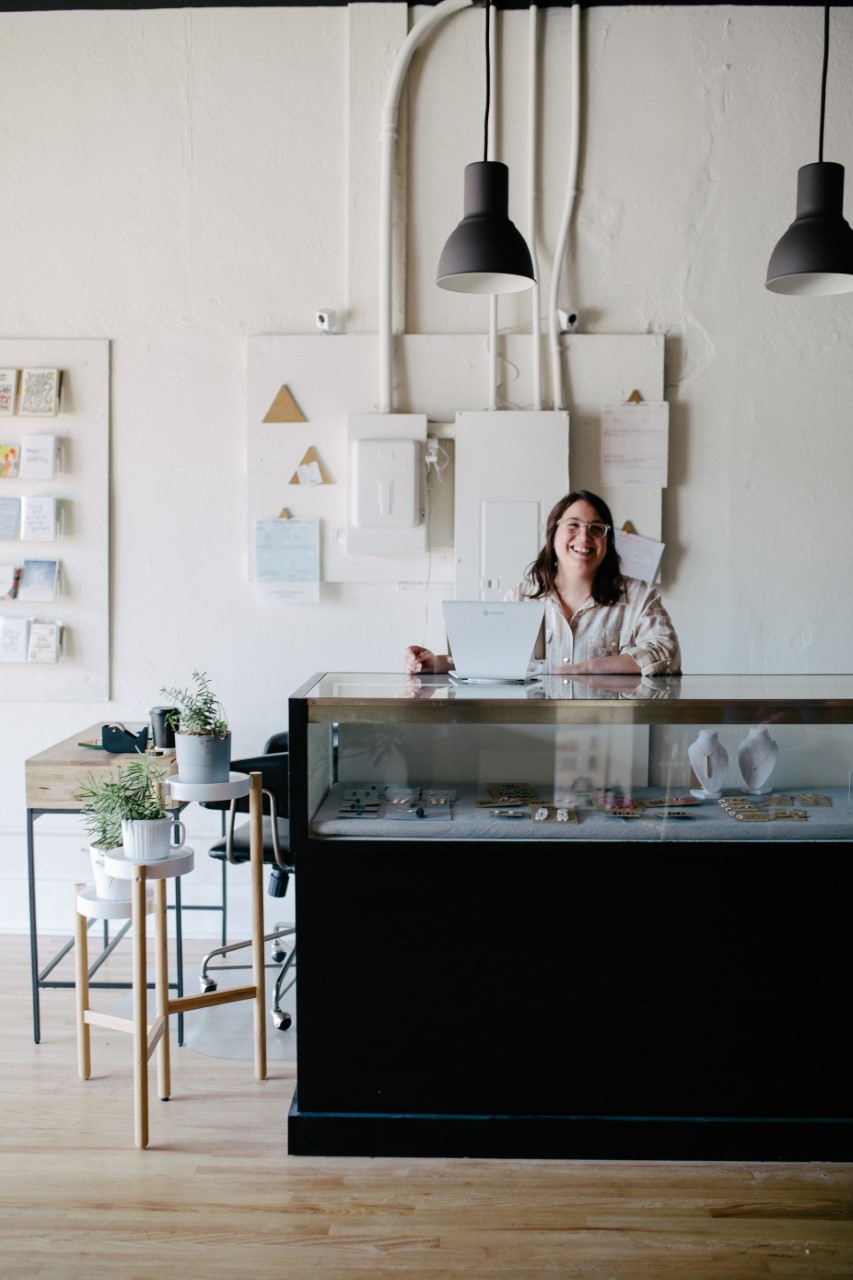 Artists, entrepreneurs, and yaysayers call Woodlawn home – and now there's one more thing to celebrate!  
"The promise of momentum is uplifting," says Karen Gathany, treasure hunter extraordinaire and owner of downtown Woodlawn's Trove Design Shop, which opened in June 2018. 
Although Gathany strives to make Trove a place that people want to "show off to out-of-towners," she's intentional about building a creative space to cultivate makers within the Woodlawn community. She looks for opportunities to support creative entrepreneurs, mentoring entrepreneurial women and featuring artisans on Trove's social media.  
As the number of special events in Woodlawn continues to grow, Trove, along with many other businesses, are adjusting their hours or offering special activities to be a part what's happening in the community. Woodlawn Street Market organizer Bekah Fox says this intentional support from businesses has not only led to more participants at events like the market, the combination of businesses and event vendors in Woodlawn have multiplied the community's energy since Woodlawn Street Market's beginnings in 2014. 
When Gathany began her search for a brick-and-mortar, she wasn't quite sure where she'd end up. But after scouring rental options across Birmingham, she fell in love with a charming historic storefront, complete with hardwood floors and an exposed brick wall, on 1st Avenue North in Woodlawn.  
To accentuate the building's industrial features, she hung pendants from her shop's high ceilings, hired artists to hand paint her sign, and sought out local designers to stock her shelves. After months of collecting market research and perfecting her shop's aesthetic, she was ready to open her doors. 
Now, new ceramic artwork complements wooden antiques in the Instagram-worthy space. Paintings by Birmingham artists accentuate industrial architecture. Handmade candles, quirky birthday cards, and vintage glassware line shelves.  
Gathany hosts art socials and workshops to engage aspiring artists and art enthusiasts in the surrounding community. From drawing nights to plant photography classes, Karen thoughtfully programs her space, as she looks to meet more artists whose creations might be featured in her store in the future.  
Gathany says she has been intentional about engaging in her new community as an active participant of the Woodlawn Business Association (WBA). Fox, unofficial secretary of the WBA, says it's important for both new and legacy businesses to coordinate within the community, and it's been encouraging to see Gathany's eager participation.  
"We gather together almost quarterly to discuss happenings within the individual businesses and the community – upcoming events, concerns, opportunities, and ways we can support," Fox said.  
If you're interested in checking out Trove and other Woodlawn businesses, both old and new, take a walk around this vibrant district. Soon, you can expect to see gifts for holidays and birthday celebrations from Trove with extended shopping hours.  
Trove's hours are 11- 6 Wednesday – Friday and 9 – 3 Saturday – Sunday. 
Follow Trove on Instagram and Facebook @trovebham!
Related News
Filed Under: Small Business, Woodlawn, Woodlawn Street Market

We caught up with Element and Vibe owner Aisha Taylor to ask a few questions about selling t-shirts with a purpose and her experience thus far with the virtual Woodlawn Street Market.

Filed Under: Front Page, Small Business

REV's Director of Business Recruitment and Growth Taylor Clark Jacobson is teaming up with Reginald Smith of Sabre Finance to talk to business owners—both large and small—about how they can keep things as new and fresh as these times require on Monday, July 13.

Filed Under: Front Page, Small Business

REV kicks things off Monday, July 13 at noon with the Innovating Your Business For Future Growth workshop hosted by Taylor Clark-Jacobson, Director of Business Recruitment and Growth.