Plywood surrounding businesses and buildings is the opposite of what most people picture when they think of a thriving downtown, but, somehow, Birmingham managed to take an uncertain moment and make it magical.   
Several businesses were damaged during civil unrest Sunday, May 31, reflecting the worldwide reaction to the death of George Floyd, a black man who died from police brutality and others like Breonna Taylor and Ahmaud Arbery and others who were killed either at the hands of police or by racists.   
In the aftermath in Birmingham, residents are lending a hand to clean up and artists are lending their spray paint cans and paintbrushes to make a district dormant from damage and COVID-19 vibrant again.   
"Birmingham has proven over and over again that this is a resilient city where people come together to create meaningful change," said David Fleming, REV Birmingham President and CEO. "The many murals spreading across the plywood covering broken windows downtown is further colorful and beautiful proof."
Gusty Gulas, a realtor, is one of those people. He provided plywood to damaged storefronts and formed a group of volunteers who wanted to sweep away debris.   
"I sat Sunday night in amazement of what was going on in our city," he said. "We were already coming off of dealing with the pandemic and still dealing with the pandemic. I have had conversations until 1:30 a.m. with some of my friends and I woke up Monday morning and it was kind of heavy on my heart. I knew I was being called to assist and help out in some way."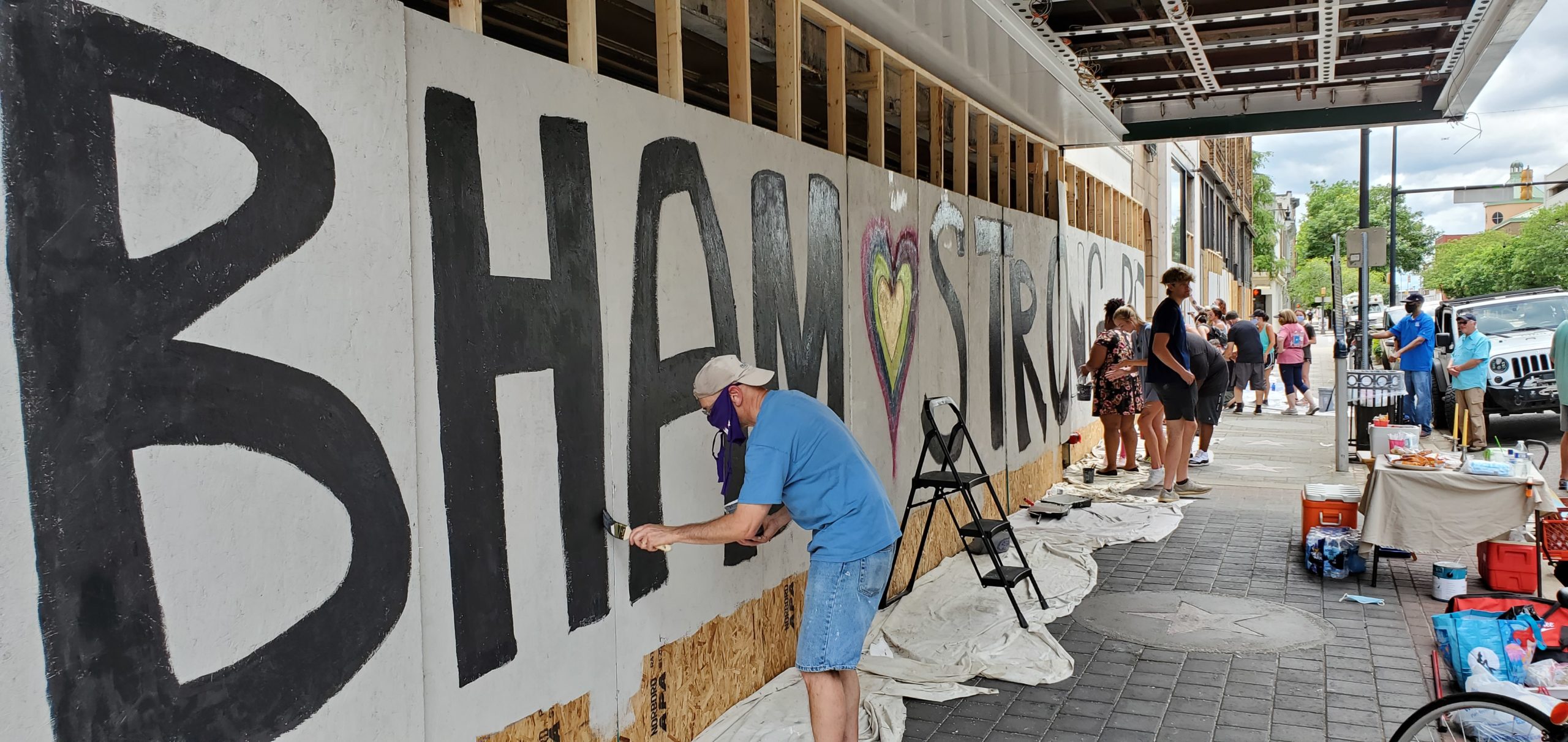 Gulas amassed more than 100 people to help pick up the pieces starting at California Fashion Mall. On the first day, he said the group helped seven or eight businesses.  
"Basically, it's just a group of volunteers willing to help with whatever's needed," he said. "We all have different talents. So, it's about seeing what people's talents are and pointing them in the right direction."  
He also found a glass company that will sell replacement windows at cost to the Alabama and Lyric Theatres. In the meantime, he organized a paint party last Sunday where volunteers brushed on a message of "Bham Strong: Be safe, Be well" on the plywood.   
"I never thought of painting plywood, but I saw other people doing it," he said. "It's cool and amazing what people are doing to provide a positive message."  
And, positive messages are popping up all along 3rd Avenue and in several other pockets downtown. Across the street, the famous civil rights-era slogan "Birmingham, the world is watching" is sprawled across the side of the Lyric.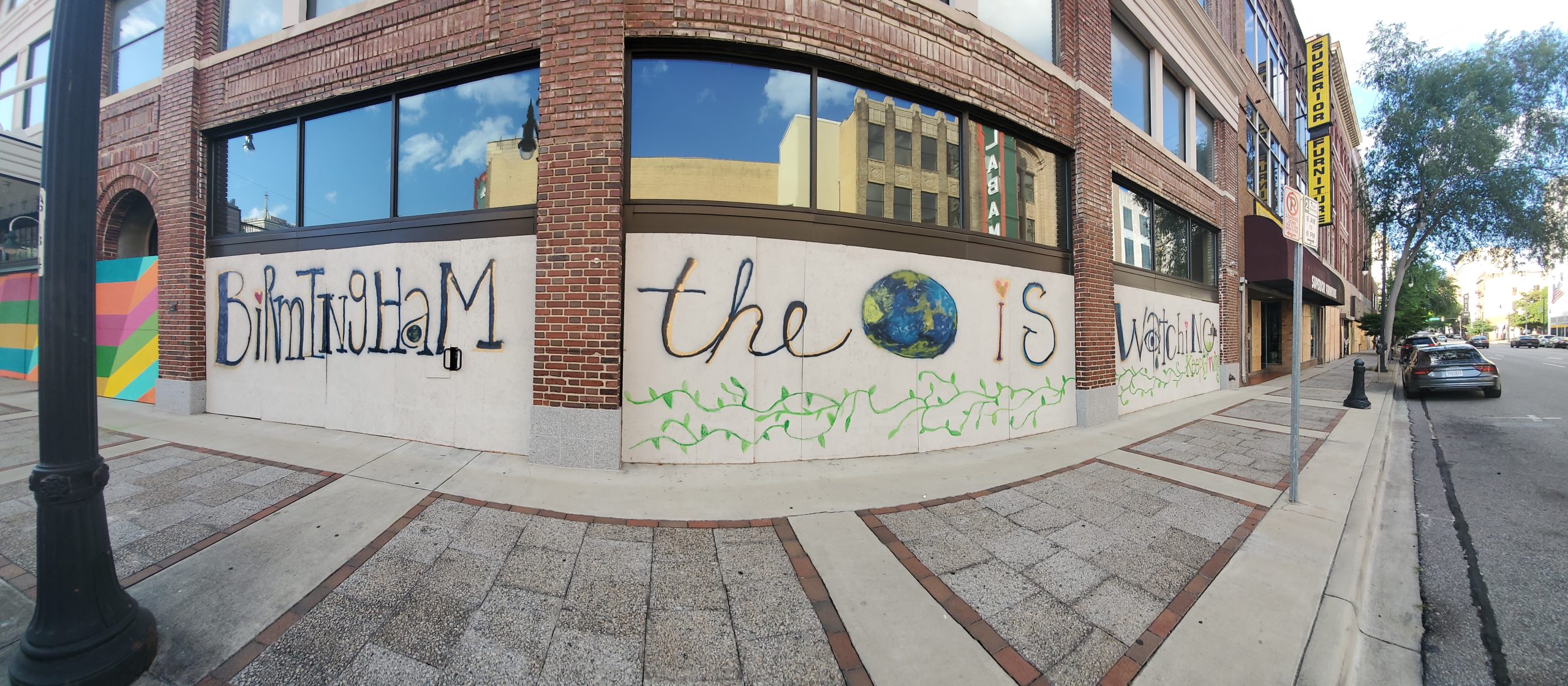 A few businesses over in front of Wheelhouse Salon is a black and white portrait of Floyd coupled with the phrase 'Bham Strong' done by Mammoth Mural's Shane.   
Andrew Tynnes, Shane's partner, said Mammoth was contacted by shop owners to decorate their plywood.
"It's been overwhelmingly positive," Wheelhouse owner Johnny Grimes said of the reaction to the mural. "That was one of the ideas be doing this. We wanted to change the narrative but also to create a conversational piece. Thousands of people have come by to see it and take pictures."
The choice to do it in black and white was intentional.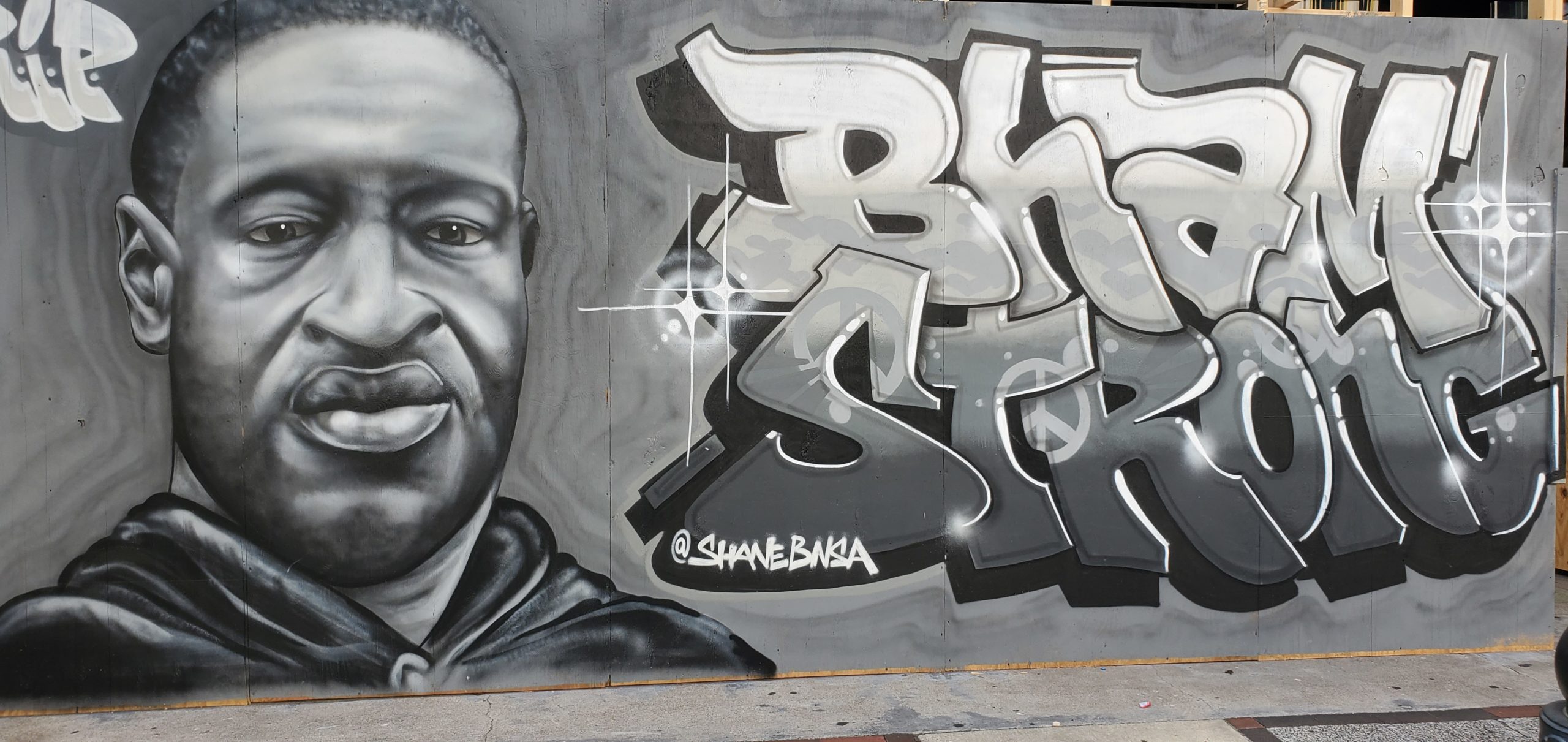 "It's a reflection of the intense polarization of it," he said. "Also, even within black and white, there's a variety of color. There's a lot of shades of gray in that. His death has been a symbol and a call to change in America for a lot of different things."  
Another business owner whose space was vandalized is Dr. Juanakee Adams of Adams Eye Care on 5th Avenue North. The next day, dozens of volunteers, including comedian and Birmingham native Roy Wood Jr. gathered to help clean the business that's been a downtown staple for 40 years and put up plywood.   
Apply, donate, or learn more about the Birmingham Business Relief Fund
The Birmingham Business Relief Fund is a community response to the needs of Birmingham's small businesses affected by unrest that occurred in downtown Birmingham the night of Sunday, May 31, 2020.
"I've just been so blessed by this positive response," she told AL.com.  
This week bendyknees, a women-led design company, came back to brighten up the wood with a fitting optical design.   
The murals, like the others on 3rd Avenue and in other pockets downtown have garnered a significant amount of attention in the last week, some of it not so positive. 
Not long after it went up, the Floyd mural was defaced. But, Tynnes said Mammoth took it in stride.   
Grimes dropped the charges against the man arrested for the crime.   
"We decided to forgive this person," Grimes said. "We thought it would help push the movement forward. We don't want the rioting, looting to be the central story that's told.  We want to promote a national conversation about race and racial reconciliation."
"It's a bummer that that's the way he chose to communicate," Tynnes said. "But it's also OK. Nobody got hurt. In terms of crime, it was the best possible scenario. Everything he did was fixable and he didn't really hurt anybody."   
Gulas and Tynnes both agree that the murals and the reason behind them are causing some long-overdue conversations about race in America and Birmingham specifically.   
"It's opened my eyes to a lot," Gulas said. "I was having a conversation earlier today about white privilege. I've never really had a conversation about that. I never really thought about white privilege. I never thought about what it's like to be in the shoes of a Black man."  
The murals have also opened up everyone's hearts and brought people together.   
"A lot of the people who've volunteered, I didn't know who the hell they were," he said. "What it's allowed me to do is build relationships. It was about turning a negative into a positive."  
Even though the murals are the result of anger and unrest, Tynnes says he hopes they keep the conversations alive.  
"There's a lot of people in the community who also feel the same way," Tynnes said. "You can see that in the Black Lives Matter mural in front of Modern Brand that's covered in handprints. You can see it at the Pizitz with the black hearts that are also covered in covered in handprints. I think nobody's thrilled about where things are right now. Nobody wants the state of things to continue. We got to play a small part in making sure that George Floyd is remembered."  
Related News
Filed Under: Front Page, Get Involved, Historic Preservation, Residential

President and CEO of REV Birmingham David Fleming writes about the importance of historic preservation and highlights the advocacy efforts that saved the French Quarter in New Orleans and the Forest Park neighborhood in Birmingham. The article concludes with a call to action, urging for new leaders and the implementation of various strategies to protect and celebrate Birmingham's historic buildings and places.

Filed Under: Filling Vacant Spaces, Front Page, Small Business, Woodlawn, Yaysayers

Lights, Camera, Action! The rebirth of the Woodlawn Theater is happening this weekend in the heart of Woodlawn. The theater is opening its doors to the public with two extraordinary opening events that are FREE to the public. The 1400 square foot venue has a wide range of amenities and even has a full-service bar. Because of the Mason Music Foundation, this venue is filling a much needed resource for local musicians to perform. Keep reading to discover how the theater came back to life and its impact on the community.

Filed Under: Downtown Birmingham, Events, Front Page, Yaysayers

Brian Allen, a talented cornerback, has made the remarkable transition from a small town in Texas to the vibrant city of Birmingham. Choosing Birmingham for his football career for two consecutive seasons, Brian's unwavering dedication and exceptional skills have made him a standout figure in the world of football. To dive deeper into Brian's journey and discover his genuine appreciation for the city, watch this video with the link below!