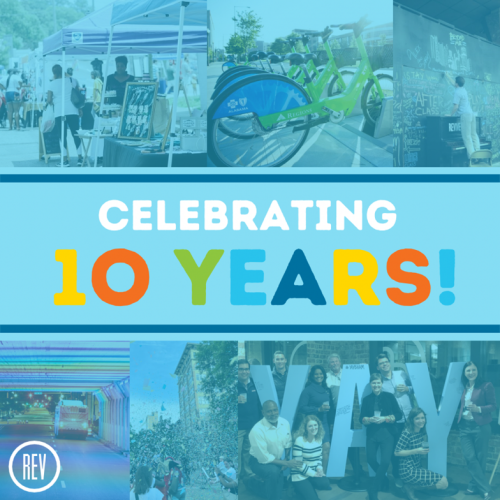 TODAY IS THE DAY! REV Birmingham is celebrating 10 years of creating vibrant commercial districts in the City of Birmingham. Today is all about celebrating the past decade of success and all that we have accomplished. It all started ten years ago when two organizations – Operation New Birmingham and Main Street Birmingham – merged to create the one and only REV Birmingham. We have covered so much ground since then, from historic building rehab consulting all the way to our refresh of 20th Street North – and we are looking forward to seeing what the future holds for us here at REV.
Of course, none of these accomplishments could have been achieved without the help of our board members, investors, and yaysayers like YOU! We are looking forward to continuing to create positive change in the Magic City over the next 10 years…and the next 10 & 10 & 10!
Help REV keep the momentum going!
We have loved every minute of these 10 years since the merger of Operation New Birmingham and Main Street Birmingham made us REV!
Our efforts over the past 10 years have helped to breathe new life into Birmingham, and we intend to do so much more over the next 10 years and beyond!
As a nonprofit, REV needs your help to keep making Birmingham a better version of itself. In honor of our 10th year, our friends at Stewart Perry have generously offered to match every anniversary gift you make up to $10,000. Click below to give now!
Related News
Filed Under: Front Page, Woodlawn

The Magic City Mural Festival returned to Woodlawn with five female muralists from across the country from November 5, 2022 to November 12, 2022. Led by Blank Space BHAM and REV Birmingham's Woodlawn community facilitator, Jason Avery, the festival brought new murals to the alleyway between 55th Street North and 55th Place North – affectionately called "The Way". Read more to see and learn all about the new beautiful murals!

Filed Under: Downtown Birmingham, Front Page, Get Involved, Yaysayers

With winter approaching, most plants on 20th are entering dormancy. These plants provide more than just a pretty landscape they also support native wildlife. The plants chosen for the Birmingham Green refresh were strategically placed to offer low-maintenance options and add a sense of place. Plants play a much larger role than just looking attractive.

Filed Under: Birmingham Food & Drink, Downtown Birmingham, Front Page, Get Involved, Yaysayers

Downtown Birmingham has more — ways to celebrate the holidays! The Magic City is the heart of the community and offers many fun, unique, and family-friendly activities for all to enjoy. From the Alabama Theatre's Holiday Film Series to The Nutcracker – make your plans to experience the Birmingham Holiday Magic downtown! We created an interactive calendar of all the holiday events happening in downtown Birmingham. Choosing the Magic City to celebrate Christmas time has never been easier.