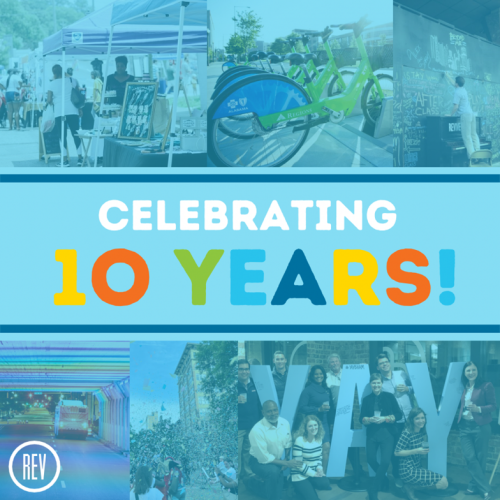 TODAY IS THE DAY! REV Birmingham is celebrating 10 years of creating vibrant commercial districts in the City of Birmingham. Today is all about celebrating the past decade of success and all that we have accomplished. It all started ten years ago when two organizations – Operation New Birmingham and Main Street Birmingham – merged to create the one and only REV Birmingham. We have covered so much ground since then, from historic building rehab consulting all the way to our refresh of 20th Street North – and we are looking forward to seeing what the future holds for us here at REV.
Of course, none of these accomplishments could have been achieved without the help of our board members, investors, and yaysayers like YOU! We are looking forward to continuing to create positive change in the Magic City over the next 10 years…and the next 10 & 10 & 10!
Help REV keep the momentum going!
We have loved every minute of these 10 years since the merger of Operation New Birmingham and Main Street Birmingham made us REV!
Our efforts over the past 10 years have helped to breathe new life into Birmingham, and we intend to do so much more over the next 10 years and beyond!
As a nonprofit, REV needs your help to keep making Birmingham a better version of itself. In honor of our 10th year, our friends at Stewart Perry have generously offered to match every anniversary gift you make up to $10,000. Click below to give now!
Related News
Filed Under: Front Page, Small Business, Woodlawn

There's a legend working in Woodlawn. Meet Dr. Henry Panion III, world-renowned producer, composer, arranger, conductor, and educator, with his record label and studio right off 55th place. Dr. Panion has traveled all around the globe performing and leading famous orchestras and even touring with Stevie Wonder. But somehow, Birmingham keeps calling him back home. Find out more about how Dr. Panion has made an impact in the Birmingham community.

Filed Under: Birmingham Food & Drink, Downtown Birmingham, Front Page, Small Business, Yaysayers

Birmingham is home to many unique and fun coffee destinations. With over 15 coffee shops in the Birmingham Metro area, we created a coffee trail to help you navigate the best spots in town for a delicious cup of joe. This extensive trail extends across Birmingham and can take several trips to complete it.