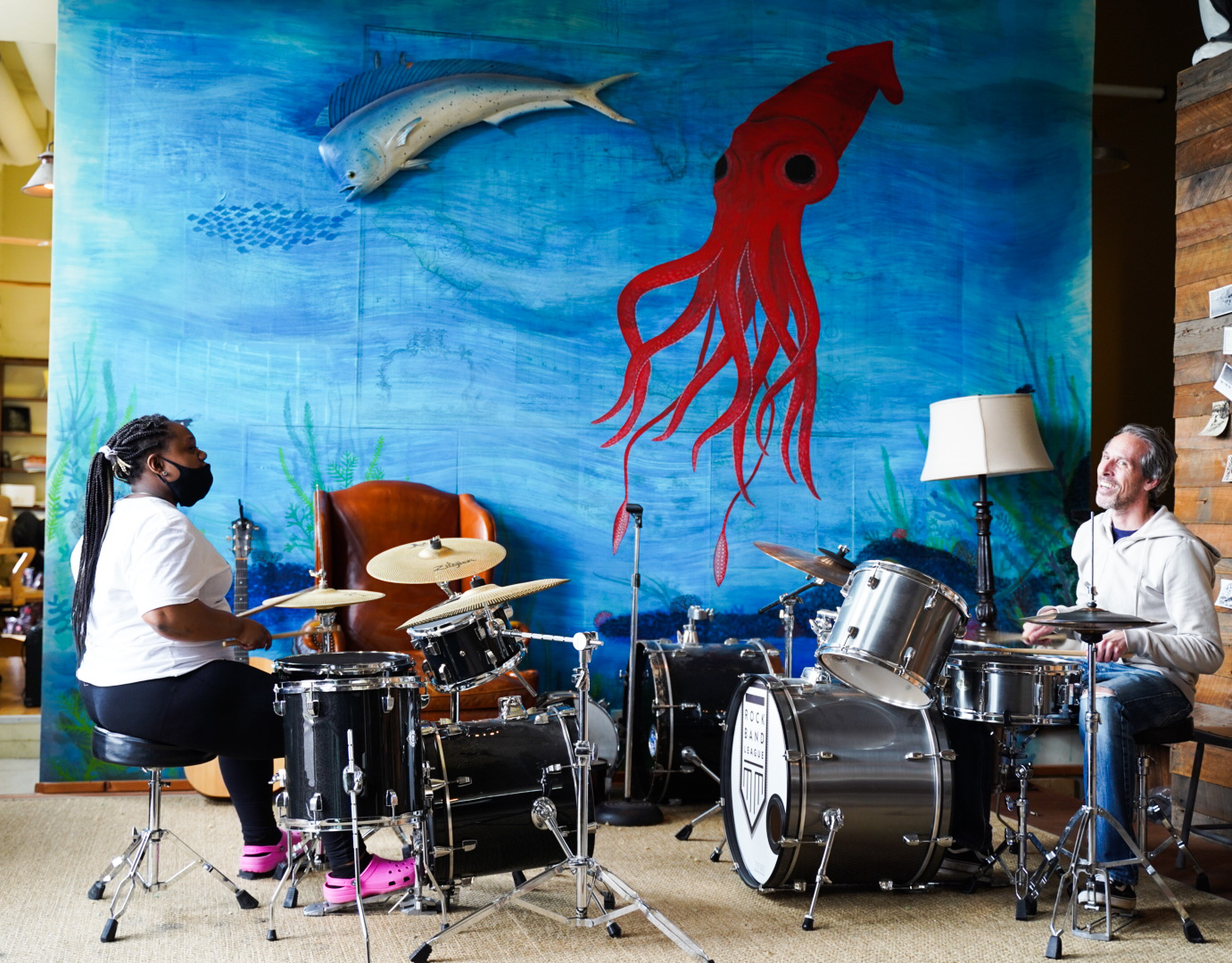 The Mason Music Foundation is a nonprofit helping "to empower, inspire, and enrich the lives of children in local communities through life changing musical experiences." We sat down with Will Mason, CEO of Mason Music, to learn more about the inspiration behind the foundation, why they chose Woodlawn as one of their prime locations, and what we can expect to see from them in the near future! Plus, the foundation will be moving into the new Woodlawn Theatre soon, so keep an eye out for some musical performances coming your way!
Can you give us a quick run-down on what the Mason Music Foundation is all about?
Mason Music Foundation is all about making sure everyone has a chance to learn how to play music by removing economic barriers. We provide scholarships for private weekly lessons for students who qualify. We believe music can make a meaningful difference in the lives of young people and we are doing everything we can to bring that within reach for families in the Woodlawn and surrounding communities.
What was the inspiration behind the Mason Music Foundation?
Music has been such a huge part of my life – I literally can't imagine life without it. I've been playing since I was 6 and have made a career out of passing along my passion for music to others. Once Mason Music was off the ground, we started looking for ways to give back and impact other communities that might not be given the same opportunities I had as a child. Ultimately, the inspiration behind Mason Music and Mason Music Foundation would have to be my grandmother who bought me my first keyboard when I was 6!
How long have you been serving your community through this foundation?
We started volunteering at Cornerstone Elementary School in 2015 and got our non-profit status approved in early 2016.
What made you choose Woodlawn as your home base?
We were connected with Rev Bham, Woodlawn Foundation and Cornerstone School from the beginning through friends and family. There was already so much positive momentum in Woodlawn that we felt like we could make a difference by jumping in. We would not have had the same confidence to invest in a community that didn't have as much existing structure and ongoing work. Once we started building relationships with our students and their families, we were all in with Woodlawn.
What is your favorite part about being located in Woodlawn?
We love being a part of the vibrant community – We have made so many friends since starting this work.
You guys are going to be moving into the new Woodlawn Theatre soon - can you tell us a little bit more about what that dynamic will look like?
Yes, Woodlawn Theatre is going to be a new music venue on 1st Ave North. We will be hosting concerts and private events in this space and are really excited to bring it to life. It's also really unique because the same building will be home to the music lessons we provide at Mason Music Foundation. It'll be a happy building!
What can people expect to see at the Woodlawn Theatre?
We plan on bringing a diverse range of live shows to the stage at Woodlawn Theatre – Rock, Jazz, Hip Hop, Singer/Songwriter, Alternative; pretty much anything that is original and entertaining. We will put on local shows as well as host regional and national touring acts in an intimate setting that will be great as both a listening room for acoustic sets as well as a rock club at full volume. Our regulars will be sure to get a taste of everything.
What are you most excited for with this new space (Woodlawn Theatre)?
I'm most excited to have a small capacity venue in Birmingham that is prioritizing original music again. We have been missing that size venue since Bottletree closed.
What kind of growth do you hope to see from the Mason Music Foundation in the next 5-10 years?
We currently serve around 50 students each week at Mason Music Foundation. We are preparing to grow that to 200 over the next couple of years as we move into our new space and expand our capacity. The more Mason Music grows, the more we hope to grow our non-profit programming as well. That may mean more after school programs in schools, or eventually another location for Mason Music Foundation in another community. Music and the Arts funding has been slashed in most public schools, so there is a great need for this work. We don't see that changing anytime soon.
Do you guys have any other exciting projects in the works?
Yes! Mason Music Fest – August 13th at Avondale Brewing Company – this is our 10 year anniversary celebration and a benefit concert for Mason Music Foundation. We have an incredible lineup of artists including The Brook and The Bluff and Drew Holcomb and the Neighbors. Tickets are only $25 and 100% of the proceeds go to music scholarships for our new space. Learn more and get your tickets now at www.masonmusicfest.com
How can people stay up to date on what you guys have got going on?
We have lots going on that you can keep up with on social media at @masonmusicrocks on Instagram and Facebook. Also follow @masonmusicfest and @woodlawntheatrebham for updates on those projects as well.
Related News
Filed Under: Front Page, Get Involved, Historic Preservation, Residential

President and CEO of REV Birmingham David Fleming writes about the importance of historic preservation and highlights the advocacy efforts that saved the French Quarter in New Orleans and the Forest Park neighborhood in Birmingham. The article concludes with a call to action, urging for new leaders and the implementation of various strategies to protect and celebrate Birmingham's historic buildings and places.

Filed Under: Filling Vacant Spaces, Front Page, Small Business, Woodlawn, Yaysayers

Lights, Camera, Action! The rebirth of the Woodlawn Theater is happening this weekend in the heart of Woodlawn. The theater is opening its doors to the public with two extraordinary opening events that are FREE to the public. The 1400 square foot venue has a wide range of amenities and even has a full-service bar. Because of the Mason Music Foundation, this venue is filling a much needed resource for local musicians to perform. Keep reading to discover how the theater came back to life and its impact on the community.

Filed Under: Downtown Birmingham, Events, Front Page, Yaysayers

Brian Allen, a talented cornerback, has made the remarkable transition from a small town in Texas to the vibrant city of Birmingham. Choosing Birmingham for his football career for two consecutive seasons, Brian's unwavering dedication and exceptional skills have made him a standout figure in the world of football. To dive deeper into Brian's journey and discover his genuine appreciation for the city, watch this video with the link below!