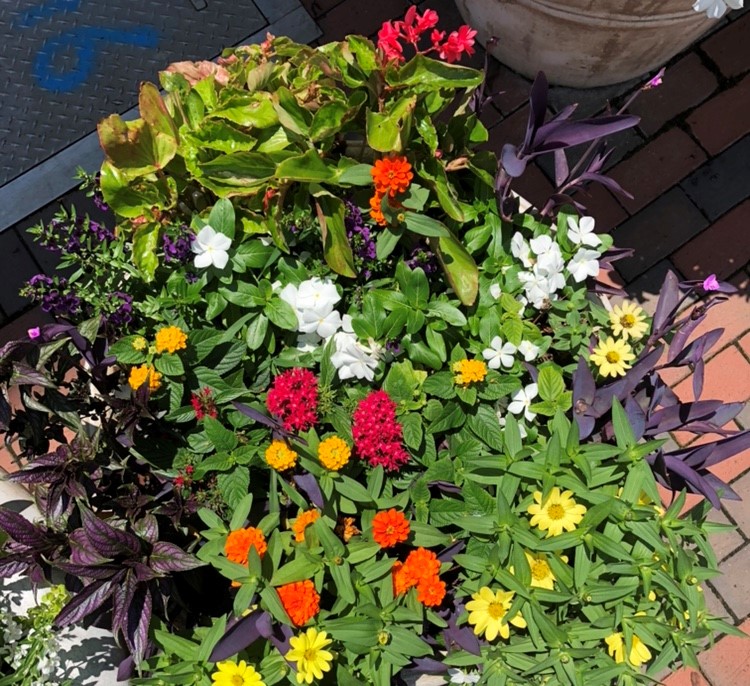 Many Birmingham businesses are adding greenery to their storefronts, despite the city's steel reputation. Whether it be the caldium of Red Cat Coffeehouse or varied plants outside of Mile End, flowers find cracks in the concrete of downtown Birmingham and add color to a gray landscape. 
"Flowers enhance the beauty of a civic space and draw your attention," said REV Birmingham CEO David Fleming.
One business owner, Mitchell Haygood of Books, Beans, and Candles, affirms there is intentionality to his many potted plants. 
"Roses have thorns, so they're good for protection," he said. "And of course roses—love. They have that passion, that kind of energy." 
Roses were only a sample of the flora BBN has to show off. Haygood went on to describe his Oleander, a notoriously poisonous and beautiful flower found across the South. And near the street, bees hover from stem to stem on a plot of catnip that keeps the endangered pollinators happy and healthy. 
Made evident by Haygood is the fact that there is much to appreciate about the plants that frame our storefronts.
Fleming agrees.
"When you see businesses and building owners presenting flowers it is a sign that those businesses and owners care about the beauty of a commercial district and have confidence that others will enjoy the splash of beauty," he said.
More than decoration, these flowers act as a reminder of the nurturing, color, that exists within our Magic City. 
Related News
Filed Under: Downtown Birmingham, Front Page, Get Involved

We've made it to the third and final public workshop for Re-vision Linn Park! Partners behind Re-Vision Linn Park will wrap up the community engagement process at the last public workshop on Tuesday, October 4, at Boutwell Auditorium. Community members can participate and provide feedback on a park design concept in the noon or 5:30 p.m. session – so come out one last time and let your voice be heard!

Filed Under: Big Pitch, Front Page, Small Business, Uncategorized

If you've been following REV for a while, you probably remember The Big Pitch Competitions we used to hold back in the day. The Big Pitch presented by PNC was essentially our own little version of Shark Tank. And a lot of your favorite local businesses that participated in this competition now have active retail storefronts that you can go check out. Let's start with some of our finalists that are based in the City of Birmingham and see what they've been up to!

Filed Under: Developer, Downtown Birmingham, Filling Vacant Spaces, Front Page, Potential-Proving, Uncategorized

Have you been to Downtown Birmingham's newest development located on 25th Street? If not, you need to head down there ASAP and check it out! This new single story development is a product of a collaboration between David Baker Architects (DBA) and Locke General Contractors, led by DBA's very own Amanda Loper. It is intended to be a "collaborative commercial space in a catalyst development area of Birmingham." Both DBA and Locke General Contractors will be tenants of the space, along with June Coffee Roasters, Zephyr Barber, and Last Call Baking Cooperative!