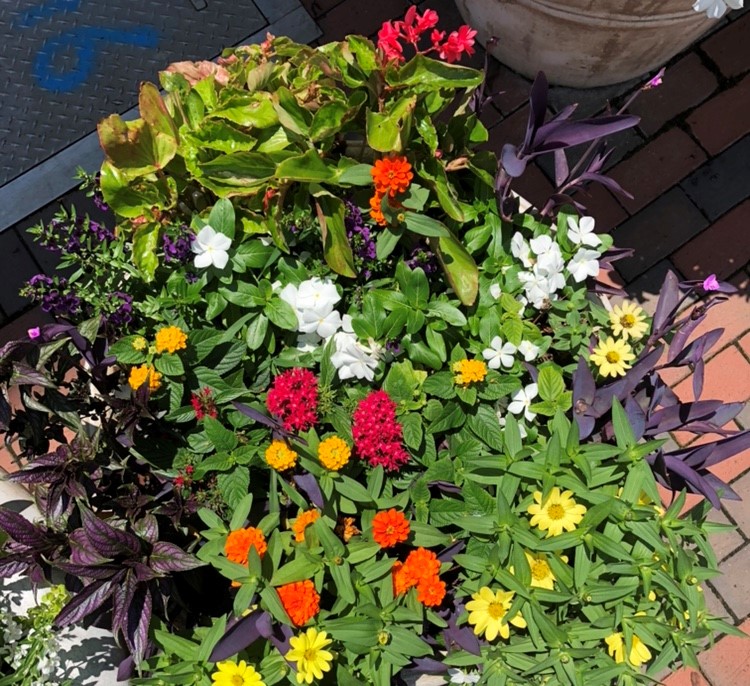 Many Birmingham businesses are adding greenery to their storefronts, despite the city's steel reputation. Whether it be the caldium of Red Cat Coffeehouse or varied plants outside of Mile End, flowers find cracks in the concrete of downtown Birmingham and add color to a gray landscape. 
"Flowers enhance the beauty of a civic space and draw your attention," said REV Birmingham CEO David Fleming.
One business owner, Mitchell Haygood of Books, Beans, and Candles, affirms there is intentionality to his many potted plants. 
"Roses have thorns, so they're good for protection," he said. "And of course roses—love. They have that passion, that kind of energy." 
Roses were only a sample of the flora BBN has to show off. Haygood went on to describe his Oleander, a notoriously poisonous and beautiful flower found across the South. And near the street, bees hover from stem to stem on a plot of catnip that keeps the endangered pollinators happy and healthy. 
Made evident by Haygood is the fact that there is much to appreciate about the plants that frame our storefronts.
Fleming agrees.
"When you see businesses and building owners presenting flowers it is a sign that those businesses and owners care about the beauty of a commercial district and have confidence that others will enjoy the splash of beauty," he said.
More than decoration, these flowers act as a reminder of the nurturing, color, that exists within our Magic City. 
Related News
Filed Under: Events, Front Page

It's officially spooky season and the Innovation Depot is wasting no time getting into the Halloween spirit! They are hosting their first ever "Tech or Treat" event on Thursday, October 28 from 3:30 to 6:00 p.m. The event is free and open to the public – what better way to kick off Hallo-weekend?!

Filed Under: Downtown Birmingham, Front Page, Yaysayers

Downtown Birmingham is full of beautiful buildings, both new and old! A good portion of those buildings consist of churches, and while many of them are beautiful to look at, they also have a rich history that often gets overlooked.