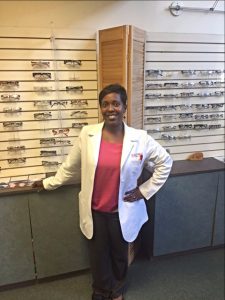 When Dr. Valencia Wells purchased Morris Avenue Eye Care in 2013, moving wasn't part of the plan. After all, the practice has been in the same location next door to Peanut Depot for 23 years. But as we all know, plans change! When developers purchased the building and announced their intention to repurpose the ground floor, Dr. Wells began to look for a new location.  She found space just a few blocks east of her current location… so Morris Avenue Eye Care will remain on Morris Avenue! Stay tuned to their website for more info. REV Birmingham is working with Dr. Wells to identify parking and other solutions that may help offset the costs of the move. Helping small businesses identify commercial real estate and understand and access available incentives are just some of the services REV's Catalytic Development team offers.
Related News
Filed Under: Downtown Birmingham, Events, Front Page, Yaysayers

Brian Allen, a talented cornerback, has made the remarkable transition from a small town in Texas to the vibrant city of Birmingham. Choosing Birmingham for his football career for two consecutive seasons, Brian's unwavering dedication and exceptional skills have made him a standout figure in the world of football. To dive deeper into Brian's journey and discover his genuine appreciation for the city, watch this video with the link below!

Filed Under: Developer, Downtown Birmingham, Filling Vacant Spaces, Front Page, Potential-Proving

Many historic buildings, including the John Hand and The Frank, have been successfully redeveloped while preserving their original charm. May is Historic Preservation Month, which aims to raise awareness about the importance of preserving historic buildings. Currently, numerous buildings possess a solid foundation but have been left vacant and require immediate attention for preservation. Find out which treasures are in need of your help today!

Filed Under: Developer, Downtown Birmingham, Front Page, Transportation, Yaysayers

Parking lots are dead spaces. Nothing we can construct sucks the life and vibrancy out of a place more than a parking lot. Yet we cannot seem to live without parking. Views on parking dominate almost every issue related to downtown growth. From not enough parking to being too expensive, learn from David Fleming why parking is essential to Birmingham's growth.