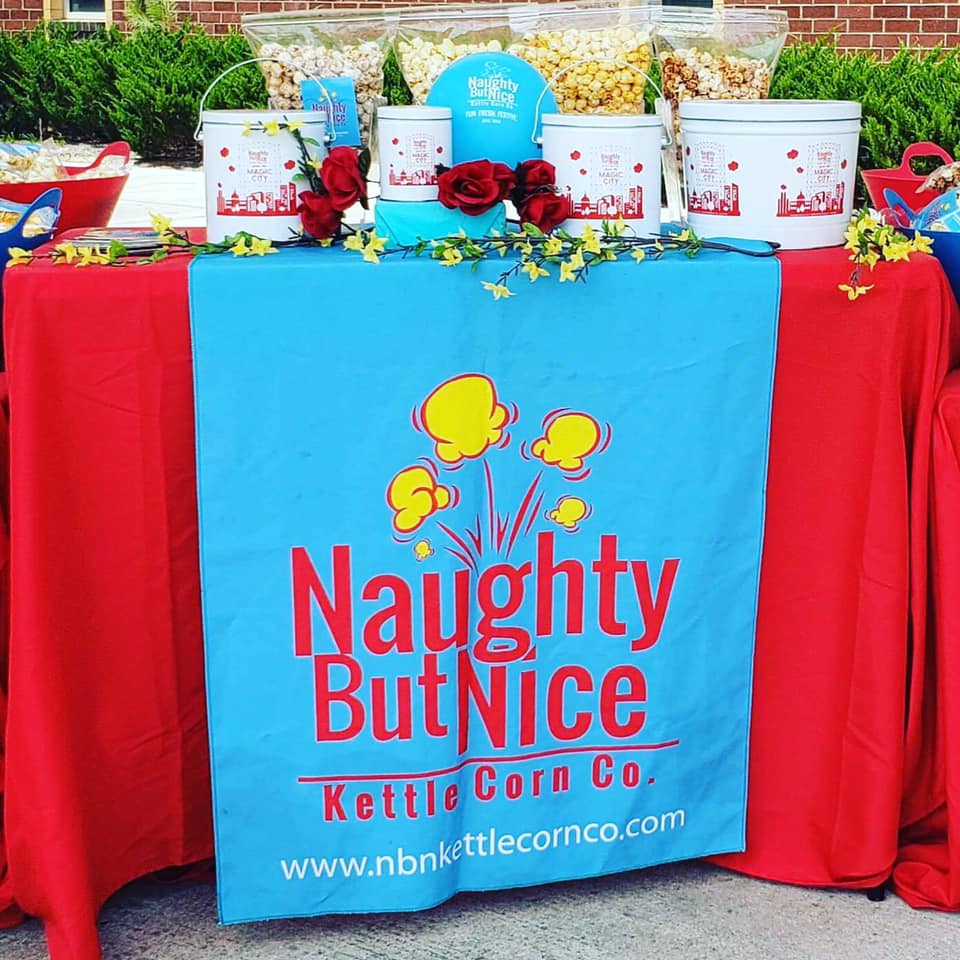 Tanesha Sims-Summers never thought she'd be in the popcorn business, but, in the end, she says it wasn't up to her.  
"I always say God, Number 1," she told REV. "He gives you vision and purpose. Also, my aunt. I was raised by my aunt in Fredericksburg, Virginia, for a portion of my life. She knew of my passion and desire to one day have my own business. 
"Kettle corn is very popular in the Virginia area. My aunt was working for an older gentleman who said people would travel from the tri-state area to get this kettle corn. She was like, 'People just love it!' She suggested that I look into it." 
Her vision led her to start Naughty But Nice Kettle Corn Co. in 2014 and eventually to a storefront in Woodlawn.  Visitors can stop by her First Avenue South location—that formerly housed Piper and Leaf— by appointment only.  
"Kettle corn is cool," "It was just straight to the point —fun and delicious."   
What should a first-time taster try? 
The answer is EVERYTHING. 
"The great thing about us is that we don't have an exorbitant number of flavors that overwhelm you. We have just enough to keep it interestingly different. All of our signage says to start with a free sample. Start with the classic kettle corn; it builds up to all these amazing flavors. If you ever stop in, we want you to try everything that we have available to try!"   
Sims-Summers says the community of Woodlawn holds a special place in her heart. Naughty But Nice has been a Woodlawn Street Market vendor since the market's beginning. She also spent time with REV's Business Growth team for Biz 1.0 and other business coaching services.  
Moving into the Piper and Leaf space with the help of REV's Ben Wieseman made sense for her personally and professionally. 
"For us, it was originally between downtown, UAB and the Southside area," she said. "But Woodlawn is not far from where I live, and my children attend school in Avondale. When I started thinking about owning a business and that work-life balance, it made sense." 
When asked about Woodlawn, she said that like all historic communities, it's gone through cycles.    
"I think it's full of support. It's a good community that has great growth potential," she said. "Even with whatever stigma people had in the past, you see growth in diversity, business and in culture and race. All of those things are important to build healthy communities where everyone can live, work and play together."     
Naughty but Nice is open Tuesdays-Thursdays from 10:30 a.m.- 2:30 p.m. by appointment at 5363 1st Avenue North. Call 205-915-2528 to make an appointment to stop by!  
Related News
Filed Under: Downtown Birmingham, Front Page, Uncategorized

We've talked about sports, but downtown has so much more to offer! Downtown Birmingham has so many experiences in store for you, which can also turn into life-long memories. And lucky for you, we've created a tool to make all that exploring so much easier!

Filed Under: Birmingham Food & Drink, Front Page, Get Involved

Ever host an event where you ordered way too much food and end up with more leftovers than you can even fathom? We've been there too – until we learned about Magic City Harvest! Magic City Harvest is an organization working towards ending food waste & hunger in the Magic City. They acquire perishable food from schools, wholesale food distributors, restaurants, caterers, churches, event venues and grocery stores to donate to 30 community partners on the frontlines feeding the city's hungry neighbors.

Filed Under: Downtown Birmingham, Front Page, Potential-Proving

We are approaching the finish line for the 20th Street Refresh, which calls for a celebration – and you're invited! The City Center Business Improvement District (BID), funded by downtown property owners, is partnering with the City of Birmingham and REV Birmingham to celebrate a refreshed Birmingham Green. Come join the party on May 20th from 4 to 8 p.m (with a special celebration happening at 6 p.m.)!