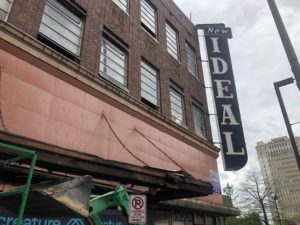 REV Birmingham's team is full of building huggers. We believe our city's impressive stock of historic buildings is one of the things that makes it so special – and we get excited all over again every time a new historic preservation project is announced.  
From the terrazzo floors to the alley mural, the New Ideal building is full of history, and its redevelopment is sure to bring even more vibrancy to the already bustling block it shares with The Pizitz. Here are three reasons we are excited about the New Ideal Lofts project – and we hope it makes you say #YayBham too! 
1. This project continues the preservation and adaptive reuse of Birmingham's many historic buildings. 
Founded in 1908 and relocated in 1935 to the building now under redevelopment, The New Ideal department store specialized in women's clothing. This building was built in 1925.  Developers say one of the goals of the project is to preserve as many original aspects of the building as they can, inside and out. Condos and commercial space will incorporate exposed original brick, refinished original floors and 9 to 14-foot tall ceilings.  
"There's just so much energy that went into creating this building 100 years ago, that if something can do as good a job as something I can replace it with, then in my book it gets to stay," said Creature co-founder and CEO Mike Gibson.  
Gibson said some of the historical elements such as the brickwork on the inside of the space can't be recreated.  
"If you tried to create new brick, it just wouldn't have the same feeling or emotion behind it," he said. "It's what makes projects like this unique. It's why you don't just tear this building down." 

The firm plans to remove the more modern façade currently on the exterior to reveal what they hope is century-old glazed tile. Ground-level terrazzo floors will be restored, and historic windows will also be uncovered.  
There will be a mix of old and new under one roof. An attached "annex" that was built in 1890 will be converted on the inside to new construction units, giving residents a choice of what kind of unit they prefer.  
2. New condos mean more homeownership opportunities in downtown Birmingham. 
Once completed, New Ideal Lofts will house 45 residential condominiums, including one bedroom, two-bedroom and studio units ranging from 390 to 3,000 square feet. Residents will have private parking and access to an outdoor terrace that overlooks The Pizitz. There are still 26 available units.  
The variety in price points will attract different kinds of residents, which is attractive to Sheri Krell, who along with her husband, has already bought two units in the building. 
"We just liked this place when we first looked at it…There's a lot of first-time condo owners that can buy because there are smaller spots," she said of her future neighbors. "We just want diversity. We want young people, old people, black people, white people. We just want to live with everybody." 
The Krells made the decision to downsize from their Forest Park home to a condo to get to know new people and to be closer to the amenities that they use downtown such as Railroad Park, Rotary Trail and the Publix at 20 Midtown.  
3. Reactivating a vacant space brings more retail opportunity to a developing district. 
The 3,500 to 5,200 square feet of ground floor and mezzanine space in New Ideal will be reserved for commercial use. A new retailer or restauranteur on the corner of 2nd Avenue North and 18th Street will recall the building's heyday as a busy department store before it closed in 1990. 
New retail downtown helps residents even outside of the city's center. Tax revenue from new businesses provides funds for schools and city services such as street maintenance and fire protection throughout Birmingham.  
We can't wait to see this building brought back to life after 30 years of vacancy. The estimated completion date for the project is early 2020.  
Related News
Filed Under: Front Page, Get Involved, Historic Preservation, Residential

President and CEO of REV Birmingham David Fleming writes about the importance of historic preservation and highlights the advocacy efforts that saved the French Quarter in New Orleans and the Forest Park neighborhood in Birmingham. The article concludes with a call to action, urging for new leaders and the implementation of various strategies to protect and celebrate Birmingham's historic buildings and places.

Filed Under: Filling Vacant Spaces, Front Page, Small Business, Woodlawn, Yaysayers

Lights, Camera, Action! The rebirth of the Woodlawn Theater is happening this weekend in the heart of Woodlawn. The theater is opening its doors to the public with two extraordinary opening events that are FREE to the public. The 1400 square foot venue has a wide range of amenities and even has a full-service bar. Because of the Mason Music Foundation, this venue is filling a much needed resource for local musicians to perform. Keep reading to discover how the theater came back to life and its impact on the community.

Filed Under: Downtown Birmingham, Events, Front Page, Yaysayers

Brian Allen, a talented cornerback, has made the remarkable transition from a small town in Texas to the vibrant city of Birmingham. Choosing Birmingham for his football career for two consecutive seasons, Brian's unwavering dedication and exceptional skills have made him a standout figure in the world of football. To dive deeper into Brian's journey and discover his genuine appreciation for the city, watch this video with the link below!