Members of Young Pioneers and Ensley Merchants Association joined forces Saturday, January 13, to help create a more inviting atmosphere in downtown Ensley.
Group members met in Ensley's Police and Court Building to pot shrubs and build planters with wood recycled from pallets. The volunteers installed the six new planters along the 600 block of 19th Street in historic downtown Ensley.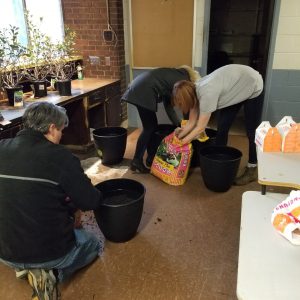 Related News
Filed Under: Uncategorized

Get to know our team better by learning more about what we do and hearing some fun facts about each team member. This week we are introducing Ben Wieseman, our Director of Catalytic Development!

Filed Under: Front Page, Uncategorized

Public parks play a vital role in how we experience the communities, neighborhoods, and cities that we live in. Inclusive, well-designed public spaces provide access to recreational activities, spurs local investment opportunities, and combats environmental impacts.