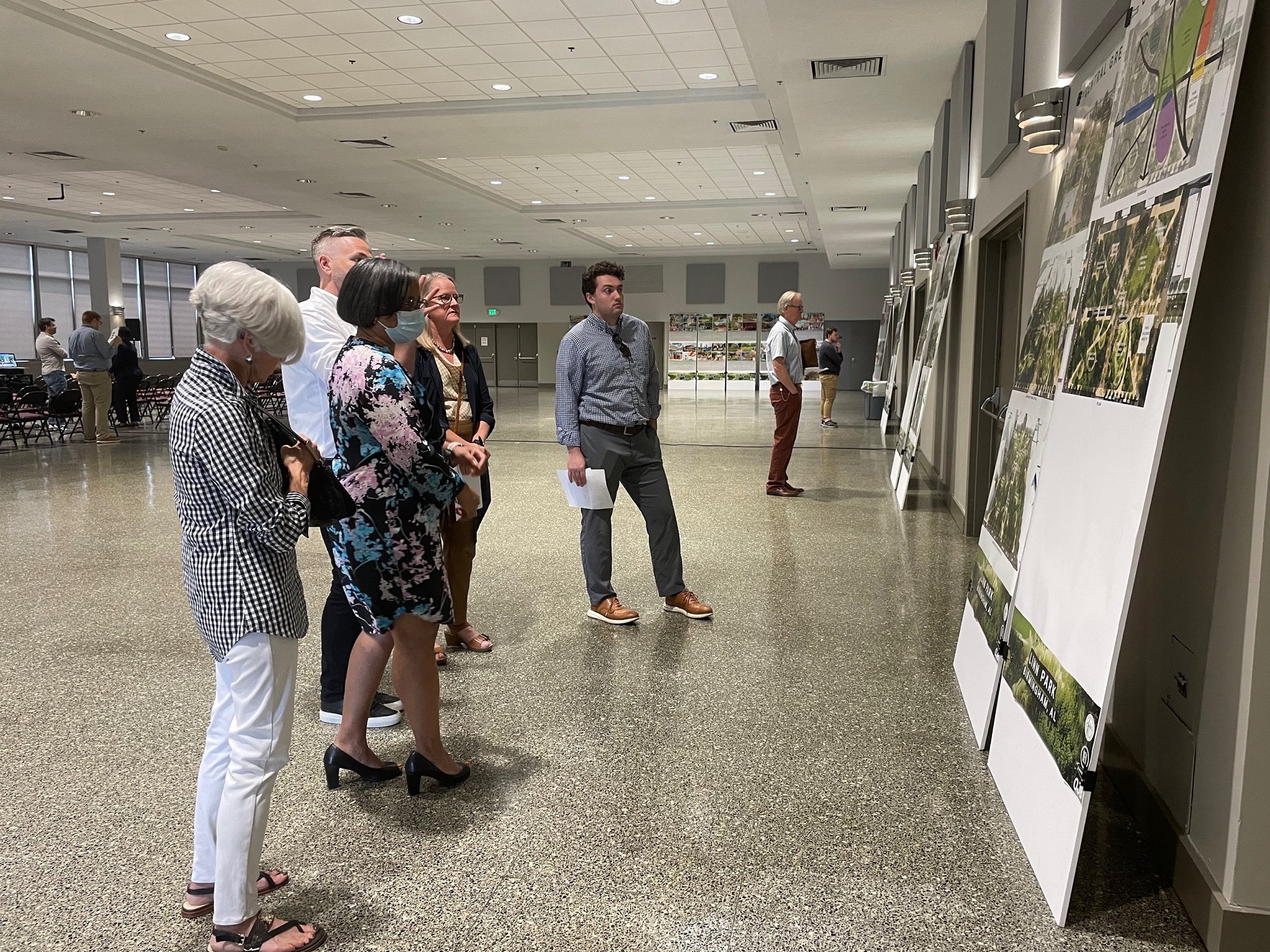 The second community workshop held at Boutwell Auditorium on July 26th was another opportunity for the public to weigh in on the future of Linn Park. The project consultant team shared insight about the people engaged so far, the place-based assessment of Linn Park, and the preliminary park concept solutions.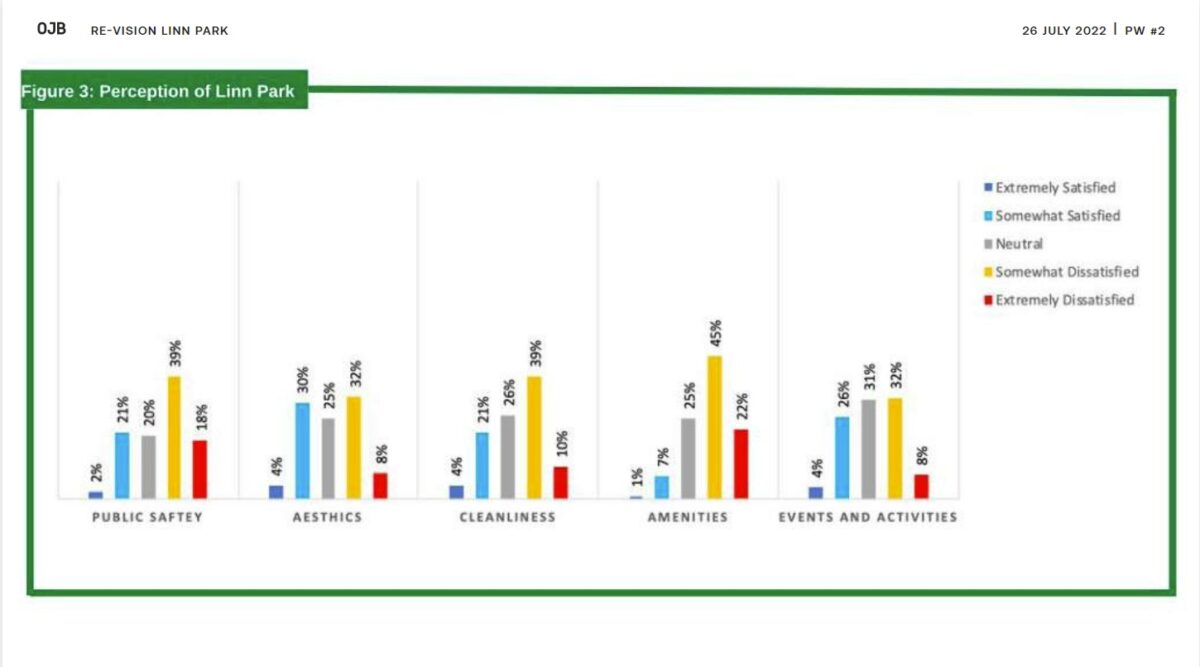 People Engaged
595 community members provided feedback through two public workshops and a public survey. This feedback revealed new information about how the park is used, its perception among citizens, and more. 
According to the feedback the community has identified Linn Park as a destination that has a natural vibe with a secondary modern and contemporary feel. The majority of our community members have historically used the park for events and social gatherings like City Stages, and Magic City Art Connection. And the amenities most requested in a renewed park plan are a community space, memorial/monument, shade structure, park café and children's play area. 
The community also provided feedback on current perceptions of Linn Park. The data shows that there is much room for improvement in public safety, aesthetics, cleanliness, park amenities, and park activities.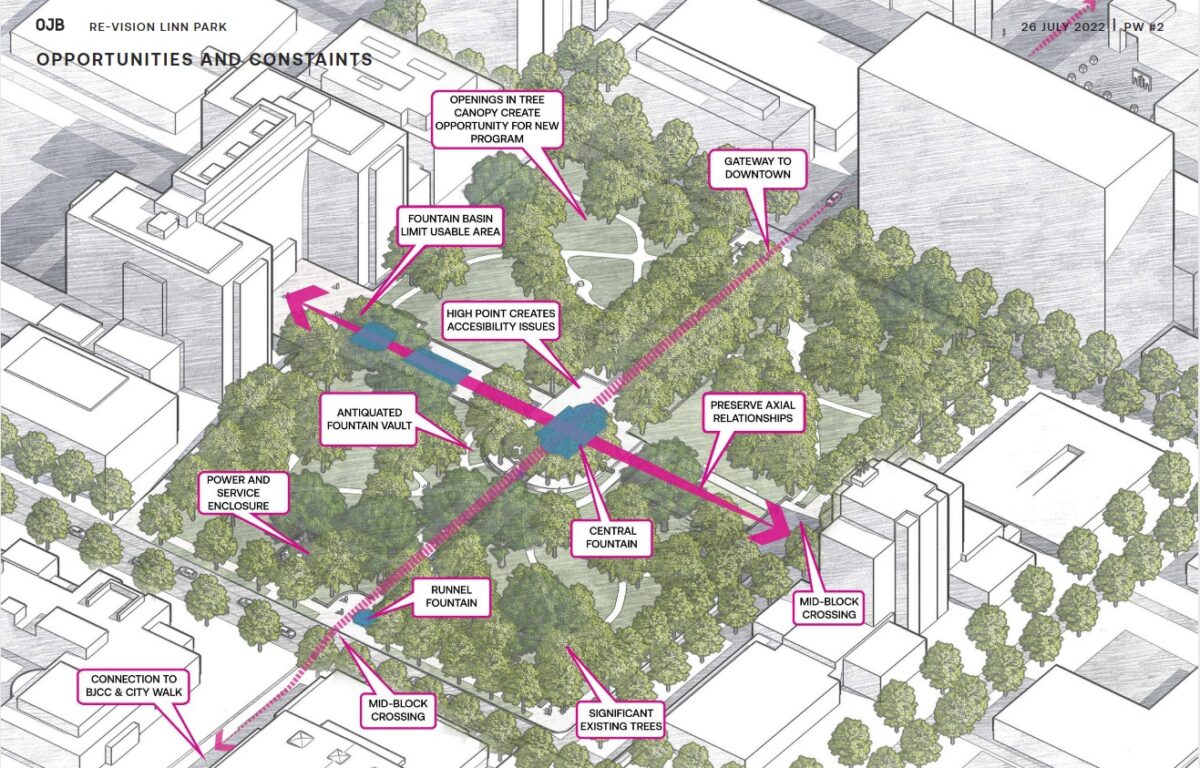 Place-based Assessment
Linn Park is a seven-acre home to many trees, and it is also surrounded by civic institutions such as City Hall, Linn Hely Research Library, Boutwell Auditorium, Jefferson County Courthouse, and the Birmingham Museum of Art. The geographical conditions of Linn Park offer more insight into the park's possibilities and areas for improvement. 
Linn Park's geographic proximity to many of the city's assets, as well as the significant number of trees make the park ripe for possibilities: 
Existing tree canopy openings create opportunities for new programs 
North and South axial entrances connect Linn Park to City Walk and the Birmingham Jefferson Convention Complex 
20th St. N. entrance is a gateway into the rest of downtown Birmingham from Linn Park 
In the same way, there are also restraints identified in the topography and park design that open the door for improvements: 
High points in the park elevation cause accessibility issues that can be improved  
An antiquated fountain vault is not aesthetically pleasing to visitors 
An unused fountain basin limits the usability of the area directly facing City Hall 
Preliminary Concepts & Solutions
As a result of the community feedback thus far, and assessment of the park, OJB Landscape Architecture team has developed 3 preliminary design concepts for Linn Park. Each concept contains park amenities and features that the community identified as priorities for future use such as the Jefferson County Memorial, a performance and event space, and children's play area.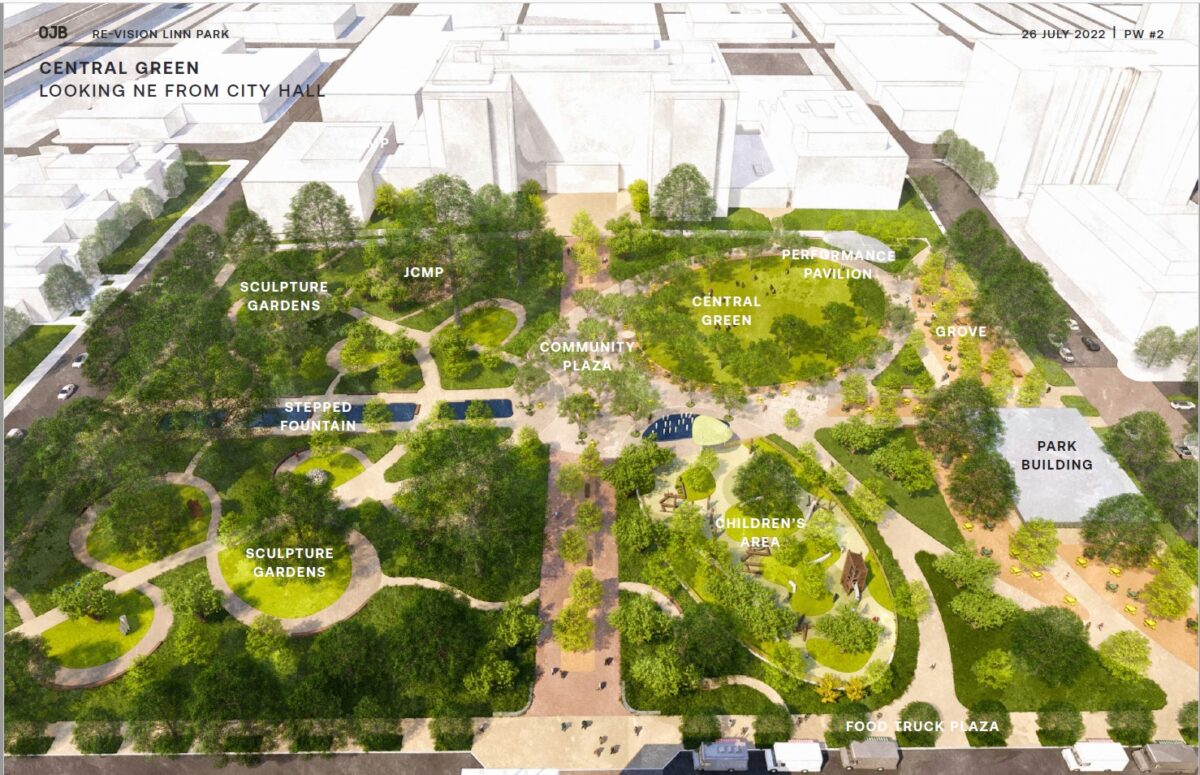 First there is the Central Green concept that showcases a community hub in the center of the park with a civic lawn, interactive step fountains, sculpture garden and other high priority items identified by the community.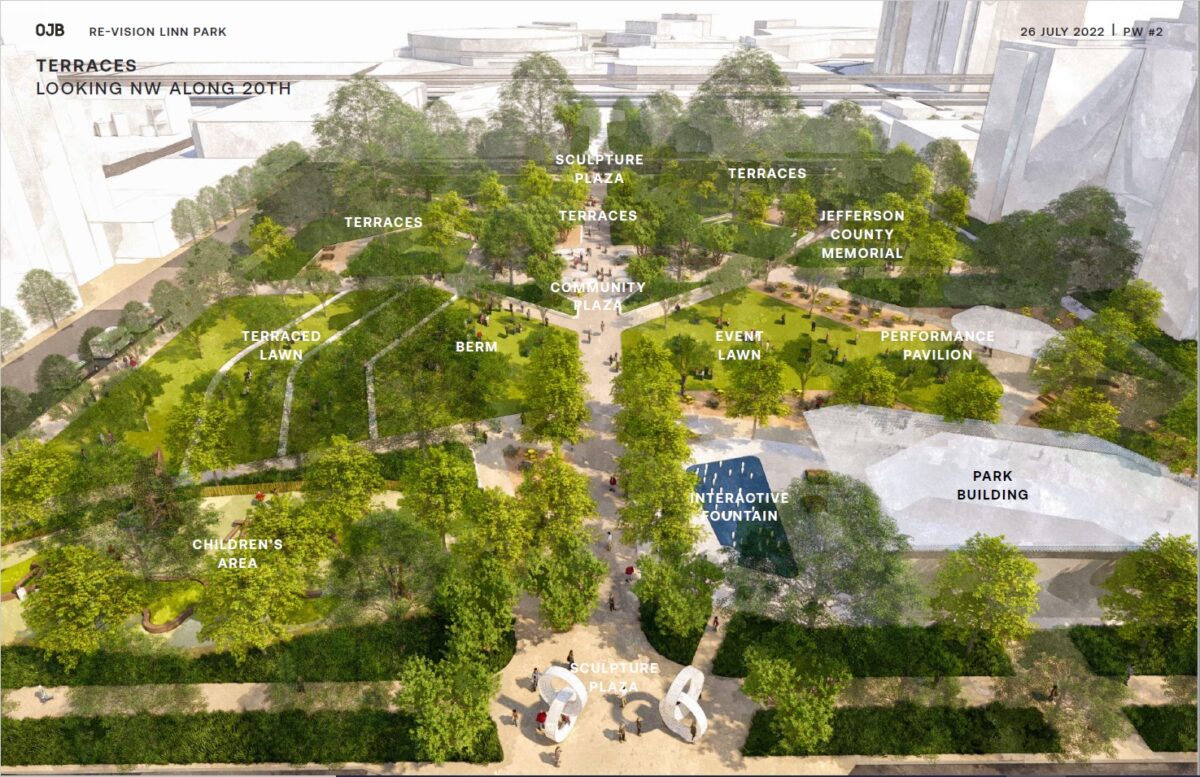 Second, there is the Terraces concept that features sculpted landforms which create community spaces allowing park users to see and utilize the park in new ways.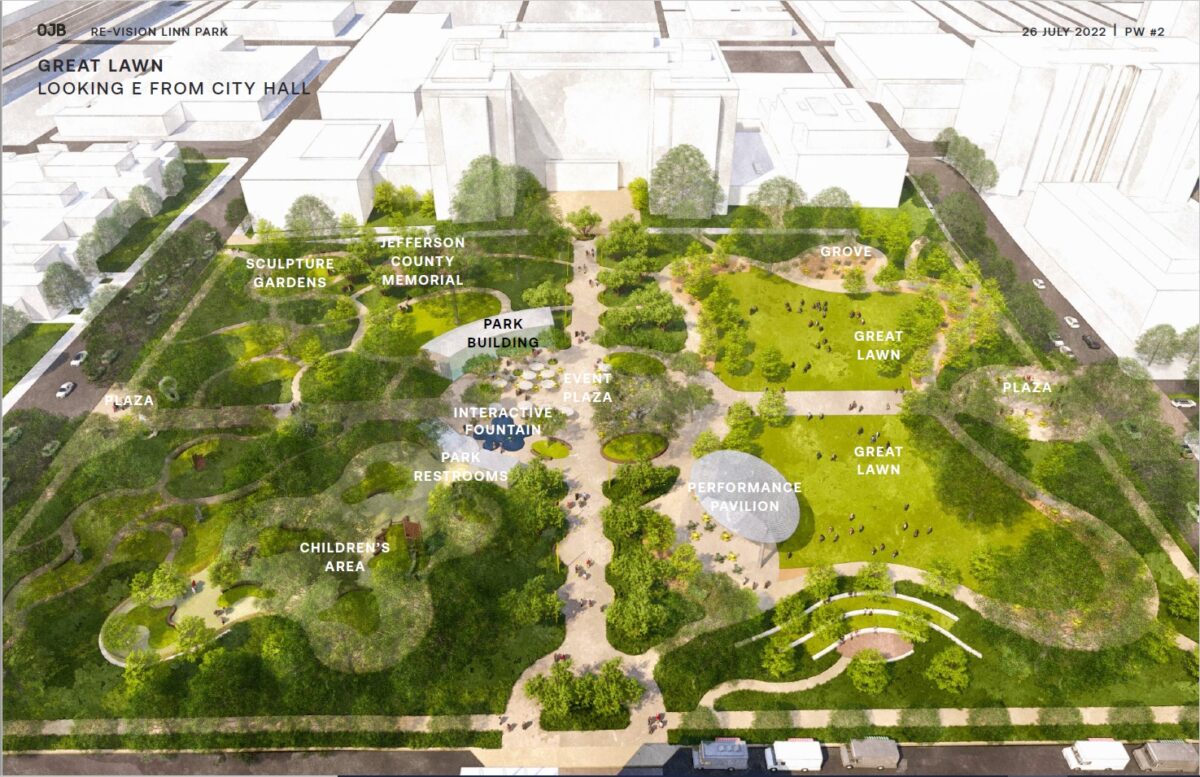 Lastly, there is the Great Lawn concept that features a 26,000 square foot event lawn, centralized community plaza, terraced seating and an interactive fountain.  
This is where you come in
Each concept is an idea of how the park can be designed, and the final design depends on your feedback and input as a future park user. Complete the survey below to weigh in on these concepts and park elements.  
Related News
Filed Under: Big Pitch, Front Page, Small Business, Uncategorized

If you've been following REV for a while, you probably remember The Big Pitch Competitions we used to hold back in the day. The Big Pitch presented by PNC was essentially our own little version of Shark Tank. And a lot of your favorite local businesses that participated in this competition now have active retail storefronts that you can go check out. Let's start with some of our finalists that are based in the City of Birmingham and see what they've been up to!

Filed Under: Developer, Downtown Birmingham, Filling Vacant Spaces, Front Page, Potential-Proving, Uncategorized

Have you been to Downtown Birmingham's newest development located on 25th Street? If not, you need to head down there ASAP and check it out! This new single story development is a product of a collaboration between David Baker Architects (DBA) and Locke General Contractors, led by DBA's very own Amanda Loper. It is intended to be a "collaborative commercial space in a catalyst development area of Birmingham." Both DBA and Locke General Contractors will be tenants of the space, along with June Coffee Roasters, Zephyr Barber, and Last Call Baking Cooperative!

Filed Under: Downtown Birmingham, Events, Front Page, Uncategorized

One of Birmingham's many hidden treasures is the music scene downtown. The sheer volume of concert venues we have in downtown Birmingham is something most people aren't even aware of – but it really is remarkable! There is truly something for everyone, whether you're into the smaller, more intimate venues or the large-scale venues for those big name artists. Keep reading to check out some of the cool venues downtown Birmingham has to offer.