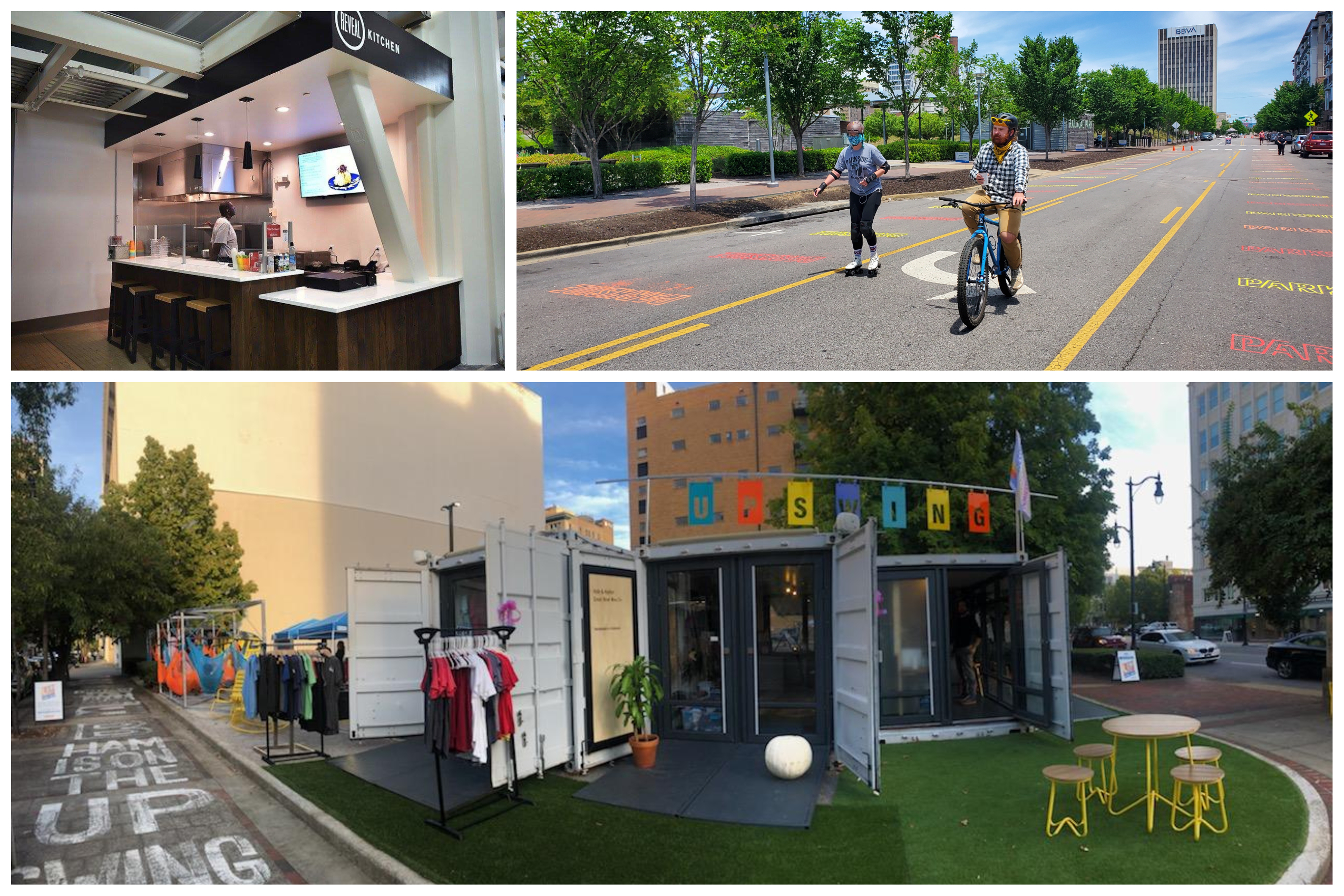 Main Street Alabama recognized REV Birmingham with three awards in the 7th Annual Awards of Excellence.  The awards honor projects and individuals that make tremendous impacts in their respective communities.
"It's an honor to recognize outstanding community projects, leaders and volunteers," said Helmer. "The awards represent the good work being done in Main Street Alabama communities, including those that were initiated after the pandemic, sparking creative ways to promote and help struggling businesses."
REV Birmingham is a Main Street Alabama Program that follows a five-point approach based on the National Main Street Center's best practices, REV's place-based approach to revitalization in Birmingham can be applied differently based on what communities need.
The 7th Annual Awards of Excellence Award winners are as follows:
Business Development
The Business Development Award recognizes outstanding efforts to improve the downtown business climate, or business retention & recruitment efforts.
REVeal Kitchen in Pizitz Hall, Birmingham

REVeal Kitchen at The Pizitz Food Hall was a partnership with Bayer Properties that served as an incubator space for four culinary entrepreneurs. The successful venture wrapped up in March 2020.
Thank you Buffalo Rock, Red Diamond, Regions, Wood Fruitticher, Appleseed Workshop (now Creature), Maynard Cooper and Gale, the Fred and Ellen Elsas Fund, and the Alice M. Bowsher Fund for helping make this project possible.
Placemaking
The Placemaking award recognizes outstanding local efforts that capitalize on local assets, inspiration, and potential, with the intention of creating public spaces that promotes people's health, happiness, and well-being.
REV Birmingham's Upswing

Upswing is a demonstration project designed by REV Birmingham to prove and improve downtown's market for retail. The first iteration featured five retail tenants in three converted shipping containers, along with programming such as movie nights, festivals and fitness demos. 
Thank you to The Daniel Foundation of Alabama, Susan Mott Webb Charitable Trust, Valley National Bank, Greater Birmingham Convention and Visitors Bureau, Cadence Bank, Apel Steel, Stewart Perry, Ladd Management Company, Small Box Co., and Engineering Design Technologies for helping this make this project possible.
Planning and Public Spaces
The award recognizes outstanding planning projects and quality completed design improvements such as streetscape, public art and other projects in public spaces.
REV Birmingham's Parkside Trail, a new project created in response to COVID-19

Parkside Trail, a temporary pop-up trail on Birmingham's First Avenue South, that transformed a space normally designated for cars into a space for people to enjoy. Every Saturday and Sunday in May of 2020 over ½ mile of street space was transformed into a multi-use trail/parklet using temporary road paint and light traffic cones and barricades.
Thank you to Orchestra Partners for partnering with us on this project.
Main Street Alabama has 28 Designated Programs and 20 Downtown Network Communities.  Alexander City, Anniston, Athens, Atmore, Birmingham, Birmingham's Historic 4th Ave Business District, Calera, Columbiana, Decatur, Dothan, Elba, Enterprise, Eufaula, Florence, Foley, Fort Payne, Gadsden, Headland, Heflin, Jasper, Marion, Monroeville, Montevallo, Opelika, Oxford, Scottsboro, South Huntsville, and Wetumpka each have Designated Programs and new communities will be added annually. Applications to become a Designated Program will be available in Spring 2021. Until then, communities interested in downtown revitalization can participate in Main Street Alabama's Downtown Network.
Main Street Alabama focuses on bringing jobs, dollars and people back to Alabama's historic communities.
Related News
Filed Under: Big Pitch, Front Page, Small Business, Uncategorized

If you've been following REV for a while, you probably remember The Big Pitch Competitions we used to hold back in the day. The Big Pitch presented by PNC was essentially our own little version of Shark Tank. And a lot of your favorite local businesses that participated in this competition now have active retail storefronts that you can go check out. Let's start with some of our finalists that are based in the City of Birmingham and see what they've been up to!

Filed Under: Developer, Downtown Birmingham, Filling Vacant Spaces, Front Page, Potential-Proving, Uncategorized

Have you been to Downtown Birmingham's newest development located on 25th Street? If not, you need to head down there ASAP and check it out! This new single story development is a product of a collaboration between David Baker Architects (DBA) and Locke General Contractors, led by DBA's very own Amanda Loper. It is intended to be a "collaborative commercial space in a catalyst development area of Birmingham." Both DBA and Locke General Contractors will be tenants of the space, along with June Coffee Roasters, Zephyr Barber, and Last Call Baking Cooperative!

Filed Under: Downtown Birmingham, Events, Front Page, Uncategorized

One of Birmingham's many hidden treasures is the music scene downtown. The sheer volume of concert venues we have in downtown Birmingham is something most people aren't even aware of – but it really is remarkable! There is truly something for everyone, whether you're into the smaller, more intimate venues or the large-scale venues for those big name artists. Keep reading to check out some of the cool venues downtown Birmingham has to offer.