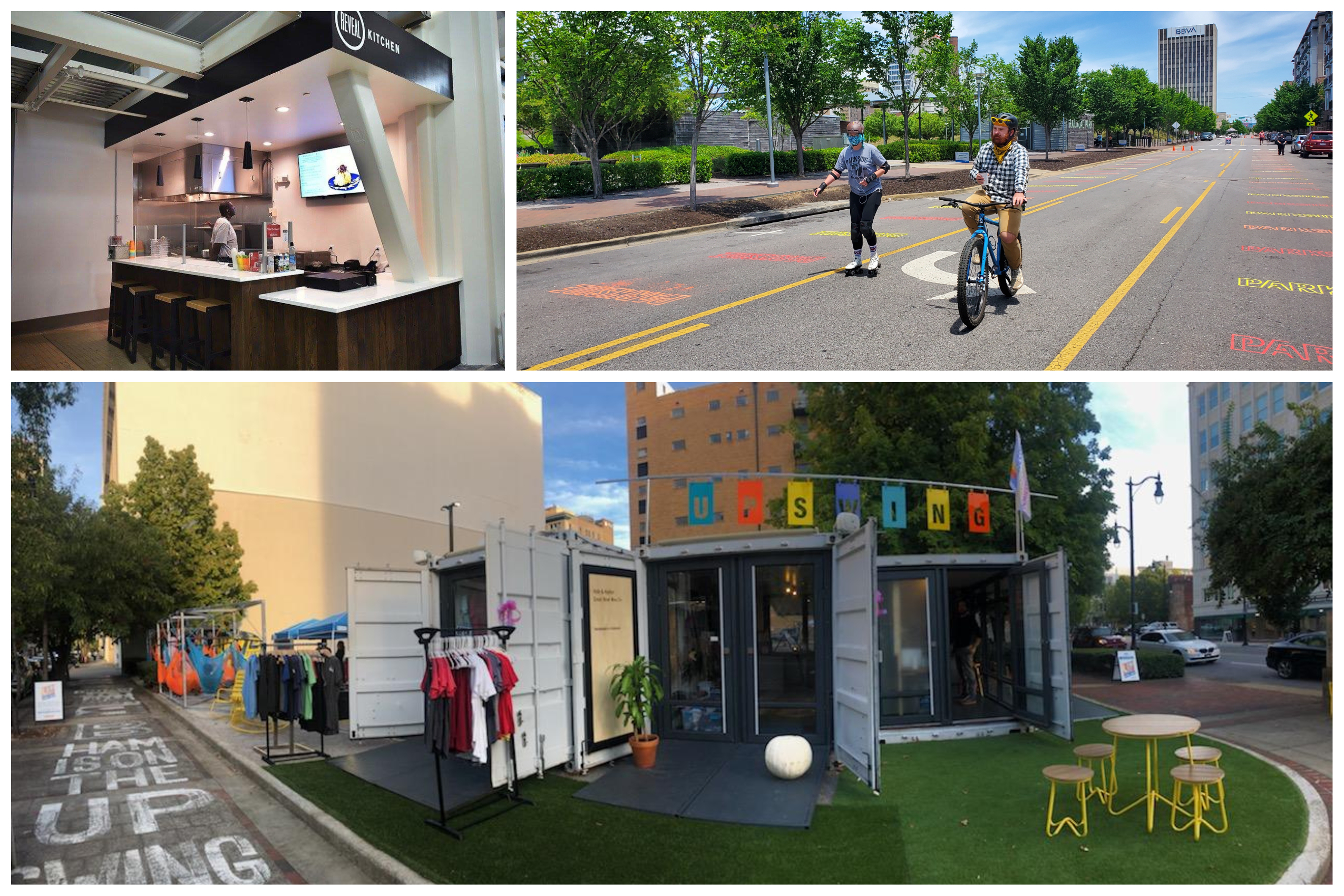 Main Street Alabama recognized REV Birmingham with three awards in the 7th Annual Awards of Excellence.  The awards honor projects and individuals that make tremendous impacts in their respective communities.
"It's an honor to recognize outstanding community projects, leaders and volunteers," said Helmer. "The awards represent the good work being done in Main Street Alabama communities, including those that were initiated after the pandemic, sparking creative ways to promote and help struggling businesses."
REV Birmingham is a Main Street Alabama Program that follows a five-point approach based on the National Main Street Center's best practices, REV's place-based approach to revitalization in Birmingham can be applied differently based on what communities need.
The 7th Annual Awards of Excellence Award winners are as follows:
Business Development
The Business Development Award recognizes outstanding efforts to improve the downtown business climate, or business retention & recruitment efforts.
REVeal Kitchen in Pizitz Hall, Birmingham

REVeal Kitchen at The Pizitz Food Hall was a partnership with Bayer Properties that served as an incubator space for four culinary entrepreneurs. The successful venture wrapped up in March 2020.
Thank you Buffalo Rock, Red Diamond, Regions, Wood Fruitticher, Appleseed Workshop (now Creature), Maynard Cooper and Gale, the Fred and Ellen Elsas Fund, and the Alice M. Bowsher Fund for helping make this project possible.
Placemaking
The Placemaking award recognizes outstanding local efforts that capitalize on local assets, inspiration, and potential, with the intention of creating public spaces that promotes people's health, happiness, and well-being.
REV Birmingham's Upswing

Upswing is a demonstration project designed by REV Birmingham to prove and improve downtown's market for retail. The first iteration featured five retail tenants in three converted shipping containers, along with programming such as movie nights, festivals and fitness demos. 
Thank you to The Daniel Foundation of Alabama, Susan Mott Webb Charitable Trust, Valley National Bank, Greater Birmingham Convention and Visitors Bureau, Cadence Bank, Apel Steel, Stewart Perry, Ladd Management Company, Small Box Co., and Engineering Design Technologies for helping this make this project possible.
Planning and Public Spaces
The award recognizes outstanding planning projects and quality completed design improvements such as streetscape, public art and other projects in public spaces.
REV Birmingham's Parkside Trail, a new project created in response to COVID-19

Parkside Trail, a temporary pop-up trail on Birmingham's First Avenue South, that transformed a space normally designated for cars into a space for people to enjoy. Every Saturday and Sunday in May of 2020 over ½ mile of street space was transformed into a multi-use trail/parklet using temporary road paint and light traffic cones and barricades.
Thank you to Orchestra Partners for partnering with us on this project.
Main Street Alabama has 28 Designated Programs and 20 Downtown Network Communities.  Alexander City, Anniston, Athens, Atmore, Birmingham, Birmingham's Historic 4th Ave Business District, Calera, Columbiana, Decatur, Dothan, Elba, Enterprise, Eufaula, Florence, Foley, Fort Payne, Gadsden, Headland, Heflin, Jasper, Marion, Monroeville, Montevallo, Opelika, Oxford, Scottsboro, South Huntsville, and Wetumpka each have Designated Programs and new communities will be added annually. Applications to become a Designated Program will be available in Spring 2021. Until then, communities interested in downtown revitalization can participate in Main Street Alabama's Downtown Network.
Main Street Alabama focuses on bringing jobs, dollars and people back to Alabama's historic communities.
Related News
Filed Under: Front Page, Get Involved, Historic Preservation, Residential

President and CEO of REV Birmingham David Fleming writes about the importance of historic preservation and highlights the advocacy efforts that saved the French Quarter in New Orleans and the Forest Park neighborhood in Birmingham. The article concludes with a call to action, urging for new leaders and the implementation of various strategies to protect and celebrate Birmingham's historic buildings and places.

Filed Under: Filling Vacant Spaces, Front Page, Small Business, Woodlawn, Yaysayers

Lights, Camera, Action! The rebirth of the Woodlawn Theater is happening this weekend in the heart of Woodlawn. The theater is opening its doors to the public with two extraordinary opening events that are FREE to the public. The 1400 square foot venue has a wide range of amenities and even has a full-service bar. Because of the Mason Music Foundation, this venue is filling a much needed resource for local musicians to perform. Keep reading to discover how the theater came back to life and its impact on the community.

Filed Under: Downtown Birmingham, Events, Front Page, Yaysayers

Brian Allen, a talented cornerback, has made the remarkable transition from a small town in Texas to the vibrant city of Birmingham. Choosing Birmingham for his football career for two consecutive seasons, Brian's unwavering dedication and exceptional skills have made him a standout figure in the world of football. To dive deeper into Brian's journey and discover his genuine appreciation for the city, watch this video with the link below!