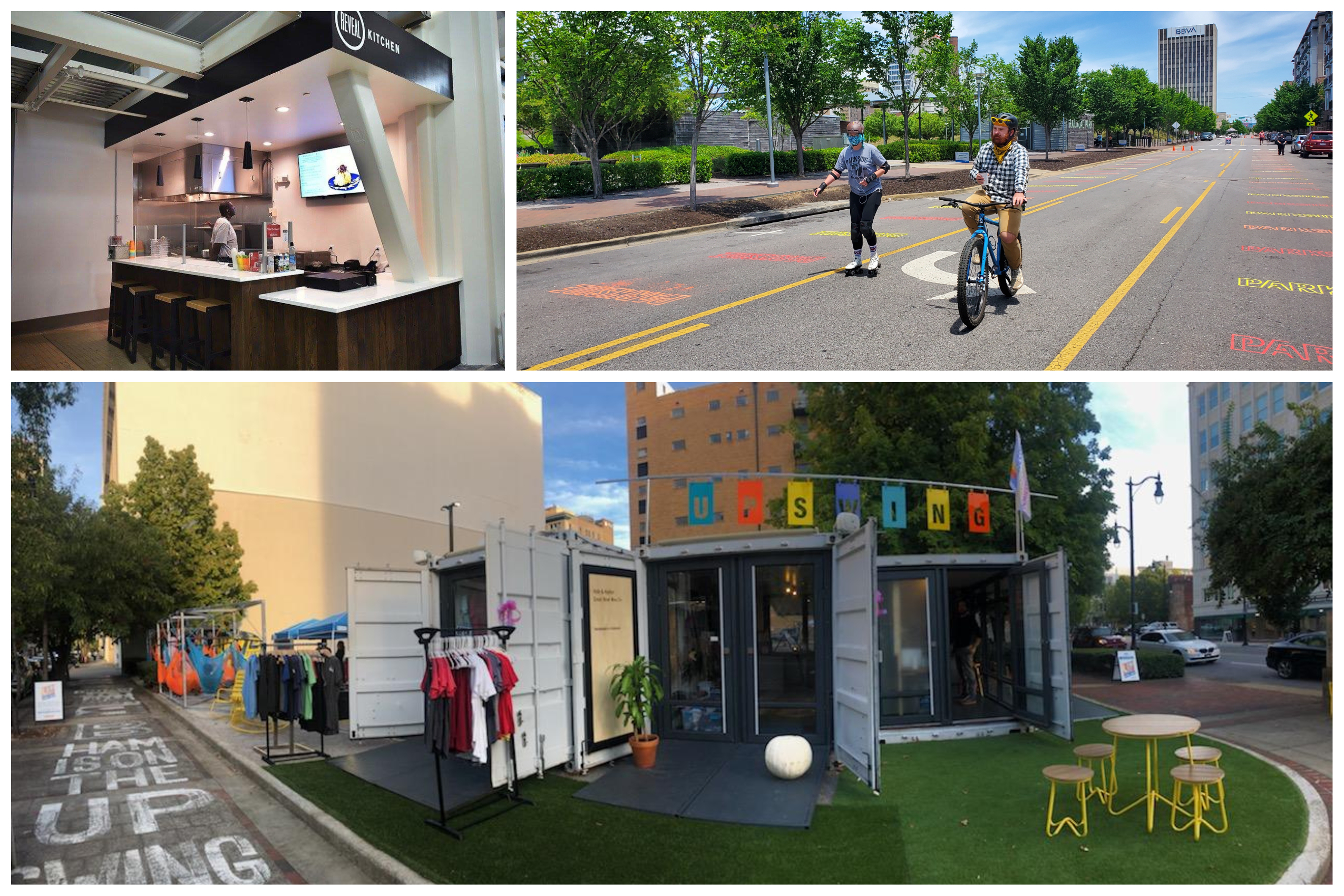 Main Street Alabama recognized REV Birmingham with three awards in the 7th Annual Awards of Excellence.  The awards honor projects and individuals that make tremendous impacts in their respective communities.
"It's an honor to recognize outstanding community projects, leaders and volunteers," said Helmer. "The awards represent the good work being done in Main Street Alabama communities, including those that were initiated after the pandemic, sparking creative ways to promote and help struggling businesses."
REV Birmingham is a Main Street Alabama Program that follows a five-point approach based on the National Main Street Center's best practices, REV's place-based approach to revitalization in Birmingham can be applied differently based on what communities need.
The 7th Annual Awards of Excellence Award winners are as follows:
Business Development
The Business Development Award recognizes outstanding efforts to improve the downtown business climate, or business retention & recruitment efforts.
REVeal Kitchen in Pizitz Hall, Birmingham

REVeal Kitchen at The Pizitz Food Hall was a partnership with Bayer Properties that served as an incubator space for four culinary entrepreneurs. The successful venture wrapped up in March 2020.
Thank you Buffalo Rock, Red Diamond, Regions, Wood Fruitticher, Appleseed Workshop (now Creature), Maynard Cooper and Gale, the Fred and Ellen Elsas Fund, and the Alice M. Bowsher Fund for helping make this project possible.
Placemaking
The Placemaking award recognizes outstanding local efforts that capitalize on local assets, inspiration, and potential, with the intention of creating public spaces that promotes people's health, happiness, and well-being.
REV Birmingham's Upswing

Upswing is a demonstration project designed by REV Birmingham to prove and improve downtown's market for retail. The first iteration featured five retail tenants in three converted shipping containers, along with programming such as movie nights, festivals and fitness demos. 
Thank you to The Daniel Foundation of Alabama, Susan Mott Webb Charitable Trust, Valley National Bank, Greater Birmingham Convention and Visitors Bureau, Cadence Bank, Apel Steel, Stewart Perry, Ladd Management Company, Small Box Co., and Engineering Design Technologies for helping this make this project possible.
Planning and Public Spaces
The award recognizes outstanding planning projects and quality completed design improvements such as streetscape, public art and other projects in public spaces.
REV Birmingham's Parkside Trail, a new project created in response to COVID-19

Parkside Trail, a temporary pop-up trail on Birmingham's First Avenue South, that transformed a space normally designated for cars into a space for people to enjoy. Every Saturday and Sunday in May of 2020 over ½ mile of street space was transformed into a multi-use trail/parklet using temporary road paint and light traffic cones and barricades.
Thank you to Orchestra Partners for partnering with us on this project.
Main Street Alabama has 28 Designated Programs and 20 Downtown Network Communities.  Alexander City, Anniston, Athens, Atmore, Birmingham, Birmingham's Historic 4th Ave Business District, Calera, Columbiana, Decatur, Dothan, Elba, Enterprise, Eufaula, Florence, Foley, Fort Payne, Gadsden, Headland, Heflin, Jasper, Marion, Monroeville, Montevallo, Opelika, Oxford, Scottsboro, South Huntsville, and Wetumpka each have Designated Programs and new communities will be added annually. Applications to become a Designated Program will be available in Spring 2021. Until then, communities interested in downtown revitalization can participate in Main Street Alabama's Downtown Network.
Main Street Alabama focuses on bringing jobs, dollars and people back to Alabama's historic communities.
Related News
Filed Under: Business-Proving, Front Page

All too often we catch ourselves reading the news wanting to help, but not knowing where to begin. That's why Maria Underwood created Fundrage, a social impact platform that connects users to nonprofits they can support based on the exact news article that they're reading. Keep reading to find out more about how this app is playing a huge role in creating positive change in real time!

Filed Under: Downtown Birmingham, Front Page, Potential-Proving, Uncategorized, Yaysayers

This Friday, May 20th, we will be having a (20th) Street Party (which you can read more about here) to celebrate the end of our Birmingham Green Refresh! While this certainly calls for a celebration, the party doesn't stop there. We will still be adding some finishing touches to the street after the (20th) Street Party. These additional touches will help make Birmingham's main street more vibrant, interactive, and efficient! Additions will include smart trash cans, free libraries, street performers, and more!

Filed Under: Downtown Birmingham, Front Page, Uncategorized

We've talked about sports, but downtown has so much more to offer! Downtown Birmingham has so many experiences in store for you, which can also turn into life-long memories. And lucky for you, we've created a tool to make all that exploring so much easier!