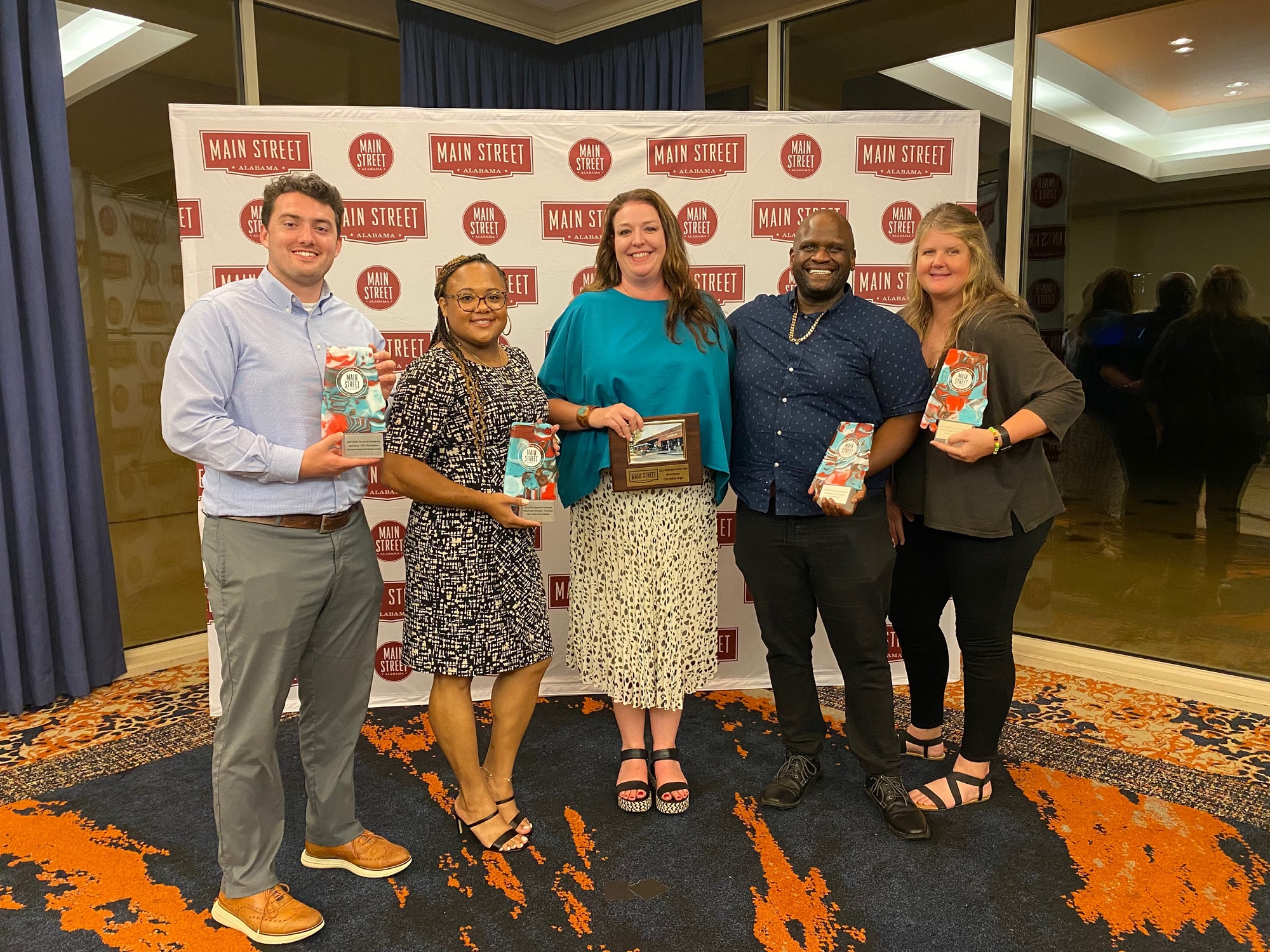 Main Street Alabama recently celebrated local program successes at the ninth annual Awards of Excellence. The awards ceremony took place at the Auburn Marriott Opelika Resort Hotel & Spa at Grand National in Opelika. During the Awards of Excellence program, Main Street Alabama's President and State Coordinator, Mary Helmer Wirth, and Assistant State Coordinator, Trisha Black, honored projects and individuals that made tremendous impacts in their respective communities.
REV Birmingham has been a Main Street organization since before we were REV. If you've ever browsed any of our history page, you might already know that REV was formed in 2012 as a strategic merger of Main Street Birmingham and Operation New Birmingham – and we're happy to still be working toward a more vibrant city every day, project by project! Here are the Main Street Alabama awards that REV won for 2021!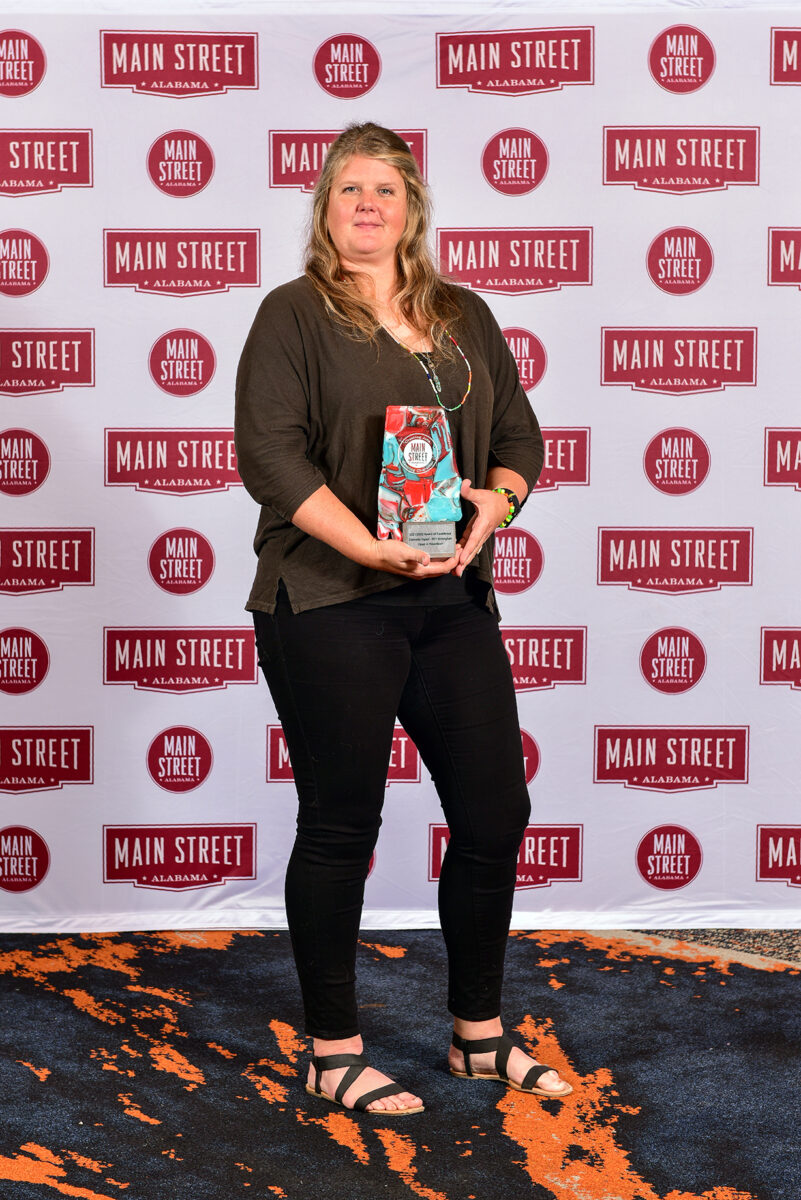 Excellence in Economic Impact: Open in Woodlawn
Open in Woodlawn is a process from REV Birmingham, Urban Main, Woodlawn Business Association and the community that helps businesses find their fit in the district. It encourages entrepreneurial growth, drives prospective businesses to locate in Woodlawn, and connects business owners to ecosystem resources. The process and toolkit streamlines the way new business owners get connected to Woodlawn's neighborhood residents, ecosystem resources, and business community. From the webpage of resources to the welcoming committee bearing gifts, it's about making the business community stronger!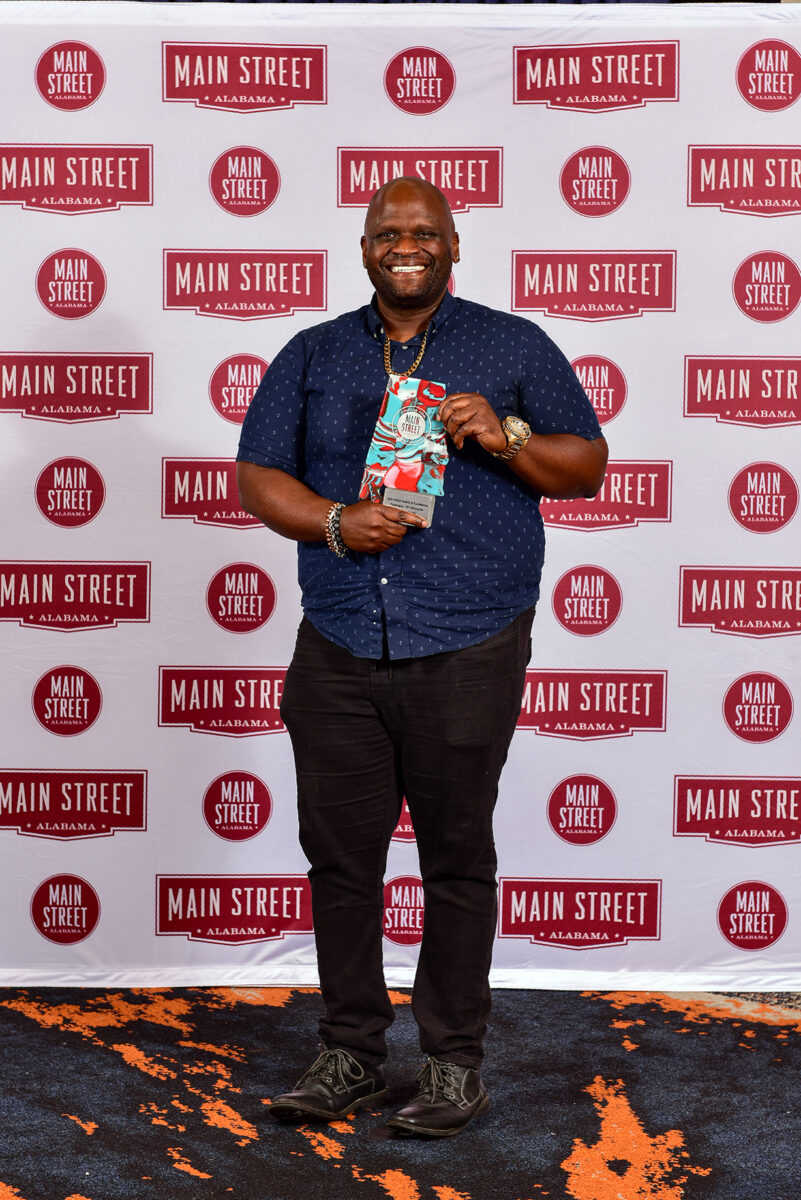 Excellence in Placemaking: The Way Murals
The Magic City Mural Festival brought vibrant art into the Woodlawn district with The Way. In a joint venture between Blank Space Birmingham, Woodlawn Neighborhood Association, Woodlawn United and REV's Woodlawn UrbanMain team, seven female muralists transformed the alleyway between 55th Street North and 55th Place North. This project honors the women of Woodlawn and includes colorfully painted plants, animals, and people! The beauty brought to a once blank alley has made the space much more welcoming to pedestrians.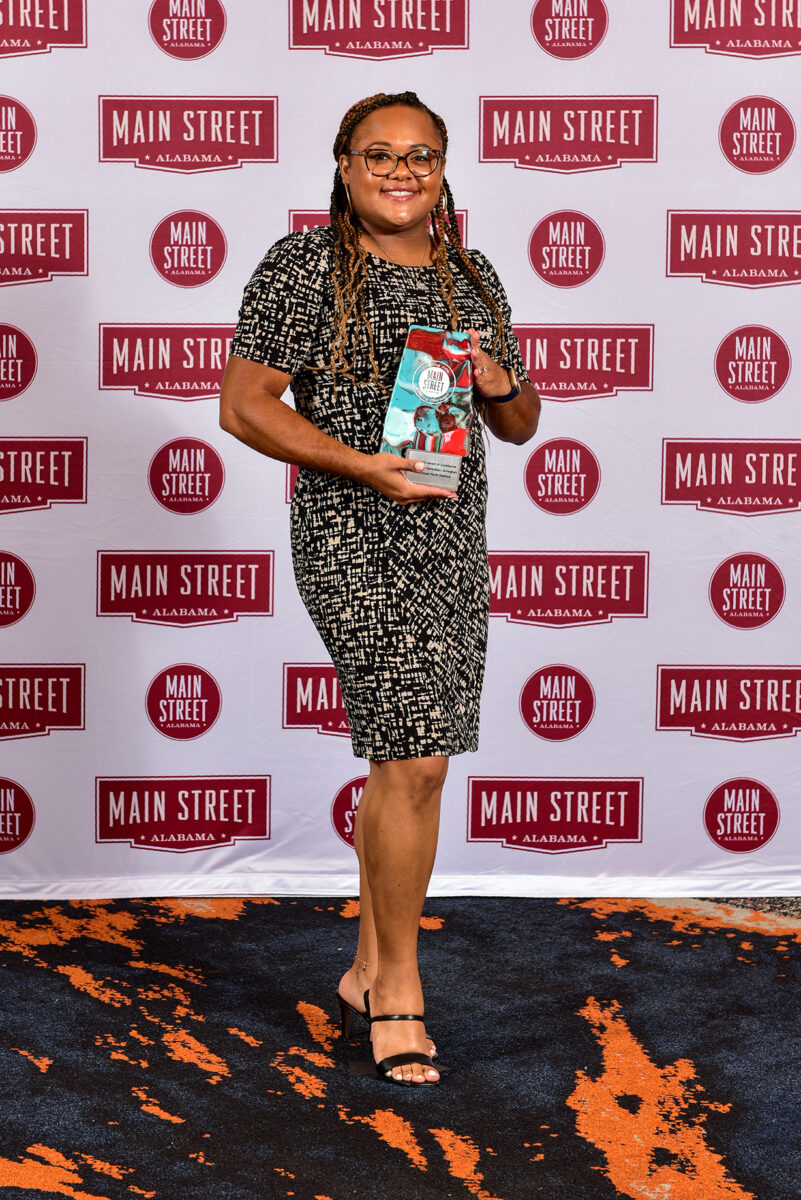 Excellence in Public/Private Partnerships: 20th Street North Refresh
REV Birmingham partnered with the City of Birmingham Department of Transportation and the City Center District Management Corporation to manage a 6-month refresh of 20th Street North – improving the streets and sidewalks, replacing crosswalks, planting native landscaping, updating signage, and adding new furniture and fun BHM-branded touches. Several corporate entities and foundations contributed to the project, and REV worked with a number of private partners to create and realize the vision. It also added colorful flex lanes and dedicated bike lanes to the street. The public space makeover has created a much more vibrant and pedestrian friendly environment; it's the "main street" that downtown Birmingham deserves!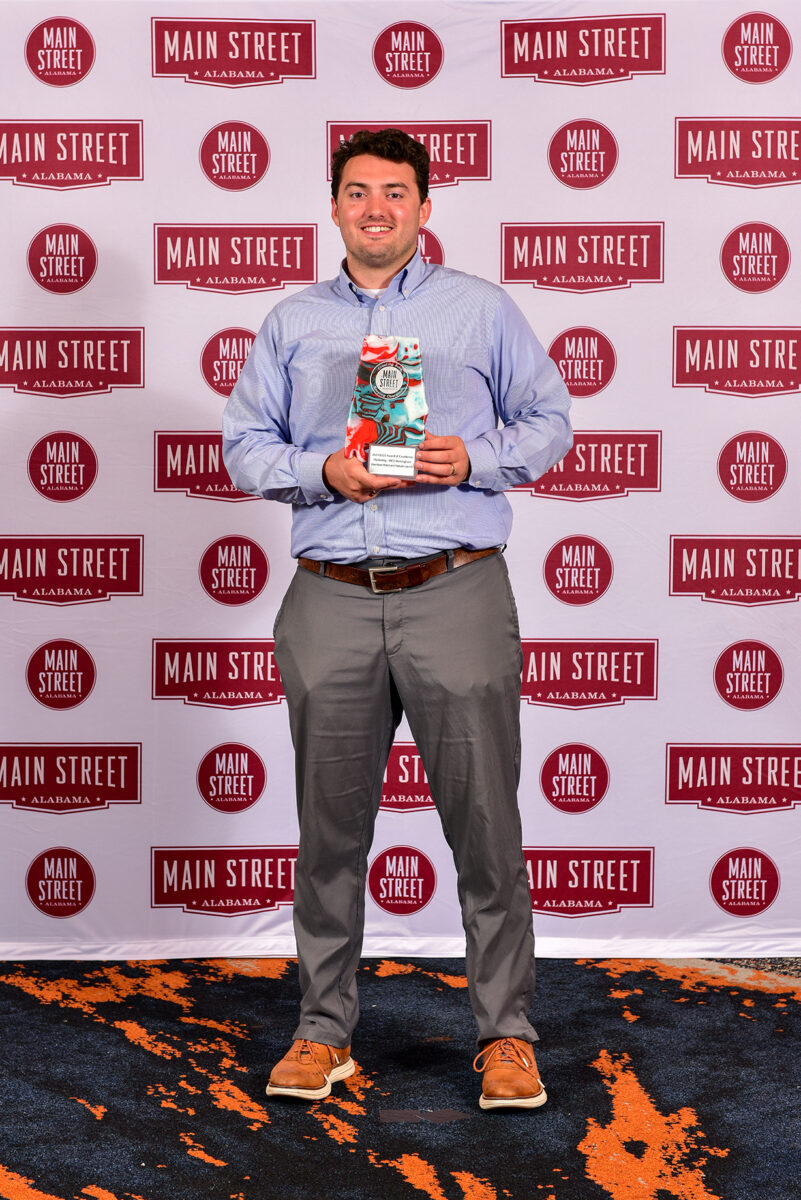 Excellence in Marketing: Downtown BHM brand & website launch
REV Birmingham launched a new brand and website on behalf of downtown property and business owners – downtownbhm.com. The new downtown brand is a customization of the recently adopted regional brand for Birmingham – BHM has more. REV's communications team worked with BIG Communications to build colorful brand standards, engaging messaging, and an intuitive website to promote all that downtown Birmingham has to offer. REV also launched @downtownbhm on Instagram, Facebook and LinkedIn to drive people to the Downtown BHM website, blog and newsletter to see more about how to experience the best of Birmingham's vibrant downtown.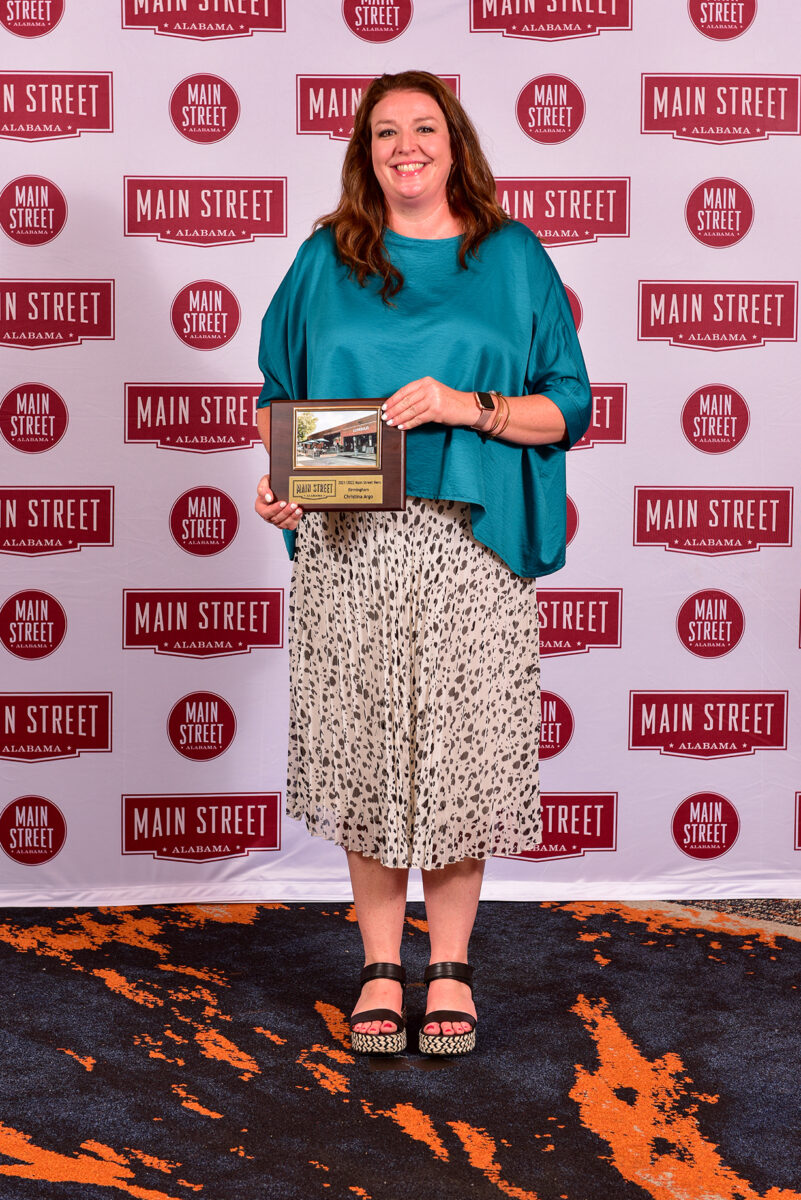 Main Street Hero: Christina Argo
While the Main Street Hero award is not necessarily a REV award, it is a win for the City of Birmingham and that's why we nominated our partner, Christina Argo, for this prestigious award! Christina Argo is the Strategic Projects and Innovation Division Manager in the City of Birmingham Department of Transportation, and she was an essential partner and advocate for the 20th Street North refresh project that REV completed with public and private partners in May 2022.  Christina has been an invaluable partner in public space projects that focus on creating vibrant, pedestrian friendly streets. She worked with REV to create the shared space permit program during the height of the Covid pandemic to give restaurants more latitude in using outdoor space to serve guests safely. Based on the popularity and vibrancy created by additional outdoor dining, Christina helped us codify the best elements of that program beyond the pandemic with the City of Birmingham's new, simpler outdoor dining permit. As a member of the American Society of Landscape Architects Christina worked on the two tactical urbanism style Parking Day projects that lead to the permanent re-design of 20th St N completed in 2020. Christina helped us create a unique public private partnership model between REV Birmingham and the City of Birmingham Department of Transportation to manage and implement a streetscape project that makes 20th St N a more vibrant main street.
The full list of Main Street award winners and descriptions can be found on the Newsroom page on Main Street Alabama's website, www.mainstreetalabama.org. 
"Last night we celebrated the accomplishments of local Main Street programs," Wirth said. "These programs represent small rural cities as well as larger, more urban communities. The diversity of these communities makes each one unique, each are working within their own capacity to improve, reinvigorate, and revitalize their downtown or neighborhood commercial districts. We were inspired by local success stories and by the businesses, organizations and individuals who are dedicated to making their communities the best they can be."
The Awards of Excellence Banquet is a highlight of LAB, a three-day conference that bolsters the efforts of communities participating in the nationally acclaimed Main Street program or those communities interested in district revitalization. The ninth annual event drew over 150 community leaders from Alabama.
Main Street Alabama has 32 Designated Programs and over 43 Network Communities. Alexander City, Anniston, Athens, Atmore, Birmingham's Historic 4th Ave Business District, Birmingham's Woodlawn District, Calera, Columbiana, Decatur, Demopolis, Dothan, Elba, Enterprise, Eufaula, Florence, Foley, Fort Payne, Gadsden, Headland, Heflin, Jasper, LaFayette, Leeds, Marion, Monroeville, Montevallo, Opelika, Oxford, Scottsboro, South Huntsville, Talladega, and Wetumpka each have Designated Programs and new communities are added annually. Application workshops are held in January for communities interested in becoming a Designated Program. Until then, communities interested in district revitalization can participate in Main Street Alabama's Network.
Main Street Alabama focuses on bringing jobs, dollars and people back to Alabama's historic communities. Economic development is at the heart of our efforts to revitalize downtowns and neighborhood commercial districts.
Related News
Filed Under: Big Pitch, Front Page, Small Business, Uncategorized

If you've been following REV for a while, you probably remember The Big Pitch Competitions we used to hold back in the day. The Big Pitch presented by PNC was essentially our own little version of Shark Tank. And a lot of your favorite local businesses that participated in this competition now have active retail storefronts that you can go check out. Let's start with some of our finalists that are based in the City of Birmingham and see what they've been up to!

Filed Under: Developer, Downtown Birmingham, Filling Vacant Spaces, Front Page, Potential-Proving, Uncategorized

Have you been to Downtown Birmingham's newest development located on 25th Street? If not, you need to head down there ASAP and check it out! This new single story development is a product of a collaboration between David Baker Architects (DBA) and Locke General Contractors, led by DBA's very own Amanda Loper. It is intended to be a "collaborative commercial space in a catalyst development area of Birmingham." Both DBA and Locke General Contractors will be tenants of the space, along with June Coffee Roasters, Zephyr Barber, and Last Call Baking Cooperative!

Filed Under: Downtown Birmingham, Events, Front Page, Uncategorized

One of Birmingham's many hidden treasures is the music scene downtown. The sheer volume of concert venues we have in downtown Birmingham is something most people aren't even aware of – but it really is remarkable! There is truly something for everyone, whether you're into the smaller, more intimate venues or the large-scale venues for those big name artists. Keep reading to check out some of the cool venues downtown Birmingham has to offer.