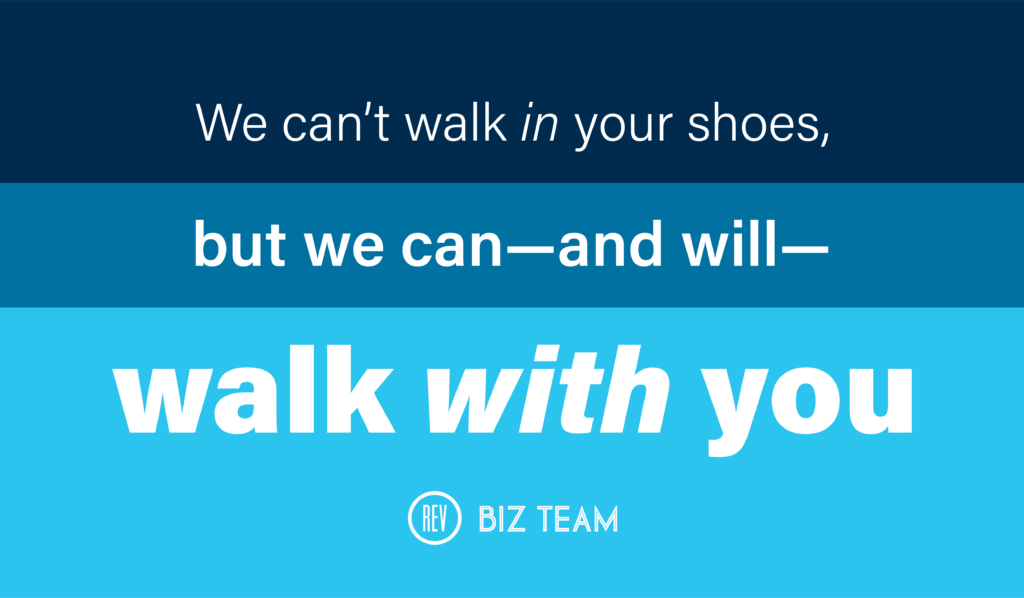 By Taylor Clark Jacobson
Director of Recruitment & Growth, REV Birmingham 
Birmingham's entrepreneurial ecosystem is collaborating to rapidly create and implement programs to support small businesses like yours – that are the fabric of a vibrant economy. Together, we are triaging what feels like a tragedy but will ultimately make us stronger.   
We ask for your patience, because federal guidance is evolving daily. It is unclear what role a stimulus package might play, but our community is analyzing the gaps to determine how we can best meet Birmingham's needs.  
We can't walk in your shoes, but REV's Business Growth team can— and will —walk with you.  As your business coaches, we encourage you to use this time wisely, to analyze your business model, to diversify your revenue streams, to solidify your financial foundation. We are following this three-pronged approach to meet your COVID-10-related small business needs:  
Contextualizing  
We're researching and continuing conversations with community, city, state and regional leaders to offer historical perspective and analysis to the issues facing our community.  
We're using our REV social channels and email communications to provide analysis and concise content that adds value to small business growth clients.  
We're listening for and seizing opportunities to advocate for small businesses.   
Convening  
We are scheduling strategy calls with ecosystem stakeholders to determine how we can be most effective.  
We're sharing resources in real-time, ensuring all partners are receiving the same info and have the same understanding.  
And, we're leading the conversation around pivoting your business model for a new norm.  
Coaching  
We're walking downtown and Woodlawn and calling business owners in those districts to find out from them how we can offer support.   
We're offering business coaching via Zoom to listen, brainstorm and creatively problem solve for your business.  
We're using our existing tools for coaching small businesses such as our 30-60-90 roadmapping plan to guide entrepreneurs through this time.   
We're working in this ever-evolving situation to not only help you through these strange times but to help you come out of them stronger than ever.
Please don't hesitate to reach out to our Business Growth team for coaching and roadmapping needs—and check out the information below about more resources for you.
#BhamStrong Resiliency Fund 
Earlier this week, the City of Birmingham approved the #BhamStrong Resiliency Fund and seeded it with $1.2 million with the goal of helping business owners keeping their workforce employed. Here's what we know about the fund. 
It is designed for small businesses with 50 or fewer employees and helps offset losses and employee reduction due to the COVID-19 outbreak. 
Zero-percent interest, 180-day loans with an anticipated amount of $10,000 will be provided per business. The fund, administered by the Birmingham Business Resource Center is expected to open the application window as early as next week.  
Visit bhamstrong.com for more information.   
Please take time to fill out the #BhamStrong survey to help the campaign understand Birmingham small businesses' needs in the coming weeks. Find it here: https://bhamstrong.com/smallbusiness   
Small Business Administration Economic Injury Disaster Loans 
On a federal level, the Small Business Administration is offering low-interest Economic Injury Disaster loans. Here's what you need to know: 
 Small businesses and non-profit organizations in eligible areas can apply. 
The funds can be used to pay fixed debts, accounts payable, payroll and other bills. 
 These loans will provide working capital to small businesses suffering substantial economic injury as a result of the COVID-19. Loans may be up to $2,000,000 at a 3.75% fixed interest rate on loans to for-profit companies and 2.75% fixed interest rate on loans to non-profits. 
Learn more here: https://disasterloan.sba.gov/ela/.  
Related News
Filed Under: Events, Front Page

It's officially spooky season and the Innovation Depot is wasting no time getting into the Halloween spirit! They are hosting their first ever "Tech or Treat" event on Thursday, October 28 from 3:30 to 6:00 p.m. The event is free and open to the public – what better way to kick off Hallo-weekend?!

Filed Under: Downtown Birmingham, Front Page, Yaysayers

Downtown Birmingham is full of beautiful buildings, both new and old! A good portion of those buildings consist of churches, and while many of them are beautiful to look at, they also have a rich history that often gets overlooked.