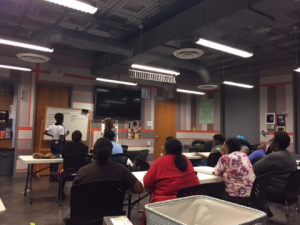 The YWCA Family Resource Center in Woodlawn is now offering Farm Fresh Cooking –  a program developed by REV Birmingham's Urban Food Project (UFP), AARP Alabama, Ama Shamublia, and the Alabama Extension Cooperative Systems. Farm Fresh Cooking provides residents with fun and comprehensive nutrition education. REV's UFP team trained twenty community leaders last fall in implementing Farm Fresh Cooking so community leaders can replicate the successful model across the city. This month, Woodlawn community is getting a taste of the program and local, healthy food.
The YWCA Family Resource Center in Woodlawn recently adopted Farm Fresh Cooking Classes into their "Let's Cook" program for 2017. They hosted their first 6-week class for four families on Tuesday, January 31, from 5:30 to 7 PM. The first nutrition lesson "Enjoying Healthy Food that Tastes Great" used Cooking Light's recipe for Chicken Fingers, sweet potatoes fries, and garlic green beans. The  participants shared a meal, discussed the lesson and were all able to take a local food bag containing fresh green beans, Gravel Ridge Farm eggs, and Haynes & Sons' sweet potatoes sourced through REV Birmingham's Urban Food Project to try at home.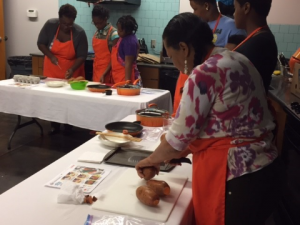 Farm Fresh Cooking is a ½ day, 2-day, 3-week, or 6-week program that combines nutrition lessons from "Eat Healthy, Be Active", hands-on cooking demonstrations, shared meals, and take-home food bags to develop healthy eating habits in the community.  The Woodlawn YWCA began using "Farm Fresh Cooking" this year after Farm Fresh Cooking Facilitator training conducted by the UFP team last fall. The YWCA plans to host a second 6-week class starting in April for four Woodlawn families free of charge. REV's Urban Food Project will continue to support the YWCA Family Resource Center through consultations, evaluations, and local product sourcing.
Related News
Filed Under: Downtown Birmingham, Front Page, Uncategorized

We've talked about sports, but downtown has so much more to offer! Downtown Birmingham has so many experiences in store for you, which can also turn into life-long memories. And lucky for you, we've created a tool to make all that exploring so much easier!

Filed Under: Developer, Downtown Birmingham, Front Page, Potential-Proving, Uncategorized

If you've been paying close attention, you may have noticed that we've been hinting at a new Linn Park project coming soon – and we're finally ready to share it with you! A planning process to redesign and reactivate Linn Park kicked off recently when public and private organizational partners met on site with the nationally acclaimed park designers OJB Landscape Architecture (OJB) to begin an eight-month master plan development process to improve Linn Park.

Filed Under: Downtown Birmingham, Front Page, Small Business, Uncategorized

If you're anything like us, Mother's Day has snuck up on you and now you're scrambling to find a gift before next weekend. Well lucky for you, we're here to save the day! We put together a gift guide for Mother's Day that will not only leave mom with a smile on her face, but it'll help you support local businesses right here in the Ham!