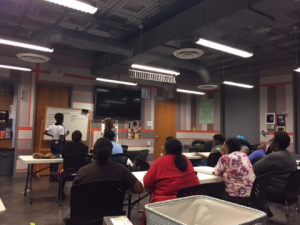 The YWCA Family Resource Center in Woodlawn is now offering Farm Fresh Cooking –  a program developed by REV Birmingham's Urban Food Project (UFP), AARP Alabama, Ama Shamublia, and the Alabama Extension Cooperative Systems. Farm Fresh Cooking provides residents with fun and comprehensive nutrition education. REV's UFP team trained twenty community leaders last fall in implementing Farm Fresh Cooking so community leaders can replicate the successful model across the city. This month, Woodlawn community is getting a taste of the program and local, healthy food.
The YWCA Family Resource Center in Woodlawn recently adopted Farm Fresh Cooking Classes into their "Let's Cook" program for 2017. They hosted their first 6-week class for four families on Tuesday, January 31, from 5:30 to 7 PM. The first nutrition lesson "Enjoying Healthy Food that Tastes Great" used Cooking Light's recipe for Chicken Fingers, sweet potatoes fries, and garlic green beans. The  participants shared a meal, discussed the lesson and were all able to take a local food bag containing fresh green beans, Gravel Ridge Farm eggs, and Haynes & Sons' sweet potatoes sourced through REV Birmingham's Urban Food Project to try at home.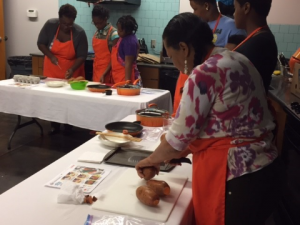 Farm Fresh Cooking is a ½ day, 2-day, 3-week, or 6-week program that combines nutrition lessons from "Eat Healthy, Be Active", hands-on cooking demonstrations, shared meals, and take-home food bags to develop healthy eating habits in the community.  The Woodlawn YWCA began using "Farm Fresh Cooking" this year after Farm Fresh Cooking Facilitator training conducted by the UFP team last fall. The YWCA plans to host a second 6-week class starting in April for four Woodlawn families free of charge. REV's Urban Food Project will continue to support the YWCA Family Resource Center through consultations, evaluations, and local product sourcing.
Related News
Filed Under: Big Pitch, Front Page, Small Business, Uncategorized

If you've been following REV for a while, you probably remember The Big Pitch Competitions we used to hold back in the day. The Big Pitch presented by PNC was essentially our own little version of Shark Tank. And a lot of your favorite local businesses that participated in this competition now have active retail storefronts that you can go check out. Let's start with some of our finalists that are based in the City of Birmingham and see what they've been up to!

Filed Under: Developer, Downtown Birmingham, Filling Vacant Spaces, Front Page, Potential-Proving, Uncategorized

Have you been to Downtown Birmingham's newest development located on 25th Street? If not, you need to head down there ASAP and check it out! This new single story development is a product of a collaboration between David Baker Architects (DBA) and Locke General Contractors, led by DBA's very own Amanda Loper. It is intended to be a "collaborative commercial space in a catalyst development area of Birmingham." Both DBA and Locke General Contractors will be tenants of the space, along with June Coffee Roasters, Zephyr Barber, and Last Call Baking Cooperative!

Filed Under: Downtown Birmingham, Events, Front Page, Uncategorized

One of Birmingham's many hidden treasures is the music scene downtown. The sheer volume of concert venues we have in downtown Birmingham is something most people aren't even aware of – but it really is remarkable! There is truly something for everyone, whether you're into the smaller, more intimate venues or the large-scale venues for those big name artists. Keep reading to check out some of the cool venues downtown Birmingham has to offer.