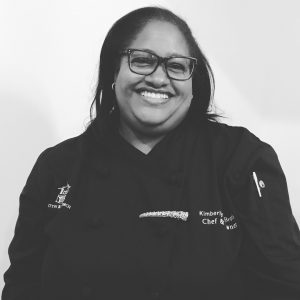 It's no secret that food has been an important part of Birmingham's culture and revitalization. REV's REVeal Kitchen accelerator was created to make it a bit easier for aspiring restaurateurs to make the leap from concept to brick and mortar.
In August, we'll welcome our second tenant on this journey, CO.STARTERS alum and owner of Bitty's Living Kitchen, Kimberly Brock. Her healthy and "living food" concept, complete with vegan and vegetarian-friendly options, will be a welcome addition to the growing culinary and cultural diversity in The Pizitz Food Hall. Be sure to follow her progress on the Bitty's Living Kitchen Facebook page!
The introduction of one tenant also means the graduation of another. Tropicaleo brought an authentic Puerto Rican culinary experience to Birmingham and The Pizitz Food Hall. Join us in thanking them for kicking off an exciting new offering for local food-based talent. You can keep track of Tropicaleo's progress as they work toward the opening of their Avondale location, directly across from Cahaba Brewing Co.
We also want to say a special thanks to our sponsors and supporters who have come together in an effort to offer an innovative and impactful launchpad for local culinary stars! Our deepest appreciation to partners at Bayer Properties, Buffalo Rock, Red Diamond, Wood Fruitticher, Regions Bank; the Ellen & Fred Elsas Fund, the Alice Meriwether Bowsher Fund; and our in-kind supporters at Maynard Cooper & Gale, Appleseed Workshop, and BRESCO. Another shout out goes to our friends at Create Birmingham for affording us the exciting opportunity to partner on their CO.STARTERS initiative, a ten-week program that has graduated well over 100 entrepreneurs who have dedicated themselves to creating a commercially-thriving, vibrant, and inclusive Birmingham.
Related News
Filed Under: Downtown Birmingham, Front Page, Potential-Proving, Uncategorized, Yaysayers

This Friday, May 20th, we will be having a (20th) Street Party (which you can read more about here) to celebrate the end of our Birmingham Green Refresh! While this certainly calls for a celebration, the party doesn't stop there. We will still be adding some finishing touches to the street after the (20th) Street Party. These additional touches will help make Birmingham's main street more vibrant, interactive, and efficient! Additions will include smart trash cans, free libraries, street performers, and more!

Filed Under: Downtown Birmingham, Front Page, Uncategorized

We've talked about sports, but downtown has so much more to offer! Downtown Birmingham has so many experiences in store for you, which can also turn into life-long memories. And lucky for you, we've created a tool to make all that exploring so much easier!

Filed Under: Downtown Birmingham, Front Page, Potential-Proving

We are approaching the finish line for the 20th Street Refresh, which calls for a celebration – and you're invited! The City Center Business Improvement District (BID), funded by downtown property owners, is partnering with the City of Birmingham and REV Birmingham to celebrate a refreshed Birmingham Green. Come join the party on May 20th from 4 to 8 p.m (with a special celebration happening at 6 p.m.)!