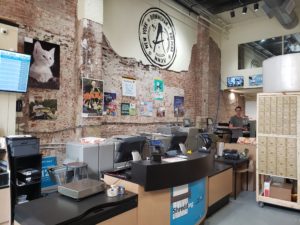 If Customers have noticed that the downtown Birmingham's UPS Store isn't in its usual Frank Nelson Building location on 20th Street North, there's a very exciting reason for it.  
The redevelopment of the historic 10-story building on the busy downtown street is shaking things up for both old and new businesses as it sets the block for a new level of vibrancy.
The UPS Store City Center has temporarily relocated a few doors down in the former Alchemy space at 217 20th Street North while renovation is completed on what will be known as The Frank. 
"[The temporary location] just helped us out tremendously," UPS Store City Center General Manager Larry Anderson said.  "We were all going, 'What are we going to do for four to six months?' " 
The former Alchemy space was move-in ready for UPS, and will, in turn, be up to code for a new tenant once the store settles back into its permanent location.   
Once back in The Frank, Anderson says the UPS Store will be the most technologically advanced in the Southeast.  Orchestra Partners, the firm remodeling The Frank, says shell space for the store is almost complete. After that, it will take two to three weeks to fully build out the store.  
The Frank was built in 1903 as the headquarters of the First National Bank of Birmingham. It was the city's third skyscraper, standing 10-stories high. In its past life, The Frank served as a space for law firms, marketing firms and even a jewelry repair store.  
This time around, Pearson said there will be space for a high-end restaurant, a courtyard and Trattoria Centrale, another returning tenant. 
Jeremy Pearson, Orchestra Partners Development Associate, said office space planned for the 3rd through 10th floors could give the UPS Store an even bigger customer base once it moves back in.  
"The Frank has only been about 30 to 40 percent occupied as far as the office space," Pearson said. "[The UPS Store City Center] is excited because we plan on filling this thing up. It's going to be an awesome place to work. The UPS Store is going to be an amenity to those office users that are occupying those floors above it." 
The UPS Store City Center offers digital press printing, formatting, color and foil services, flyers, brochures, window graphics, shipping, notary services, mailbox services to large corporations and small businesses. 
"Our objective is to be the best-equipped and capable print center in the state for small business," Anderson said. "We want to be the preferred best value for small business."  
For now, UPS corporate offices are designing the new layout of the store—including all furniture, fixtures and technology that will be installed. It is working with Dorsey Architects Inc.  
The first phase of The Frank, which includes the reopening of the UPS Store City Center, will be complete in June. 
Related News
Filed Under: Events, Front Page

It's officially spooky season and the Innovation Depot is wasting no time getting into the Halloween spirit! They are hosting their first ever "Tech or Treat" event on Thursday, October 28 from 3:30 to 6:00 p.m. The event is free and open to the public – what better way to kick off Hallo-weekend?!

Filed Under: Downtown Birmingham, Front Page, Yaysayers

Downtown Birmingham is full of beautiful buildings, both new and old! A good portion of those buildings consist of churches, and while many of them are beautiful to look at, they also have a rich history that often gets overlooked.