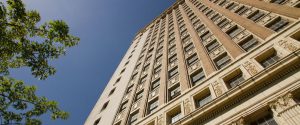 Operated by Birmingham chef and restauranteur Brandon Cain (of Saw's Soul Kitchen and Post Office Pies), Roots & Revelry will be the official restaurant anchor in T.J. Tower – a casual fine dining experience and welcome addition to the collection of lofts, vintage parlor, grand ballroom and event space to be featured in the historic building.
Are you interested in joining the Thomas Jefferson Tower team? Applications to join Roots & Revelry's all-star staff are available NOW. Owners are currently looking for Host Staff, Wait Staff, Bar Staff, Line Cooks and Dishwashers. If you're a go-getter in the Birmingham or surrounding-area food/service industry, CLICK HERE TO APPLY!
And be sure to email your resume HERE!