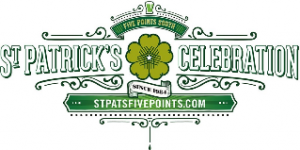 Five Points South is having their annual St. Patrick's Day Parade this weekend and REV Young Pioneers of Birmingham will be at the first annual VIP Viewing Party!
Located next door to 5 Point Public House Oyster Bar, there will be valet parking starting at 11 AM.
Birmingham Mountain Radio will be broadcasting from the outside deck overlooking the parade route right on 20th Street and will be sneaking a couple of Sloss Fest tickets in a lucky party goer's swag bag!
SWAG, you say? Oh yes! Every participant will receive 2 drink tickets and a full meal buffet made especially for the Young Pioneers by George at 5 Points Public Oyster Bar. That's not all! Swag bags will include t-shirts, Tullamore Dew and Guinness shot glasses, Marc Dunn music, parade beads, light up necklaces, koozies, pens, coupons, Guinness key chains, sunglasses, and 5 extremely lucky party goers will also receive one of 4 $100 gift cards to Ocean or Tickets to Sloss Fest!!
Is that all? NO! Tullamore Dew is giving away a heavy duty, tailgating cooler and BMR is giving away concert tickets with proceeds to benefit the 5 Points Alliance.
Tickets are FREE to all Young Pioneers Members and $50 for non-members! However, they are limited as we have limited space, get a ticket quick HERE!


Related News
Filed Under: Front Page, Uncategorized, Woodlawn, Yaysayers

This Sunday, a group of volunteers will embark on a façade improvement project at The Shop on 1st Avenue – cleaning and painting the outside of the building.