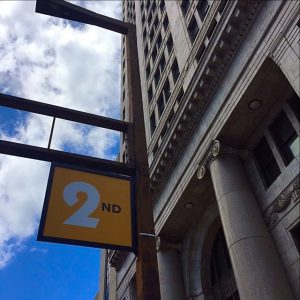 If you've been down 2nd Avenue North lately, you may have noticed some yellows signs with a large 2 on them. The signs are the product of a community-driven branding project started several years ago that also includes the yellow bike racks and bench planters on 2nd Ave N. Special thanks to the following who made this project possible: Jeremy Erdreich of Erdreich Architecture PC for convening the original stakeholder group and conceiving of the project; Chatham Hellmers of Charm for raising the money to purchase the signs; Shannon Harris of BIG Communications for the awesome design; Mayor William A Bell, Sr., for his support of the project; Council President Johnathan Austin for funding the sign frames; and the City of Birmingham Sign Shop for the installation.
Six additional signs are scheduled to be installed between 25th Street North and Richard Arrington Jr. Blvd. The street is looking brighter and is more recognizable to visitors thanks to the work of everyone who pitched in!
Related News
Filed Under: Downtown Birmingham, Front Page, Uncategorized

We've talked about sports, but downtown has so much more to offer! Downtown Birmingham has so many experiences in store for you, which can also turn into life-long memories. And lucky for you, we've created a tool to make all that exploring so much easier!

Filed Under: Downtown Birmingham, Front Page, Potential-Proving

We are approaching the finish line for the 20th Street Refresh, which calls for a celebration – and you're invited! The City Center Business Improvement District (BID), funded by downtown property owners, is partnering with the City of Birmingham and REV Birmingham to celebrate a refreshed Birmingham Green. Come join the party on May 20th from 4 to 8 p.m (with a special celebration happening at 6 p.m.)!

Filed Under: Developer, Downtown Birmingham, Front Page, Potential-Proving, Uncategorized

If you've been paying close attention, you may have noticed that we've been hinting at a new Linn Park project coming soon – and we're finally ready to share it with you! A planning process to redesign and reactivate Linn Park kicked off recently when public and private organizational partners met on site with the nationally acclaimed park designers OJB Landscape Architecture (OJB) to begin an eight-month master plan development process to improve Linn Park.