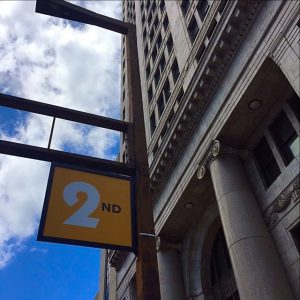 If you've been down 2nd Avenue North lately, you may have noticed some yellows signs with a large 2 on them. The signs are the product of a community-driven branding project started several years ago that also includes the yellow bike racks and bench planters on 2nd Ave N. Special thanks to the following who made this project possible: Jeremy Erdreich of Erdreich Architecture PC for convening the original stakeholder group and conceiving of the project; Chatham Hellmers of Charm for raising the money to purchase the signs; Shannon Harris of BIG Communications for the awesome design; Mayor William A Bell, Sr., for his support of the project; Council President Johnathan Austin for funding the sign frames; and the City of Birmingham Sign Shop for the installation.
Six additional signs are scheduled to be installed between 25th Street North and Richard Arrington Jr. Blvd. The street is looking brighter and is more recognizable to visitors thanks to the work of everyone who pitched in!
Related News
Filed Under: Downtown Birmingham, Front Page, Get Involved

We've made it to the third and final public workshop for Re-vision Linn Park! Partners behind Re-Vision Linn Park will wrap up the community engagement process at the last public workshop on Tuesday, October 4, at Boutwell Auditorium. Community members can participate and provide feedback on a park design concept in the noon or 5:30 p.m. session – so come out one last time and let your voice be heard!

Filed Under: Developer, Downtown Birmingham, Filling Vacant Spaces, Front Page, Potential-Proving, Uncategorized

Have you been to Downtown Birmingham's newest development located on 25th Street? If not, you need to head down there ASAP and check it out! This new single story development is a product of a collaboration between David Baker Architects (DBA) and Locke General Contractors, led by DBA's very own Amanda Loper. It is intended to be a "collaborative commercial space in a catalyst development area of Birmingham." Both DBA and Locke General Contractors will be tenants of the space, along with June Coffee Roasters, Zephyr Barber, and Last Call Baking Cooperative!

Filed Under: Downtown Birmingham, Events, Front Page, Uncategorized

One of Birmingham's many hidden treasures is the music scene downtown. The sheer volume of concert venues we have in downtown Birmingham is something most people aren't even aware of – but it really is remarkable! There is truly something for everyone, whether you're into the smaller, more intimate venues or the large-scale venues for those big name artists. Keep reading to check out some of the cool venues downtown Birmingham has to offer.