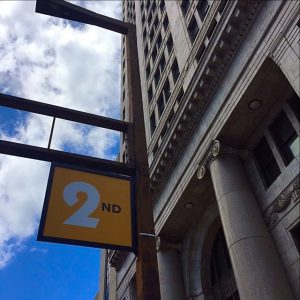 If you've been down 2nd Avenue North lately, you may have noticed some yellows signs with a large 2 on them. The signs are the product of a community-driven branding project started several years ago that also includes the yellow bike racks and bench planters on 2nd Ave N. Special thanks to the following who made this project possible: Jeremy Erdreich of Erdreich Architecture PC for convening the original stakeholder group and conceiving of the project; Chatham Hellmers of Charm for raising the money to purchase the signs; Shannon Harris of BIG Communications for the awesome design; Mayor William A Bell, Sr., for his support of the project; Council President Johnathan Austin for funding the sign frames; and the City of Birmingham Sign Shop for the installation.
Six additional signs are scheduled to be installed between 25th Street North and Richard Arrington Jr. Blvd. The street is looking brighter and is more recognizable to visitors thanks to the work of everyone who pitched in!
Related News
Filed Under: Downtown Birmingham, Front Page, Residential, Yaysayers

Meet Lauren and Marina Moore! These sisters have lived at The Watts residents for the past two years. Learn why the Moores choose to live downtown rather than stay in the suburbs.

Filed Under: Downtown Birmingham, Front Page, Woodlawn, Yaysayers

REV focuses on creating vibrant business districts. These districts enhance our lives and help attract and retain talent and business in our region. REV works in two main areas within Birmingham; Woodlawn and Downtown. In 2022 the city has seen a lot of growth and changes, so let's reflect on the past year!