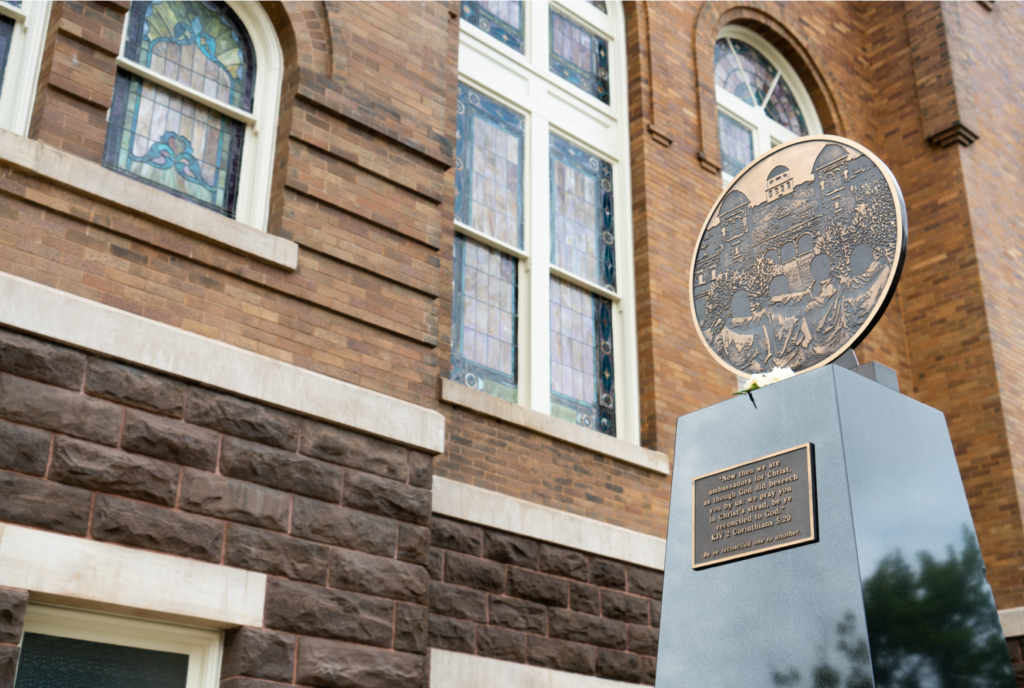 Visitors come to Sixteenth Street Baptist Church from all over the world to not only stand on hallowed ground but to remember both the tragedy and triumphs that happened within its walls.  
Starting this month, people will be able to pay their respects more viscerally.   
Sept. 15, 56 years to the day that a bomb killed four little girls— Addie Mae Collins, Denise McNair, Cynthia Wesley and Carole Robertson— a new interactive museum will open honoring the girls and the chain of events their murders set off in the Civil Rights Movement.   
Earlier this year, the church completed its five-year restoration plan funded in part by a $150,000 grant won through the National Trust Main Street Fund Partners in Preservation competition. That work made it possible for it to move forward with the museum. 
The centerpiece of the museum will be an experience room that will transport visitors back to the day of the bombing, according to Ted Debro, chair of church trustees said.  
"You'll get a chance to get a sense and feel for what really happened during that period in 1963 as well as feel and experience the bombing," he said. "You'll hear various sounds and noises of that Sunday, with flashing lights. You'll also experience the clock that stopped in the church at 10:22 a.m."  
Debro said the eulogy that Dr. Martin Luther King, Jr. gave for three of the girls serves as a background for the room.   
Visitors will also be reminded of the Sunday School lesson of Sept. 15, 1963, "A Love That Forgives."   
Afterward, they will be led through a video-heavy timeline of the church, which was founded in 1873, that leads up to present-day and the issues that the house of worship and its surrounding neighborhood faces, such as urban renewal, economic and business depletion, and struggle for space and identity in an expanding city center.  
56th Memorial Observance of Church Bombing schedule
9:30 a.m. – Mass Sunday School
Lesson from U.S. Airforce Chaplain Lt. Col. Ruth N. Segres
10:22 a.m. -Tolling of the bells
Special Guest: Former V.P. Joe Biden
Worship Service
Sermon by Rev. Eric. S. C. Manning, Mother Emanuel AME Church, Charleston, S.C.
1 p.m. – Ribbon Cutting
Opening of museum
On a larger screen, there will be videos of testimonies from various people who were connected to the church during the earlier years.  
"There will a be a lot of things going on in that basement and in that display," Debro said.  
Sharing the story of the bombing and the church's role in the movement is a part of its mission, according to Debro.   
"It's part of our ministry, really, to tell the story and to really relate the story to scripture," he said.   
The ribbon-cutting on the museum is just one part of a larger remembrance for the girls.   
Former Vice President and current presidential nominee Joe Biden will be on hand for the tolling of the church bells.   
U.S. Air Force Chaplain, Lt. Col. Ruth N. Segres will deliver the Sunday School lesson from 1963, and Rev. Eric S. C. Manning of Mother Emanuel African Methodist Episcopal Church in Charleston will conduct the 11 a.m. worship service.   
A wreath-laying and ribbon-cutting for the museum will follow that afternoon.   
Debro said it was important to include Manning and Biden in the program because they have both have a relationship with tragedy. A gunman killed nine people at Mother Emanuel during Bible study in 2015, and Biden lost his first wife and daughter in a car crash and later his son to cancer.   
"We think it's important to not only tell our story but to hear other stories that are pretty near our message, so we can all understand that we have to do a better job of working to make this world a better place," he said.   
Related News
Filed Under: Events, Front Page

It's officially spooky season and the Innovation Depot is wasting no time getting into the Halloween spirit! They are hosting their first ever "Tech or Treat" event on Thursday, October 28 from 3:30 to 6:00 p.m. The event is free and open to the public – what better way to kick off Hallo-weekend?!

Filed Under: Downtown Birmingham, Front Page, Yaysayers

Downtown Birmingham is full of beautiful buildings, both new and old! A good portion of those buildings consist of churches, and while many of them are beautiful to look at, they also have a rich history that often gets overlooked.