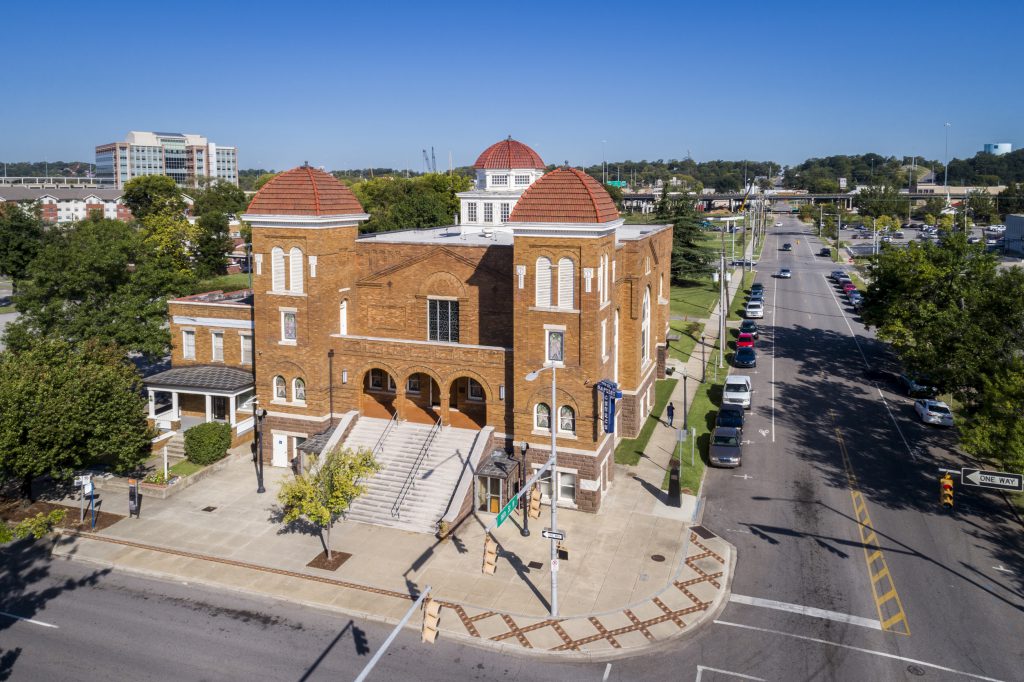 Thanks to Sixteenth Street Baptist Church supporters' diligent online voting, the historic church finished in the top 10 of the 2018 Partners in Preservation campaign and will receive a $150,000 grant to install protective glass on the outside of all the church's recently-restored stained glass windows as well as make repairs to the cupola and twin bell towers.
"Sixteenth Street Baptist Church is very appreciative of this grant from the National Trust which will help us to preserve our stained-glass windows, bell towers and cupola," said Rev. Arthur Price, pastor of Sixteenth Street Baptist. "We would like to thank the City of Birmingham, the community at large, and all those around the country who were diligent in voting for Sixteenth Street to receive this award. We like to thank the mayor of Birmingham, city counselors, and county commissioners for their support as well. We are especially grateful to REV Birmingham and their amazing staff for nominating us for this award. This grant will go a long way in helping us preserve this iconic site for future generations. We are humbled and grateful for this honor."
Partners in Preservation is a community-based partnership, created by the National Trust for Historic Preservation and American Express, to raise awareness of the importance of preserving historic places and their role in sustaining local communities. Each of the 20 sites featured in the 2018 campaign played a role in the development of a diverse nation or the struggle for equal rights.
"I join every resident of Birmingham in celebrating this huge award for Sixteenth Street Baptist Church," said Birmingham Mayor Randall Woodfin. "Sixteenth Street is so much more than a building – it symbolizes the resilience of those who fought tirelessly in the name of justice. It's a cornerstone of our city and a living monument to social justice. This grant will ensure that Sixteenth Street's legacy remains strong."
As a Main Street America organization invested in historic preservation, REV Birmingham nominated Sixteenth Street Baptist Church for this year's Partners in Preservation competition and helped work with the church to run the monthlong campaign for votes. They were selected as one of 20 finalists in the national competition that ran from September 24 to October 26. REV also worked with last year's Partners in Preservation finalist, Alabama Theatre, which won $120,000 for its 18th Street vertical Alabama sign.
"Thousands and thousands of votes prove again that Birmingham is invested in preserving its historic buildings," said David Fleming, REV CEO and President. "Sixteenth Street Baptist is an important piece of our city's and our nation's history, and this grant will help ensure that it remains part of our future."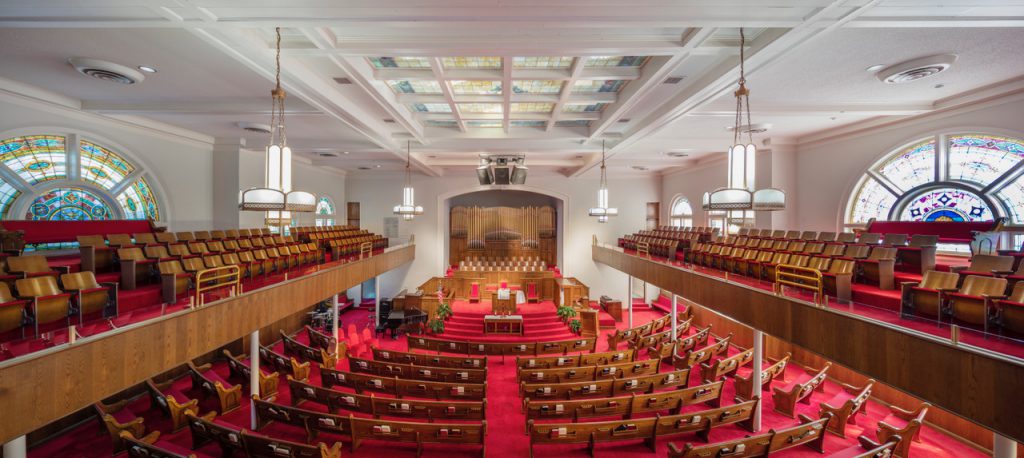 Sixteenth Street Baptist Church history
Sixteenth Street Baptist Church was built in 1911 by a group of African Americans who had a few years earlier been ordered to raze their 1883 building because the steeple was too tall. Black architect Wallace A. Rayfield designed the church that is now known as a national Civil Rights icon.
During Birmingham's turbulent 1960s, Sixteenth Street Baptist Church was a venue for the organization of mass meetings and demonstrations. On Sunday, September 15, 1963, the church was bombed, killing four young girls: Addie Mae Collins, Denise McNair, Cynthia Wesley and Carole Robertson.
When the bomb exploded, many of the stained-glass windows were damaged and some destroyed, but the center window of "Jesus knocking at the door" had just the face of Jesus missing, a detail that many interpreted as a symbol of Jesus' shame of the racial divide in Birmingham and America. Once the building was restored in 1964-65, a gift of a stained-glass window from the people of Wales arrived depicting a "Black Christ" holding up the world and at the same time extending help to the world.
Today, Sixteenth Street, a vibrant and thriving ministry, continues to tell its story of redemption, forgiveness and hope to visitors from all over the world. As a historically significant site, the church has set fundraising as a priority to help preserve the church, the parsonage and the future of Sixteenth Street Baptist.
Related News
Filed Under: Big Pitch, Front Page, Small Business, Uncategorized

If you've been following REV for a while, you probably remember The Big Pitch Competitions we used to hold back in the day. The Big Pitch presented by PNC was essentially our own little version of Shark Tank. And a lot of your favorite local businesses that participated in this competition now have active retail storefronts that you can go check out. Let's start with some of our finalists that are based in the City of Birmingham and see what they've been up to!

Filed Under: Developer, Downtown Birmingham, Filling Vacant Spaces, Front Page, Potential-Proving, Uncategorized

Have you been to Downtown Birmingham's newest development located on 25th Street? If not, you need to head down there ASAP and check it out! This new single story development is a product of a collaboration between David Baker Architects (DBA) and Locke General Contractors, led by DBA's very own Amanda Loper. It is intended to be a "collaborative commercial space in a catalyst development area of Birmingham." Both DBA and Locke General Contractors will be tenants of the space, along with June Coffee Roasters, Zephyr Barber, and Last Call Baking Cooperative!

Filed Under: Downtown Birmingham, Events, Front Page, Uncategorized

One of Birmingham's many hidden treasures is the music scene downtown. The sheer volume of concert venues we have in downtown Birmingham is something most people aren't even aware of – but it really is remarkable! There is truly something for everyone, whether you're into the smaller, more intimate venues or the large-scale venues for those big name artists. Keep reading to check out some of the cool venues downtown Birmingham has to offer.