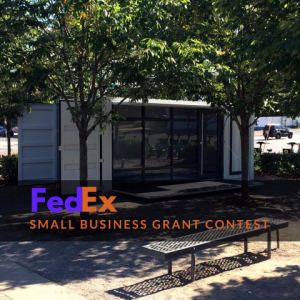 As a small startup in Birmingham for most of his career, another CO.STARTERS grad, Eric Tasker of SmallBox Company, realized there was a gap between starting up and getting to a storefront. One of the biggest hurdles? Location, location, location. As a startup, it's hard to figure out where you can best reach your target market. SmallBox Co. answers that need by providing startups with small, affordable space through short-term access to prime retail locations. Their Boxes can be leased and relocated to spots in hot areas of town, so a starter can test the market. (You may have seen his first tenant, Rainy Day boutique, inRailroad Park last Fall.)
So why should you vote for SmallBox Co. in the FedEx Small Business Grant Contest? The Grant cash and prizes would allow SmallBox Co. to convert a shipping container into a small, well- designed space and place it in a new location in the city. SmallBox Co. could also place that Box in an underutilized retail area as a way to foster growth in depressed neighborhoods. By leasing a SmallBox, a starter can test the retail market and establish a presence before committing to leasing or renovating an existing building. So get to voting! Click HERE to support SmallBox Co.!
SmallBox was created to spur growth within the start-up community in Birmingham by building Small Spaces for Big Ideas. Keep an eye out for some of those Big Ideas when Boxes are back in Railroad Park this spring! & thanks for voting to grow Birmingham businesses!
Related News
Filed Under: Big Pitch, Front Page, Small Business, Uncategorized

If you've been following REV for a while, you probably remember The Big Pitch Competitions we used to hold back in the day. The Big Pitch presented by PNC was essentially our own little version of Shark Tank. And a lot of your favorite local businesses that participated in this competition now have active retail storefronts that you can go check out. Let's start with some of our finalists that are based in the City of Birmingham and see what they've been up to!

Filed Under: Front Page, Small Business, Uncategorized, Woodlawn

We're so excited to welcome yet another new business to the Woodlawn Community! Thrive Wellness Lounge is a plant-based health and wellness store in the heart of Woodlawn owned by Tish Fletcher (a veteran Woodlawn Street Market vendor – whoop whoop)! You can swing by and check out Woodlawn's newest addition on Tuesday – Saturday from 11:00 a.m. – 5:30 p.m. It's always a good time to support a female, black-owned local business! We talked to Tish a little bit more about her journey to opening her very own brick and mortar store. Keep reading to learn more!

Filed Under: Business-Proving, Front Page, Small Business, Uncategorized, Woodlawn, Woodlawn Street Market

It's our favorite time of the month again – Woodlawn Street Market time! Woohoo! This month's market will be held on August 13, 2022, from 5-9 p.m. and it's a night market – because we all know how bad that Alabama heat can get! Keep reading to check out the vendors that will be featured at this month's market.