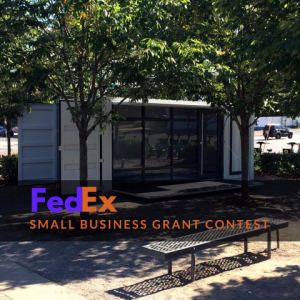 As a small startup in Birmingham for most of his career, another CO.STARTERS grad, Eric Tasker of SmallBox Company, realized there was a gap between starting up and getting to a storefront. One of the biggest hurdles? Location, location, location. As a startup, it's hard to figure out where you can best reach your target market. SmallBox Co. answers that need by providing startups with small, affordable space through short-term access to prime retail locations. Their Boxes can be leased and relocated to spots in hot areas of town, so a starter can test the market. (You may have seen his first tenant, Rainy Day boutique, inRailroad Park last Fall.)
So why should you vote for SmallBox Co. in the FedEx Small Business Grant Contest? The Grant cash and prizes would allow SmallBox Co. to convert a shipping container into a small, well- designed space and place it in a new location in the city. SmallBox Co. could also place that Box in an underutilized retail area as a way to foster growth in depressed neighborhoods. By leasing a SmallBox, a starter can test the retail market and establish a presence before committing to leasing or renovating an existing building. So get to voting! Click HERE to support SmallBox Co.!
SmallBox was created to spur growth within the start-up community in Birmingham by building Small Spaces for Big Ideas. Keep an eye out for some of those Big Ideas when Boxes are back in Railroad Park this spring! & thanks for voting to grow Birmingham businesses!
Related News
Filed Under: Business-Proving, Downtown Birmingham, Events, Front Page, Small Business, Uncategorized

So So Spiffy, a local staging and interior design company, is proud to announce its new retail endeavor, Shopping Shindig. This once-a-month sale will take place at their new warehouse downtown and provide curated collections of designer furniture, art, and home accessories up to 60% off.