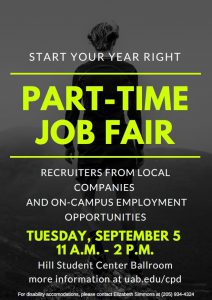 Zyp BikeShare will be looking to recruit talented UAB students at the university's Part-Time Job Fair on Tuesday, September 5 from 11 a.m. to 2 p.m. in the Hill Student Center Ballroom. If you or someone you know may be interested in joining an energetic and creative problem-solving team, tell them to look for the Zyp table at the fair! See more information at uab.edu/cpd.
Related News
Filed Under: Downtown Birmingham, Front Page

CAP is coordinating directly with leadership of Birmingham Police North Precinct and will continue to operate a full schedule as long as staffing and ambassador safety allows.

Filed Under: Downtown Birmingham

To protect one of Birmingham's most vulnerable populations, CAP and One Roof are coordinating education and sanitation services for people who are unsheltered.