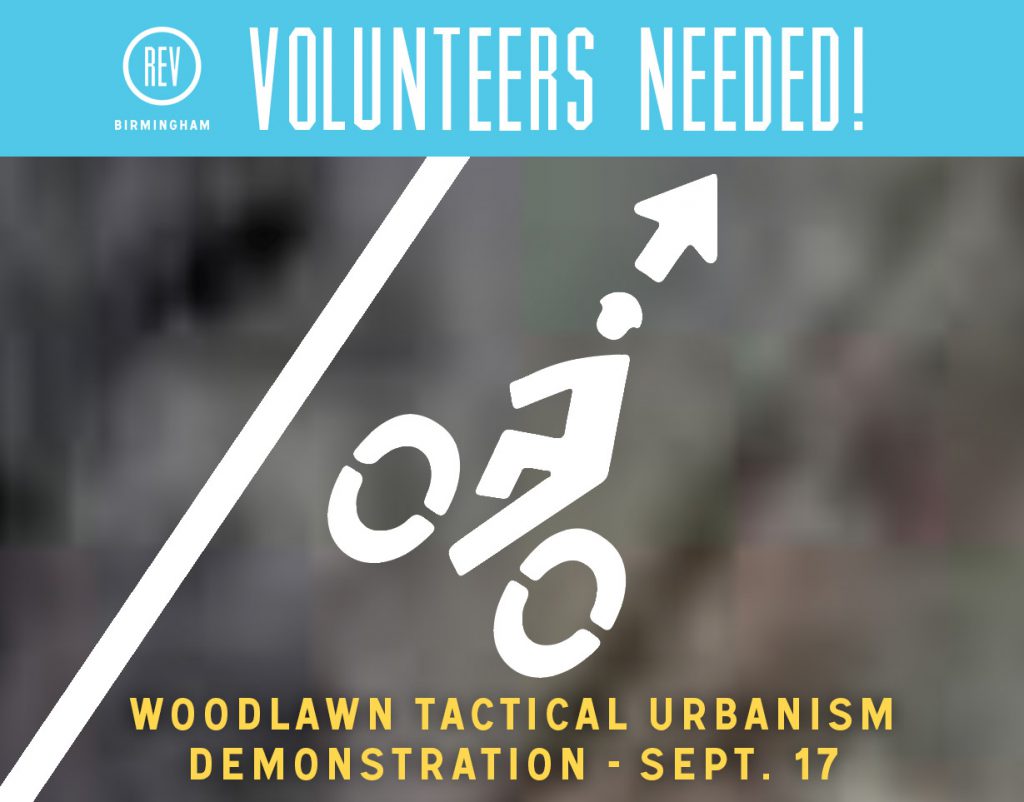 At the June Woodlawn Street Market, REV's Catalytic Development team shared designs for street improvements to 1st Ave S from 54th to 56th streets and asked which the community preferred. Now its time to test one of those designs.
If you have an interest in helping make Birmingham a more bikeable, walkable city, REV Birmingham is looking for volunteers to help install a tactical urbanism demonstration in the 5400-5600 blocks of 1st Avenue South in Woodlawn. We'll use tape and temporary paint to lay out bike lanes and parallel parking and reduce travel lanes from four lanes to two. Then we'll measure the impact and share the data with the designers who have been contracted by the City of Birmingham to create the final design.
To sign up for a volunteer role, go to our SignUp page.
Related News
Filed Under: Downtown Birmingham, Front Page, Potential-Proving, Uncategorized, Yaysayers

This Friday, May 20th, we will be having a (20th) Street Party (which you can read more about here) to celebrate the end of our Birmingham Green Refresh! While this certainly calls for a celebration, the party doesn't stop there. We will still be adding some finishing touches to the street after the (20th) Street Party. These additional touches will help make Birmingham's main street more vibrant, interactive, and efficient! Additions will include smart trash cans, free libraries, street performers, and more!

Filed Under: Downtown Birmingham, Front Page, Uncategorized

We've talked about sports, but downtown has so much more to offer! Downtown Birmingham has so many experiences in store for you, which can also turn into life-long memories. And lucky for you, we've created a tool to make all that exploring so much easier!

Filed Under: Developer, Downtown Birmingham, Front Page, Potential-Proving, Uncategorized

If you've been paying close attention, you may have noticed that we've been hinting at a new Linn Park project coming soon – and we're finally ready to share it with you! A planning process to redesign and reactivate Linn Park kicked off recently when public and private organizational partners met on site with the nationally acclaimed park designers OJB Landscape Architecture (OJB) to begin an eight-month master plan development process to improve Linn Park.