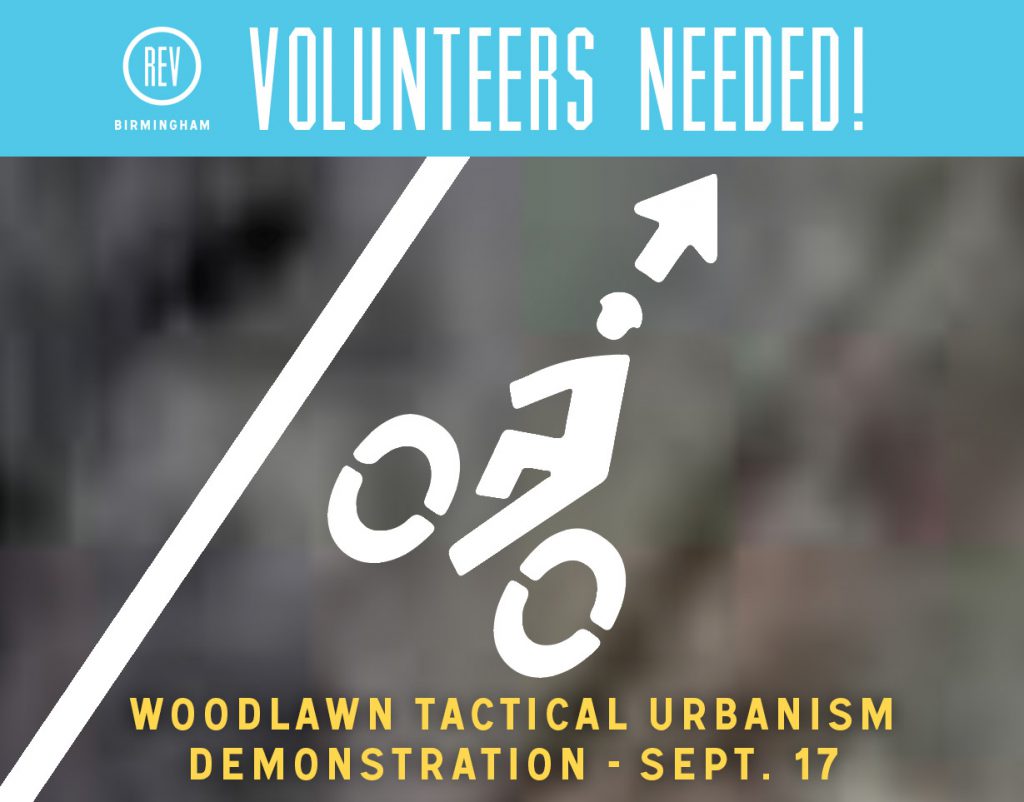 At the June Woodlawn Street Market, REV's Catalytic Development team shared designs for street improvements to 1st Ave S from 54th to 56th streets and asked which the community preferred. Now its time to test one of those designs.
If you have an interest in helping make Birmingham a more bikeable, walkable city, REV Birmingham is looking for volunteers to help install a tactical urbanism demonstration in the 5400-5600 blocks of 1st Avenue South in Woodlawn. We'll use tape and temporary paint to lay out bike lanes and parallel parking and reduce travel lanes from four lanes to two. Then we'll measure the impact and share the data with the designers who have been contracted by the City of Birmingham to create the final design.
To sign up for a volunteer role, go to our SignUp page.
Related News
Filed Under: Front Page, Potential-Proving, Uncategorized, Yaysayers

TODAY IS THE DAY! REV Birmingham is celebrating 10 years of creating vibrant commercial districts in the City of Birmingham. Today is all about celebrating the past decade of success and all that we have accomplished. It all started ten years ago when two organizations – Operation New Birmingham and Main Street Birmingham – merged to create the one and only REV Birmingham. We have covered so much ground since then, from historic building rehab consulting all the way to our refresh of 20th Street North – and we are looking forward to seeing what the future holds for us here at REV.

Filed Under: Business-Proving, Front Page, Uncategorized, Yaysayers

REV is turning TEN! Our birthday is swiftly approaching (it's on November 15th in case you want to give us a happy birthday shoutout!) and we are spending the week leading up to it reflecting on the past 10 years. We have accomplished so much in just a decade, and we can't wait to see what the next 10 years have in store for us. But for now, let's take a trip down memory lane and look back at some of our favorite projects.

Filed Under: Downtown Birmingham, Front Page, Residential, Uncategorized

From Austin, Texas to New Orleans, Louisiana, learn why this family choose to move into the city center of Birmingham. We are interviewing people from all around the city and learning why they chose to move into Birmingham.