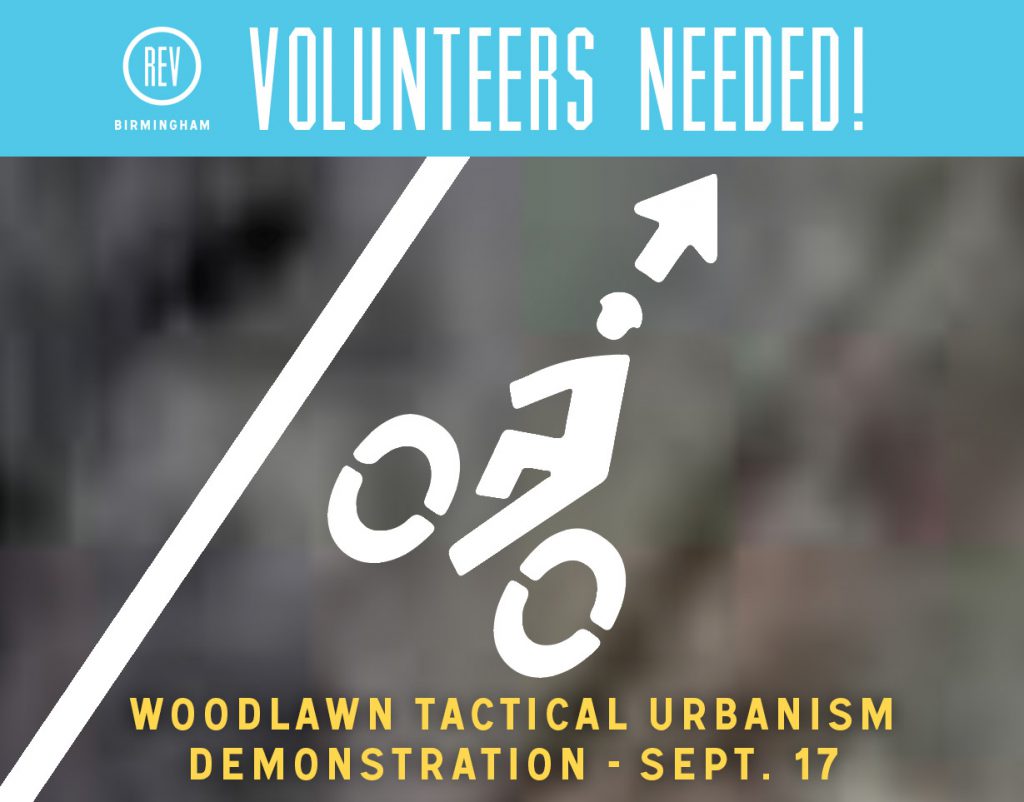 At the June Woodlawn Street Market, REV's Catalytic Development team shared designs for street improvements to 1st Ave S from 54th to 56th streets and asked which the community preferred. Now its time to test one of those designs.
If you have an interest in helping make Birmingham a more bikeable, walkable city, REV Birmingham is looking for volunteers to help install a tactical urbanism demonstration in the 5400-5600 blocks of 1st Avenue South in Woodlawn. We'll use tape and temporary paint to lay out bike lanes and parallel parking and reduce travel lanes from four lanes to two. Then we'll measure the impact and share the data with the designers who have been contracted by the City of Birmingham to create the final design.
To sign up for a volunteer role, go to our SignUp page.
Related News
Filed Under: Downtown Birmingham, Filling Vacant Spaces, Front Page, Uncategorized

Whether you're planning on visiting Birmingham for The World Games 2022 in just a few weeks, or you're a local looking to explore your city and find some hidden gems, we've got an awesome list of public spaces for you to check out! We've put together a short list of some of the places we think you should check out, but we encourage you to get out and see what else you can find.

Filed Under: Downtown Birmingham, Front Page, Get Involved, Uncategorized, Yaysayers

We are almost one month out from The World Games 2022! This vibrant event will be transformative for Downtown, and we want you to be a part of it! If you consider yourself a lover of Downtown Birmingham and are the friend that always knows where to go or what to do Downtown, this might be the perfect fit for you. We invite you to become a Downtown Ambassador Volunteer and help Birmingham put its best foot forward!

Filed Under: Downtown Birmingham, Front Page, Potential-Proving, Uncategorized, Yaysayers

This Friday, May 20th, we will be having a (20th) Street Party (which you can read more about here) to celebrate the end of our Birmingham Green Refresh! While this certainly calls for a celebration, the party doesn't stop there. We will still be adding some finishing touches to the street after the (20th) Street Party. These additional touches will help make Birmingham's main street more vibrant, interactive, and efficient! Additions will include smart trash cans, free libraries, street performers, and more!