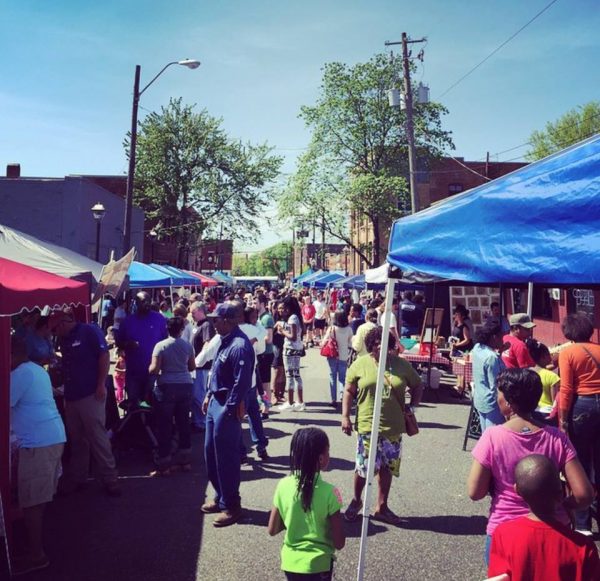 It's Woodlawn Street Market season! Woodlawn Business Association and REV Birmingham host the popular markets that bring up to 80 local vendors and hundreds of shoppers to the heart of historic Woodlawn every other month from April to December 2018.
The last Woodlawn Street Market of the season is Sunday, December 2 – from 12 p.m. to 4 p.m. on the block of 55th Place South. Expect lots of holiday-themed items at this special winter market. Check out the full vendor list: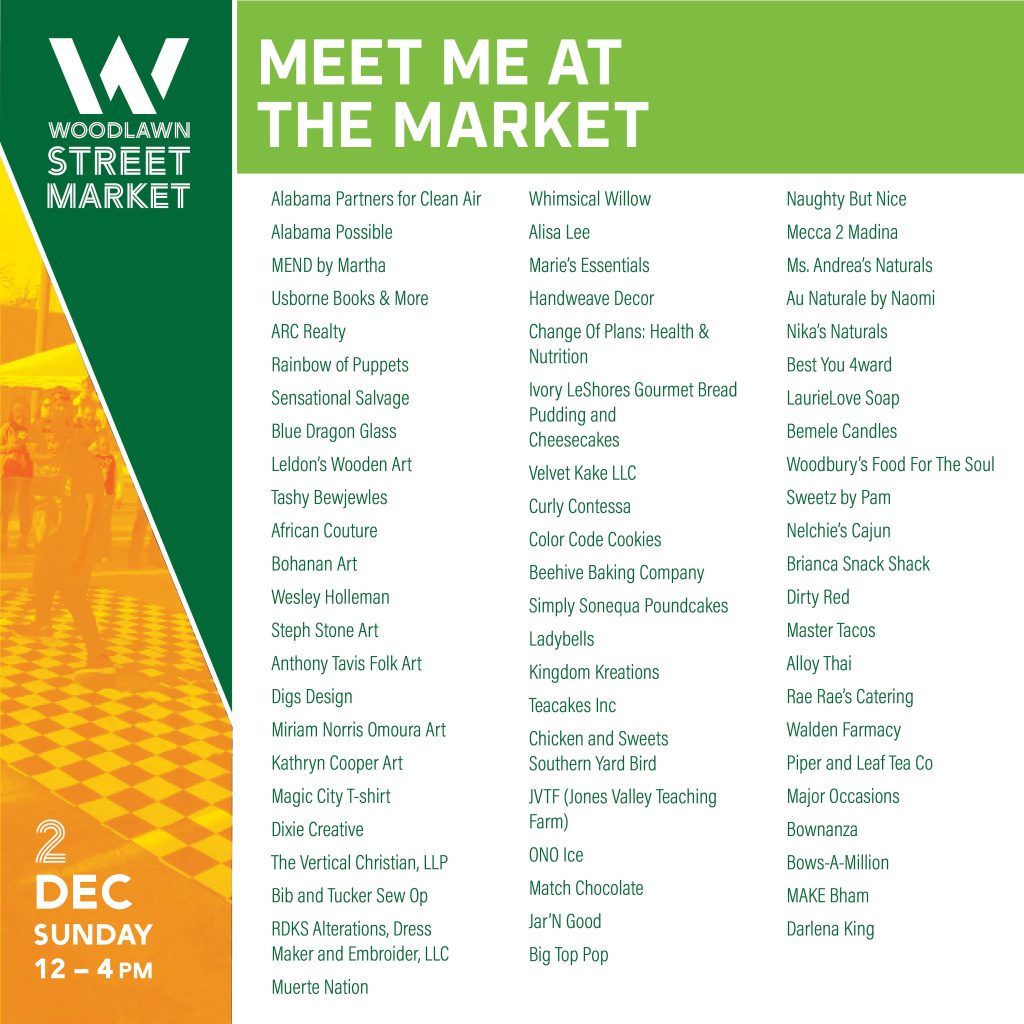 This market rounds out Woodlawn Street Market's fifth season. Since 2014, the market has provided a platform for launching and testing startup businesses for more than 350 local vendors –and that number has grown even more this year. Woodlawn Street Market gives people across the Birmingham area an opportunity to support local businesses and be part of the renaissance of historic downtown Woodlawn.
"We're combining Woodlawn Street Market favorites with new participants this year," said Bekah Fox, a market co-organizer and recording artist at Communicating Vessels. "We love getting to showcase the businesses that call Woodlawn home and it's always exciting to invite Greater Birmingham to fill our streets. Woodlawn continues to grow and we look forward to seeing you at the market!"  
Shoppers can find art, jewelry, clothing, children's books and toys, fresh produce, plus delicious food – all from startup businesses that they may not have seen before. At least 10 vendor spaces at each 2018 market are reserved for first-time vendors. Market goers can also enjoy live entertainment, with dancers from all over Birmingham battling it out on the pavement.  
Woodlawn Street Market community partners include Woodlawn Business Association, Woodlawn United, Dream Center, Imperial Formal Wear and Woodlawn United Methodist Church.
For more details about Woodlawn Street Market, Contact Bekah Fox at woodlawnstreetmarket@gmail.com.
Related News
Filed Under: Small Business, Woodlawn, Woodlawn Street Market

We caught up with Element and Vibe owner Aisha Taylor to ask a few questions about selling t-shirts with a purpose and her experience thus far with the virtual Woodlawn Street Market.

Filed Under: Front Page, Small Business

REV's Director of Business Recruitment and Growth Taylor Clark Jacobson is teaming up with Reginald Smith of Sabre Finance to talk to business owners—both large and small—about how they can keep things as new and fresh as these times require on Monday, July 13.

Filed Under: Front Page, Small Business

REV kicks things off Monday, July 13 at noon with the Innovating Your Business For Future Growth workshop hosted by Taylor Clark-Jacobson, Director of Business Recruitment and Growth.