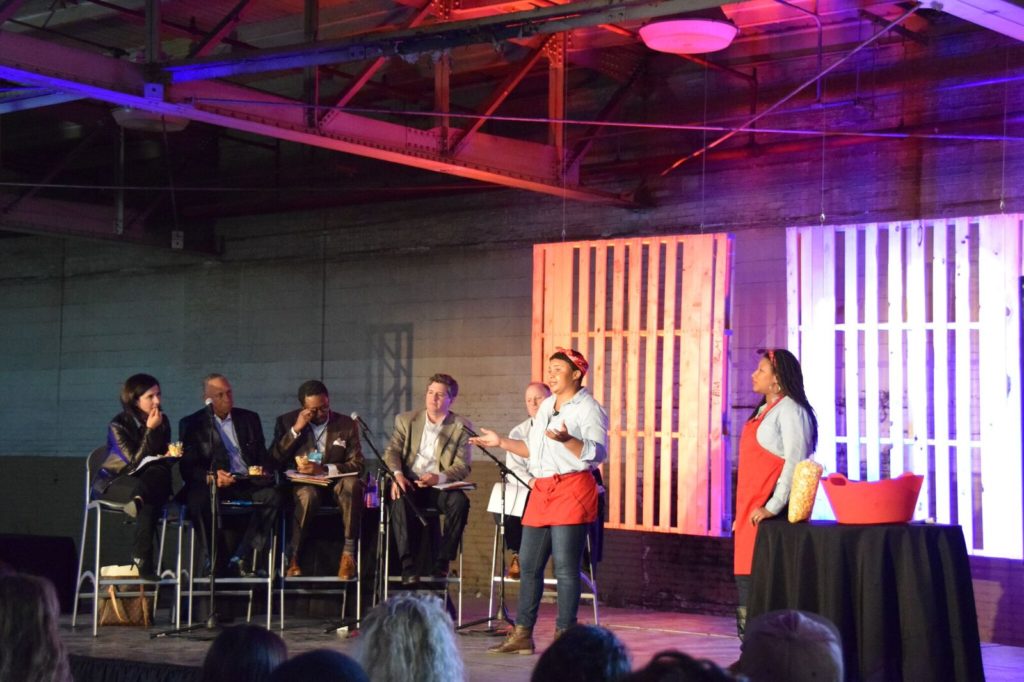 The application deadline for 2019 Big Pitch finalists is just a few weeks away and it's time to talk about video. 
One of the application requirements is a short video that communicates your brand story, your vision and your capital needs.  
Applications for 2019 Big Pitch finalists are due Aug. 30.
Does that sound slightly intimidating? Not sure where to start? Don't worry! There's still time to create a meaningful video in a snap. 
Here are some examples of great videos from past finalists: 
Beehive Baking Co.
What we like about it: The folks are Beehive used reasonably priced software to make a polished video that connected to REV's mission. They also used plenty of photos to make sure that viewers knew exactly what they're selling.  
R&M Convenience Store 
What we like about it: This video concisely presents the problem that the store hopes to solve and communicates the solution. It also strongly relays a human connection.  
Square One Goods Co.  
What we like about it: This fun video conveys a sense of place. It also communicates the store's journey—how it started and where it's headed.  
Scribes the Growlery 
What we like about it: It's creative! There is clear communication of what's being offered in terms of mentorship and workshops.  
Ghost Train Brewing
What we like about it: It's clear on the brewery's mission. This video also proves that it doesn't take a big budget to convey your message.   
Still not convinced that you can create a great video for your application? Here are a few tips:
Be intentional, but don't overthink it. Don't tell us more than we need to know. 
Connect with the reviewers. Don't be afraid to be human on camera.  
Be creative and have fun! It shows.  
Connect your goals to our mission but remain true to your business growth goals.  
Communicate how money from The Big Pitch will take your business to the next level. 
Good luck!  
Related News
Filed Under: Front Page, Get Involved, Historic Preservation, Residential

President and CEO of REV Birmingham David Fleming writes about the importance of historic preservation and highlights the advocacy efforts that saved the French Quarter in New Orleans and the Forest Park neighborhood in Birmingham. The article concludes with a call to action, urging for new leaders and the implementation of various strategies to protect and celebrate Birmingham's historic buildings and places.

Filed Under: Filling Vacant Spaces, Front Page, Small Business, Woodlawn, Yaysayers

Lights, Camera, Action! The rebirth of the Woodlawn Theater is happening this weekend in the heart of Woodlawn. The theater is opening its doors to the public with two extraordinary opening events that are FREE to the public. The 1400 square foot venue has a wide range of amenities and even has a full-service bar. Because of the Mason Music Foundation, this venue is filling a much needed resource for local musicians to perform. Keep reading to discover how the theater came back to life and its impact on the community.

Filed Under: Downtown Birmingham, Events, Front Page, Yaysayers

Brian Allen, a talented cornerback, has made the remarkable transition from a small town in Texas to the vibrant city of Birmingham. Choosing Birmingham for his football career for two consecutive seasons, Brian's unwavering dedication and exceptional skills have made him a standout figure in the world of football. To dive deeper into Brian's journey and discover his genuine appreciation for the city, watch this video with the link below!