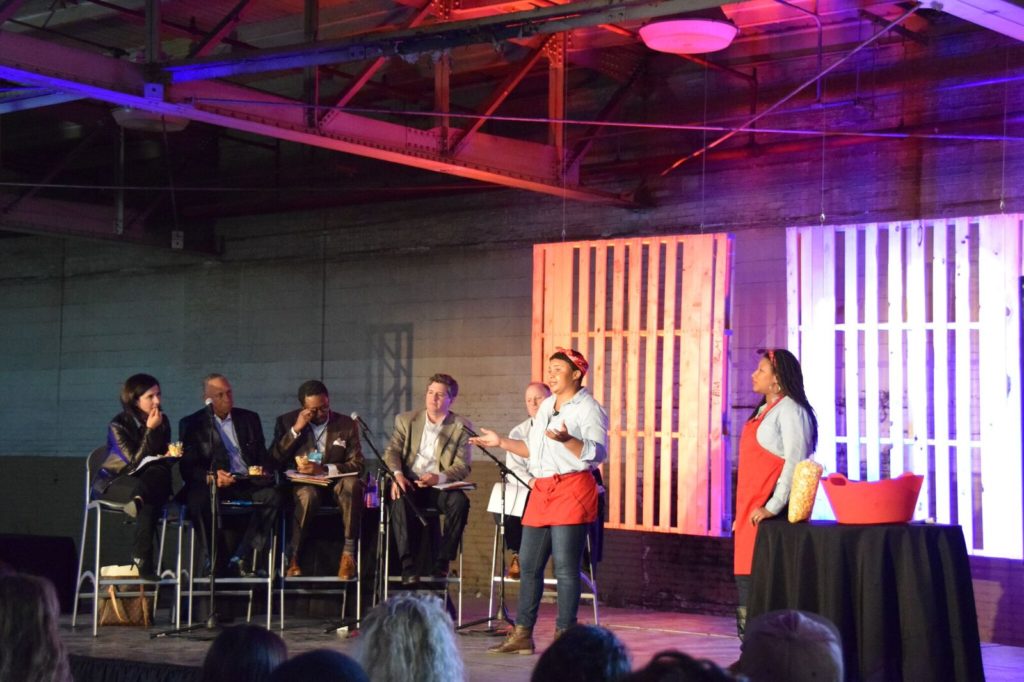 The application deadline for 2019 Big Pitch finalists is just a few weeks away and it's time to talk about video. 
One of the application requirements is a short video that communicates your brand story, your vision and your capital needs.  
Applications for 2019 Big Pitch finalists are due Aug. 30.
Does that sound slightly intimidating? Not sure where to start? Don't worry! There's still time to create a meaningful video in a snap. 
Here are some examples of great videos from past finalists: 
Beehive Baking Co.
What we like about it: The folks are Beehive used reasonably priced software to make a polished video that connected to REV's mission. They also used plenty of photos to make sure that viewers knew exactly what they're selling.  
R&M Convenience Store 
What we like about it: This video concisely presents the problem that the store hopes to solve and communicates the solution. It also strongly relays a human connection.  
Square One Goods Co.  
What we like about it: This fun video conveys a sense of place. It also communicates the store's journey—how it started and where it's headed.  
Scribes the Growlery 
What we like about it: It's creative! There is clear communication of what's being offered in terms of mentorship and workshops.  
Ghost Train Brewing
What we like about it: It's clear on the brewery's mission. This video also proves that it doesn't take a big budget to convey your message.   
Still not convinced that you can create a great video for your application? Here are a few tips:
Be intentional, but don't overthink it. Don't tell us more than we need to know. 
Connect with the reviewers. Don't be afraid to be human on camera.  
Be creative and have fun! It shows.  
Connect your goals to our mission but remain true to your business growth goals.  
Communicate how money from The Big Pitch will take your business to the next level. 
Good luck!  
Related News
Filed Under: Big Pitch, Front Page, Small Business, Uncategorized

If you've been following REV for a while, you probably remember The Big Pitch Competitions we used to hold back in the day. The Big Pitch presented by PNC was essentially our own little version of Shark Tank. And a lot of your favorite local businesses that participated in this competition now have active retail storefronts that you can go check out. Let's start with some of our finalists that are based in the City of Birmingham and see what they've been up to!

Filed Under: Developer, Downtown Birmingham, Filling Vacant Spaces, Front Page, Potential-Proving, Uncategorized

Have you been to Downtown Birmingham's newest development located on 25th Street? If not, you need to head down there ASAP and check it out! This new single story development is a product of a collaboration between David Baker Architects (DBA) and Locke General Contractors, led by DBA's very own Amanda Loper. It is intended to be a "collaborative commercial space in a catalyst development area of Birmingham." Both DBA and Locke General Contractors will be tenants of the space, along with June Coffee Roasters, Zephyr Barber, and Last Call Baking Cooperative!

Filed Under: Downtown Birmingham, Events, Front Page, Uncategorized

One of Birmingham's many hidden treasures is the music scene downtown. The sheer volume of concert venues we have in downtown Birmingham is something most people aren't even aware of – but it really is remarkable! There is truly something for everyone, whether you're into the smaller, more intimate venues or the large-scale venues for those big name artists. Keep reading to check out some of the cool venues downtown Birmingham has to offer.