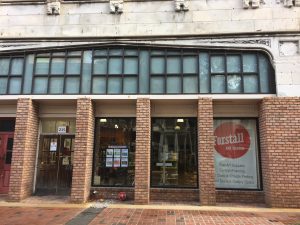 If you haven't been on 20th Street North between 2nd and 3rd Avenue lately, here's what you've missed: Forstall Art Center is OFFICIALLY open at 215 20th Street North. Bistro 218 has completed the expansion of its dining room and new bar. Construction is nearly complete on the expansion of Action Resources' offices over Paramount Bar and the newly-available retail/restaurant space adjacent to Paramount on the ground floor. And property owners Joey McClure and Lisa Sheppard have completed their awesome new loft and balcony over the offices of Joseph McClure Commercial Real Estate.
Want to get in on the action in one of downtown's hottest blocks? Joseph McClure Commercial Real Estate is now leasing the former Bon Ton Hatter building located at 219 20th Street North, right next door to Forstall Art Center and Alchemy 213. This 5,000 square foot building has three floors plus a mezzanine and would be great for retail. Interested? Call Joey McClure at 326-0020.
Whew. That's a lot of activity, eh? Stay tuned for deets on these projects as they continue to develop!
Related News
Filed Under: Developer, Downtown Birmingham, Filling Vacant Spaces, Front Page, Potential-Proving, Uncategorized

Have you been to Downtown Birmingham's newest development located on 25th Street? If not, you need to head down there ASAP and check it out! This new single story development is a product of a collaboration between David Baker Architects (DBA) and Locke General Contractors, led by DBA's very own Amanda Loper. It is intended to be a "collaborative commercial space in a catalyst development area of Birmingham." Both DBA and Locke General Contractors will be tenants of the space, along with June Coffee Roasters, Zephyr Barber, and Last Call Baking Cooperative!

Filed Under: Downtown Birmingham, Events, Front Page, Uncategorized

One of Birmingham's many hidden treasures is the music scene downtown. The sheer volume of concert venues we have in downtown Birmingham is something most people aren't even aware of – but it really is remarkable! There is truly something for everyone, whether you're into the smaller, more intimate venues or the large-scale venues for those big name artists. Keep reading to check out some of the cool venues downtown Birmingham has to offer.

Filed Under: Downtown Birmingham, Front Page, Yaysayers

We are Live on 20th folks! Have you been downtown and checked out our busker performances yet? If not, you're seriously missing out! We have talent from all over The Magic City come out on Friday evenings from 4-6 p.m. and put on performances for the public to enjoy. Performances take place at the corner of 20th Street and 3rd Avenue North. Next time you're heading home after a long day at the office or on your way to dinner, stop by and check it out! Let's recap some of our awesome performers below!