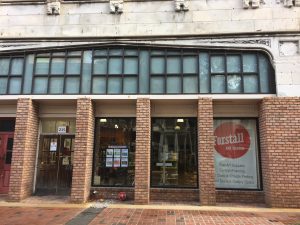 If you haven't been on 20th Street North between 2nd and 3rd Avenue lately, here's what you've missed: Forstall Art Center is OFFICIALLY open at 215 20th Street North. Bistro 218 has completed the expansion of its dining room and new bar. Construction is nearly complete on the expansion of Action Resources' offices over Paramount Bar and the newly-available retail/restaurant space adjacent to Paramount on the ground floor. And property owners Joey McClure and Lisa Sheppard have completed their awesome new loft and balcony over the offices of Joseph McClure Commercial Real Estate.
Want to get in on the action in one of downtown's hottest blocks? Joseph McClure Commercial Real Estate is now leasing the former Bon Ton Hatter building located at 219 20th Street North, right next door to Forstall Art Center and Alchemy 213. This 5,000 square foot building has three floors plus a mezzanine and would be great for retail. Interested? Call Joey McClure at 326-0020.
Whew. That's a lot of activity, eh? Stay tuned for deets on these projects as they continue to develop!
Related News
Filed Under: Downtown Birmingham, Front Page, Transportation

The City of Birmingham has approved the applications for two micromobility vendors to operate shared bikes and scooters from vendors Gotcha and Veo in a wide service area that includes downtown and many neighborhoods that will begin in early 2021.

Filed Under: Downtown Birmingham, Front Page, Woodlawn, Yaysayers

REV's CEO David Fleming and Main Street Alabama's President Mary Helmer discuss what Awards of Excellence mean to Main Street organizations like REV, and why taking care of main streets is vital to a community.