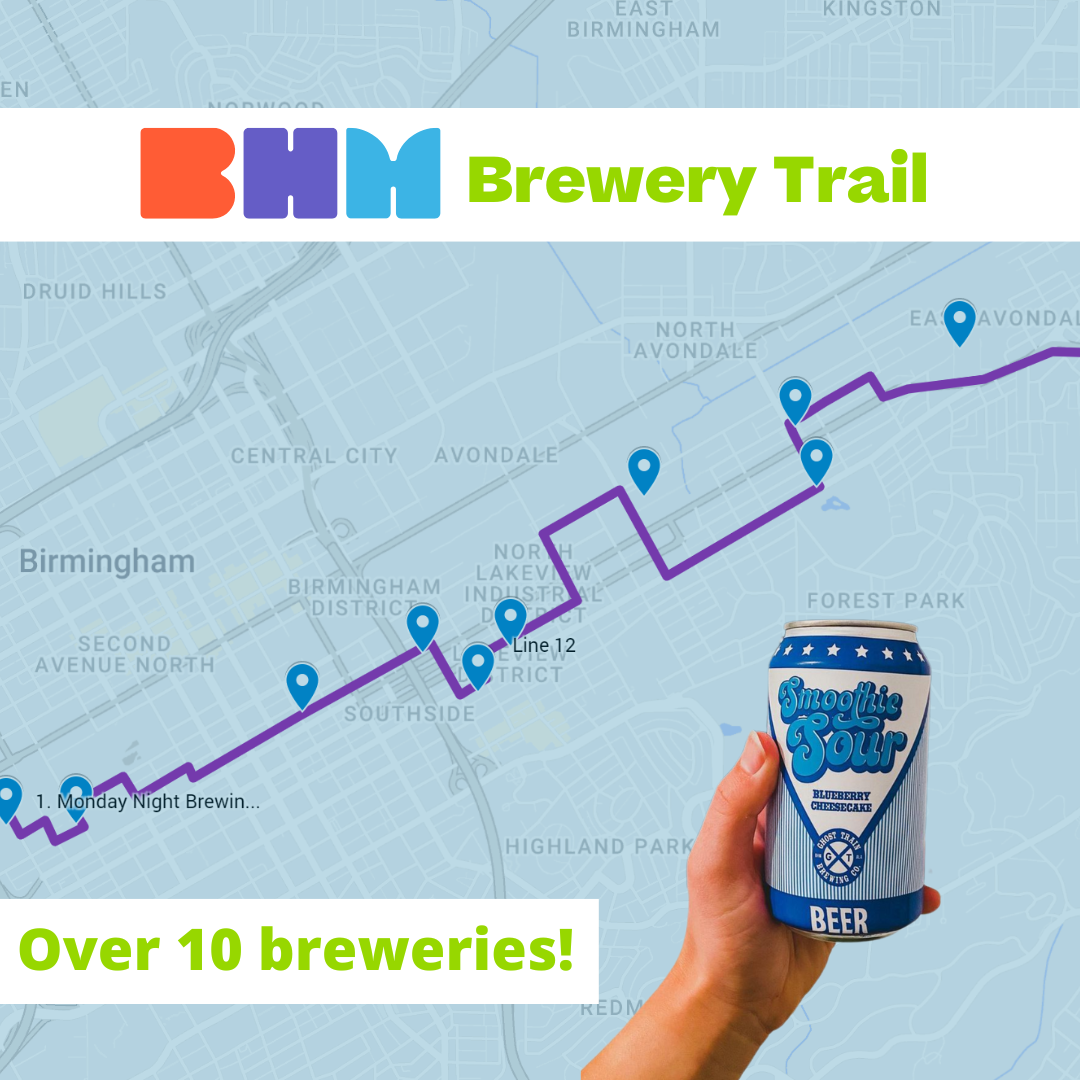 It's no secret Birmingham has the best brewery scene in the South! We cultivated a unique and well-CRAFTED beer trail highlighting all of Birmingham's local microbreweries. This list offers events, beer flavors, and historical facts. Pack your growler and maybe some water because this trail will certainly make you feel HOPPY!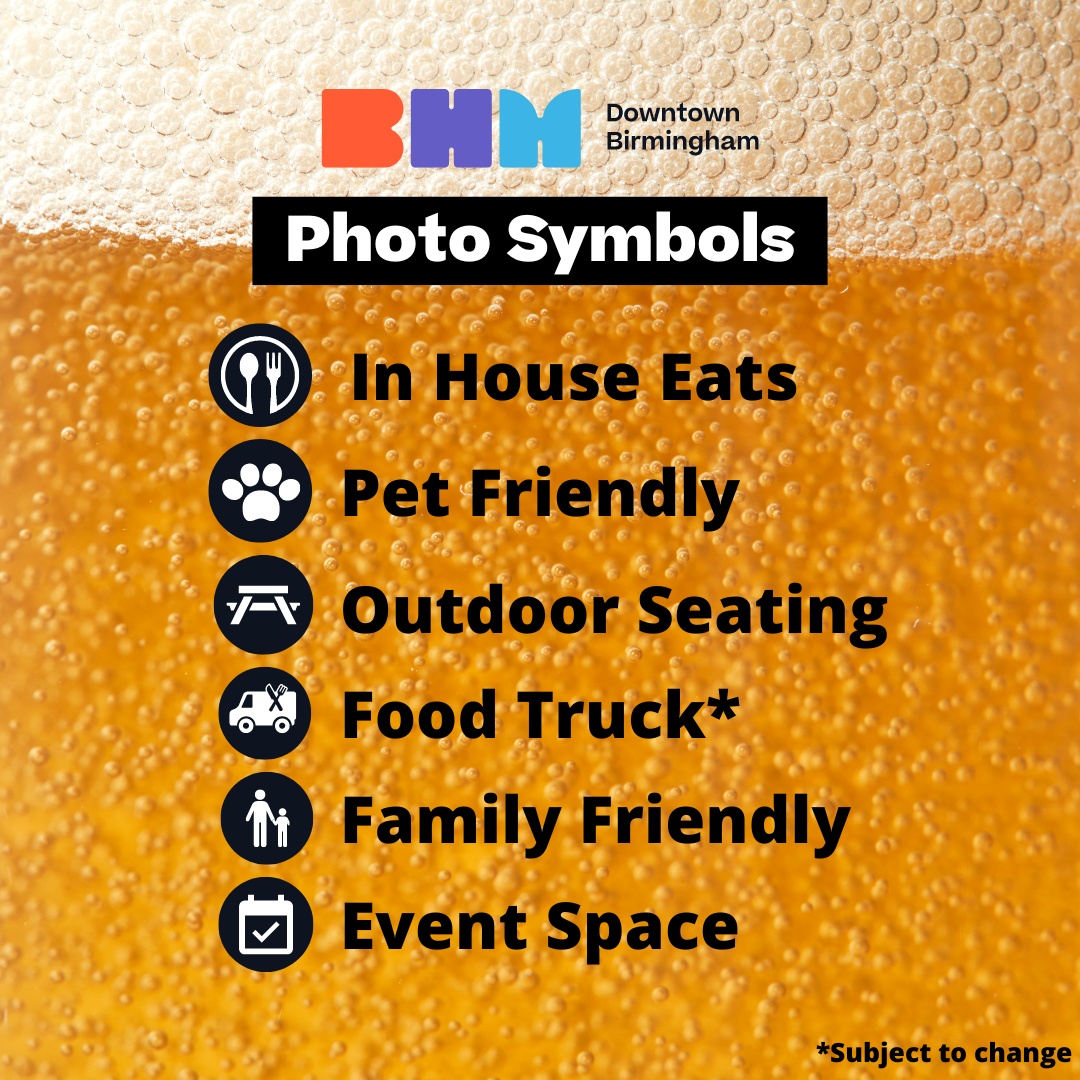 Before we get into it, here are some beer lingo that will help you understand the highlights! Don't forget to use the photo legend on the right to determine what kind of vibe you are looking for. 
Use this link to follow the trail on Google Maps, HERE!
ABV: Alcohol By Volume
IBU: International Bitterness Units – how much hop bitterness is present in the beer
SRM: Standard Reference Method – is the method for color assessment of wort or beer as published in the recommended methods of the American Society of Brewing Chemists
Sour: Sour beer has an intentionally acidic, tart, or sour taste.
IPA: India Pale Ales are very hop-forward in flavor and aroma.
Hops: Hops are the flowers of the hop plant Humulus lupulus, a member of the Cannabaceae family of flowering plants. They are used primarily as a bittering, flavoring, and stability agent in beer.
Ale: Ales are fermented with top-fermenting yeast at warm temperatures (60˚–70˚F),
Lager: lagers are fermented with bottom-fermenting yeast at cold temperatures (35˚–50˚F).
Worts: Brewers first steep malted barley in water, add in hops, then boil the mixture. The result is wort. Yeast is added to the wort and then the liquid ferments to produce…beer!
Learn more about the beer world with Buzz Time.
Downtown BHM Brewery Trail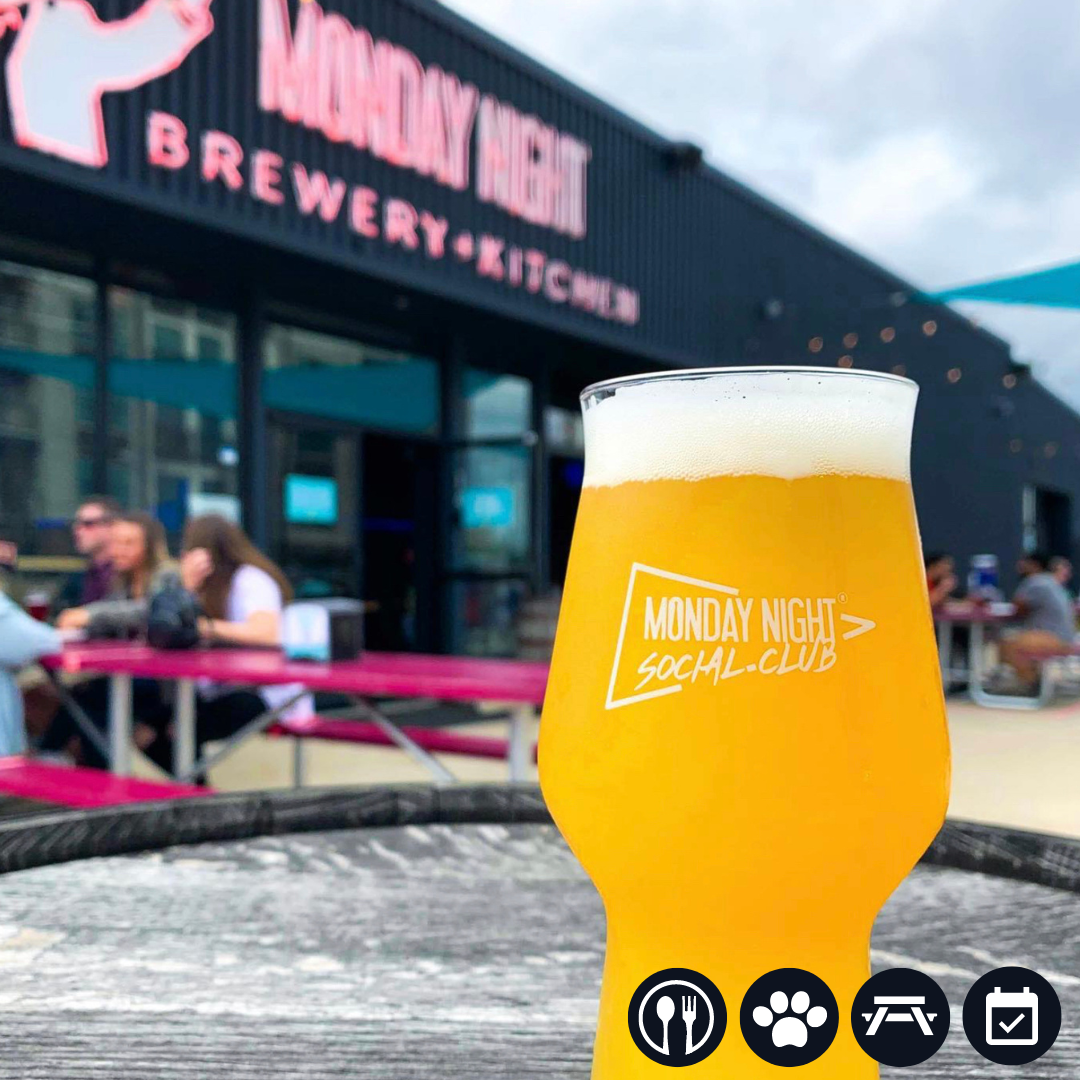 Stop #1 : Monday Night Brewery Co.
Starting from the city's western side, Monday Night Brewery is open more than just Mondays… This hangout spot offers outside and inside seating, great photo opportunities, and delicious craft beer of course! You won't want to miss out on their Beats and Brunch on Sundays and Trivia on Monday Night!
Beer Highlight: Taco Tuesday
Taco Tuesday is a light, crisp crusher for any day of the week. This Mexican-style lager has a touch of sweetness with a smooth finish. It's the ultimate pairing for tacos, but it works with all other types of food, too. Like fajitas. Or burritos. Or enchiladas.
ABV: 4% IBUs: 20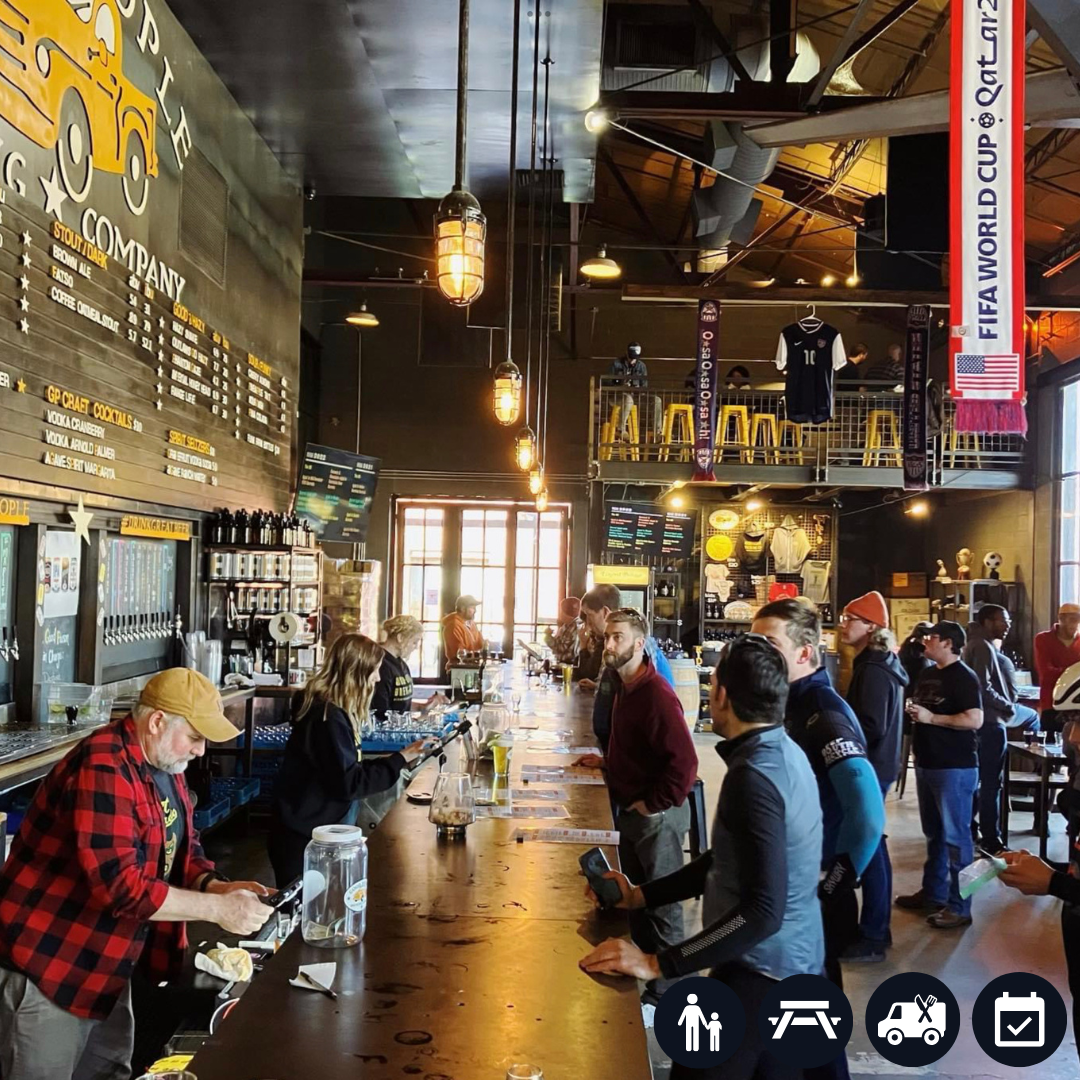 Stop #2: Good People Brewing Company
The O.G. Good People Brewing Company is the oldest and largest in Alabama! Located conveniently across from Regions Field, Good People is dog friendly and has an option for private events. This is an excellent spot next to Railroad park to meet up with friends or enjoy a variety of beers. You'll definitely feel very HOPPY after a visit to the original brewery of the Magic City.
Beer Highlight: Snake Handler
Snake handler is a Double IPA brew with spirited celebration of all things hoppy. Aromas of pine, citrus, flowers, spice, pineapple and grassiness complement a biscuit and caramel backbone. Hands down, our most requested beer.
ABV: 10% IBU: 100+ SMR: 9.6
Hops: Columbus, Warrior, Cascade, Simcoe, Chinook Malts: 2-Row and 4 Specialty Malts. Yeast: California Ale 
Stop #3: Birmingham District Brewing Company
Established in 2018, The Birmingham District Brewing Company is located in The Battery on Southside. To celebrate the quiet beginnings of Birmingham and the geology that led to the development of the "Magic City", the brewery was named "Birmingham District Brewing Company." Well, that, and because geologists know good beer…
Beer highlight: Iron Amber
Named after the Iron rich area of the Birmingham District, this Iron Amber Ale stands up to the illustrious Birmingham history. Rich in color and taste; come in and see for yourself! At only 5.8% ABV this brew the perfect option for when you need a little something more out of your beer. Cheers!
Red Ale – American Amber
ABV: 5.8%  IBU: 31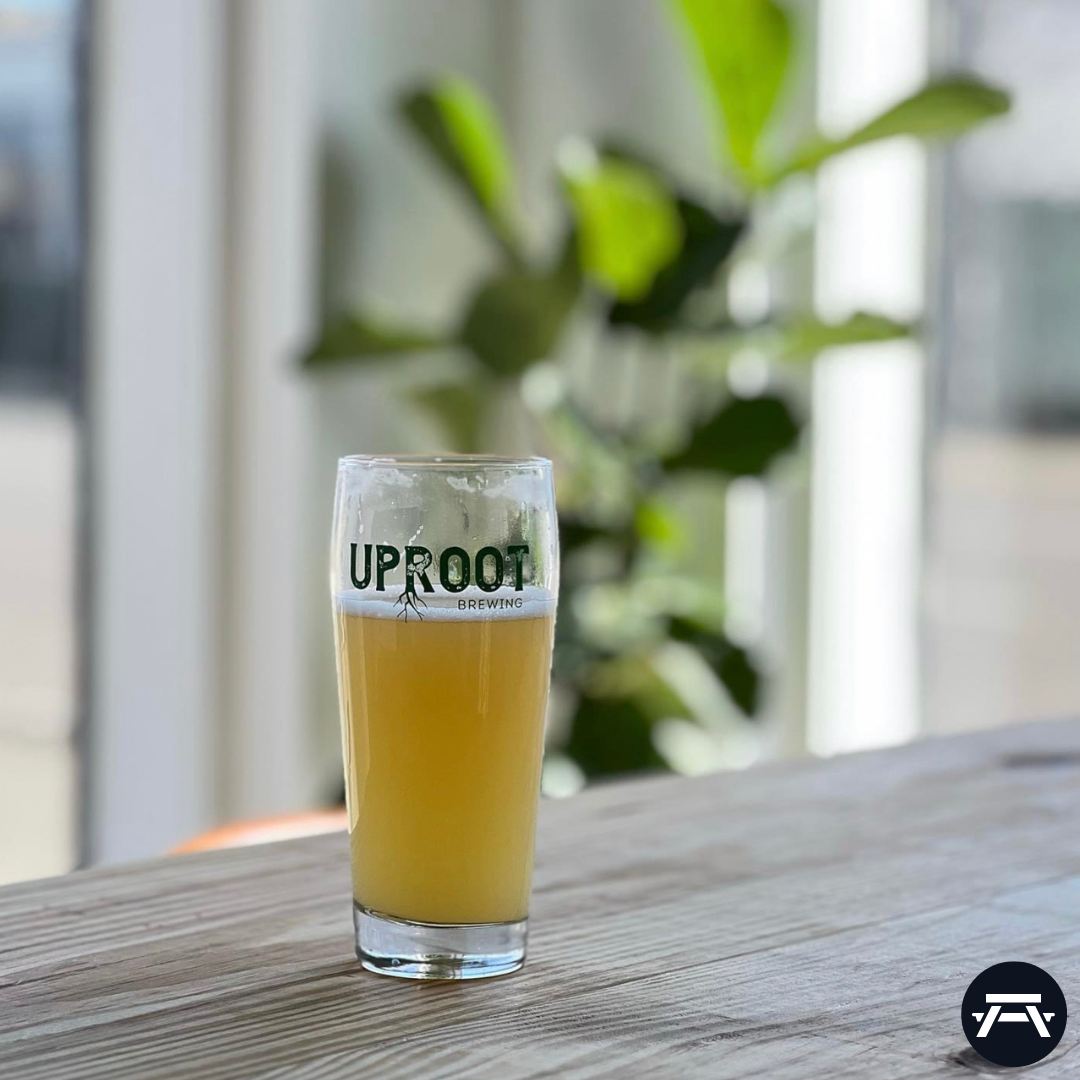 Stop #4: Uproot Brewing Company
The new kid on the block has already made a big splash in the brewery scene. Uproot brewery just opened its doors this month in the former Ghost Train location. Created by Nate Darnell, previous Head Brewer for Ferus Artisan Ales, who decided to make the big move by opening his first brewery. Make sure to support the latest brews in BHM on 2nd Avenue South!
Beer highlight: Uproot IPA
Balancing America IPA with Juicy IPA, Uproot created a tropical, balanced, ultra-inviting IPA available year-round.
ABV: 7%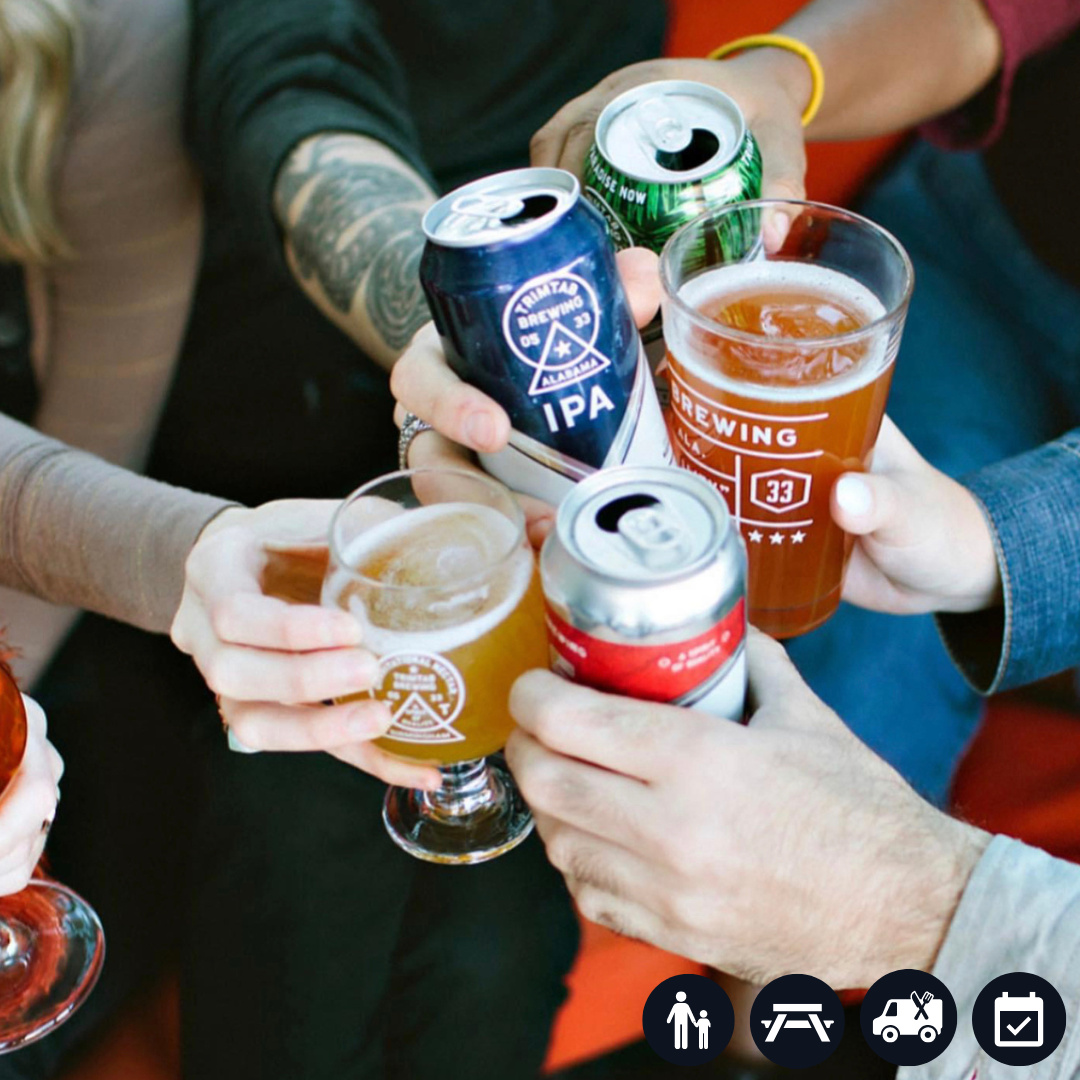 Stop #5: Trim Tab Brewing Company
Step into paradise at Trim Tab Brewing Company with a wide range of beers and fun-filled bingo nights. Trim Tab hosts various food trucks and has great outdoor seating options. Their award-winning beer keeps turning heads; make sure you get your hands on The Great American Beer Festival Bronze medal finalist!
Beer Highlight: Paradise Now Raspberry Berliner Weisse
Paradise Now Raspberry Berliner Weisse is a tart, refreshing wheat ale that is brewed with raspberry and tart cherry puree. Bready wheat notes provide a soft background and delicate mouthfeel, while the fruit and acidic flavors contrast to create a very refreshing but undeniably unique Summer style.
ABV: 5.2%  IBU: 7 SRM: 7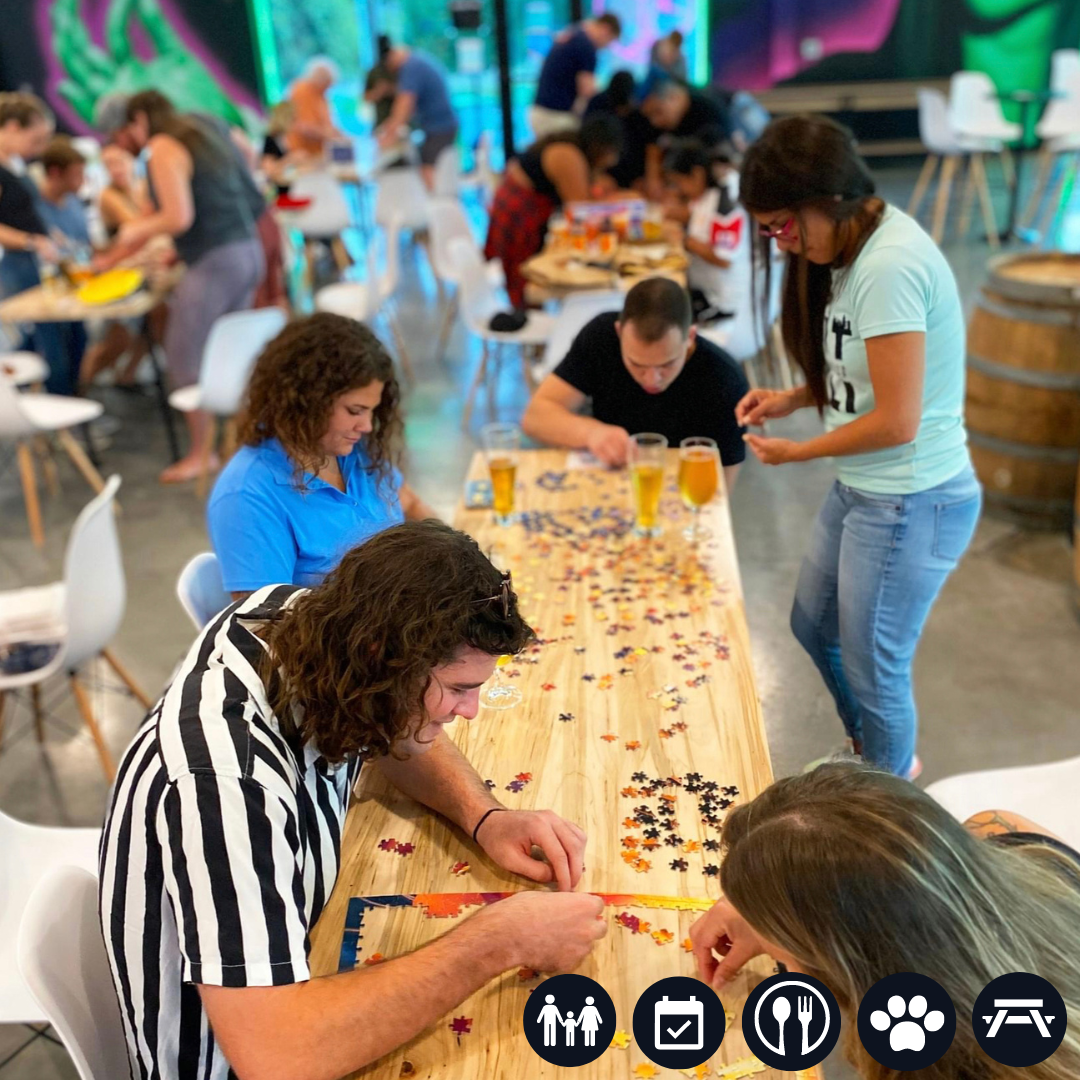 Stop #6: Hi-Wire Brewing Birmingham
Originally from North Carolina, Hi-Wire made its appearance to the BHM brewery scene at the end of 2022! Their Taproom is fun for all, with interactive games like a soccer pool to an outdoor area for your pup to sunbathe. Their Puzzle Challenge nights, usually held on Monday nights, offer gift card prizes and a relaxing environment to spend with friends!
Beer highlight: Leisure Time
Slowww it down. Take it easy. Life can be crazy, and you've earned a break. Chillax with a smooth, crisp, and refreshing American craft lager brewed patiently with 100% barley. Leisure Time Lager – the official beer of relaxation.
ABV: 5%  IBU: 15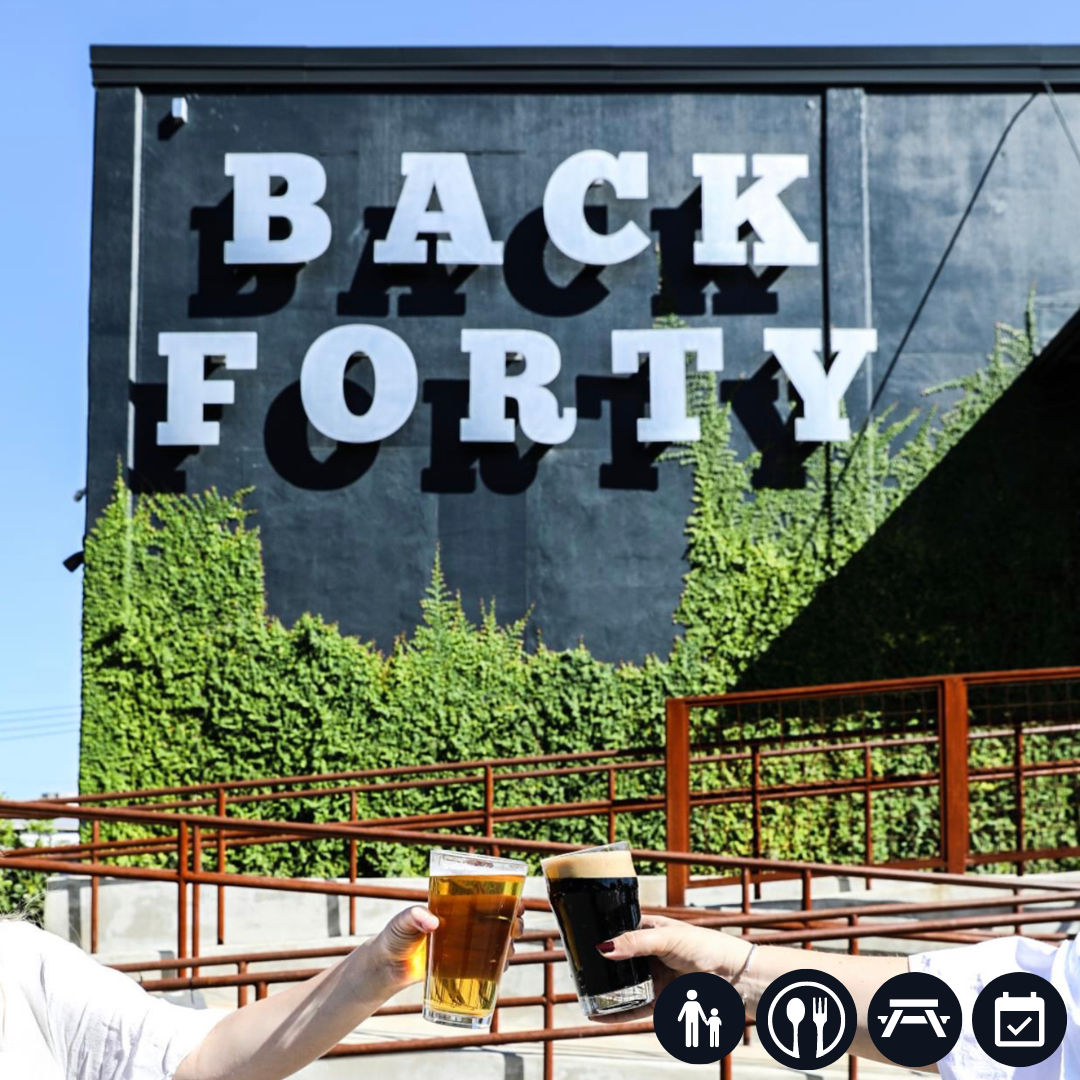 Stop #7: Back Forty Brewery
Back Forty offers various American and European craft beer styles, all brewed on-site and served fresh. With more than 50 different beers introduced annually and as many as 25 different options on tap at any given time, you'll definitely find a pint that suits your palate. They offer a large space for events and have one of the BEST burgers in the city!
Beer Highlight: Naked Pig Pale Ale
Naked Pig is a delightfully crisp Pale Ale. This American pale ale is tasty enough for any craft beer newcomer, while the complex Cascade hop character is sure to please even the most discerning craft connoisseur.
ABV: 6% IBU: 43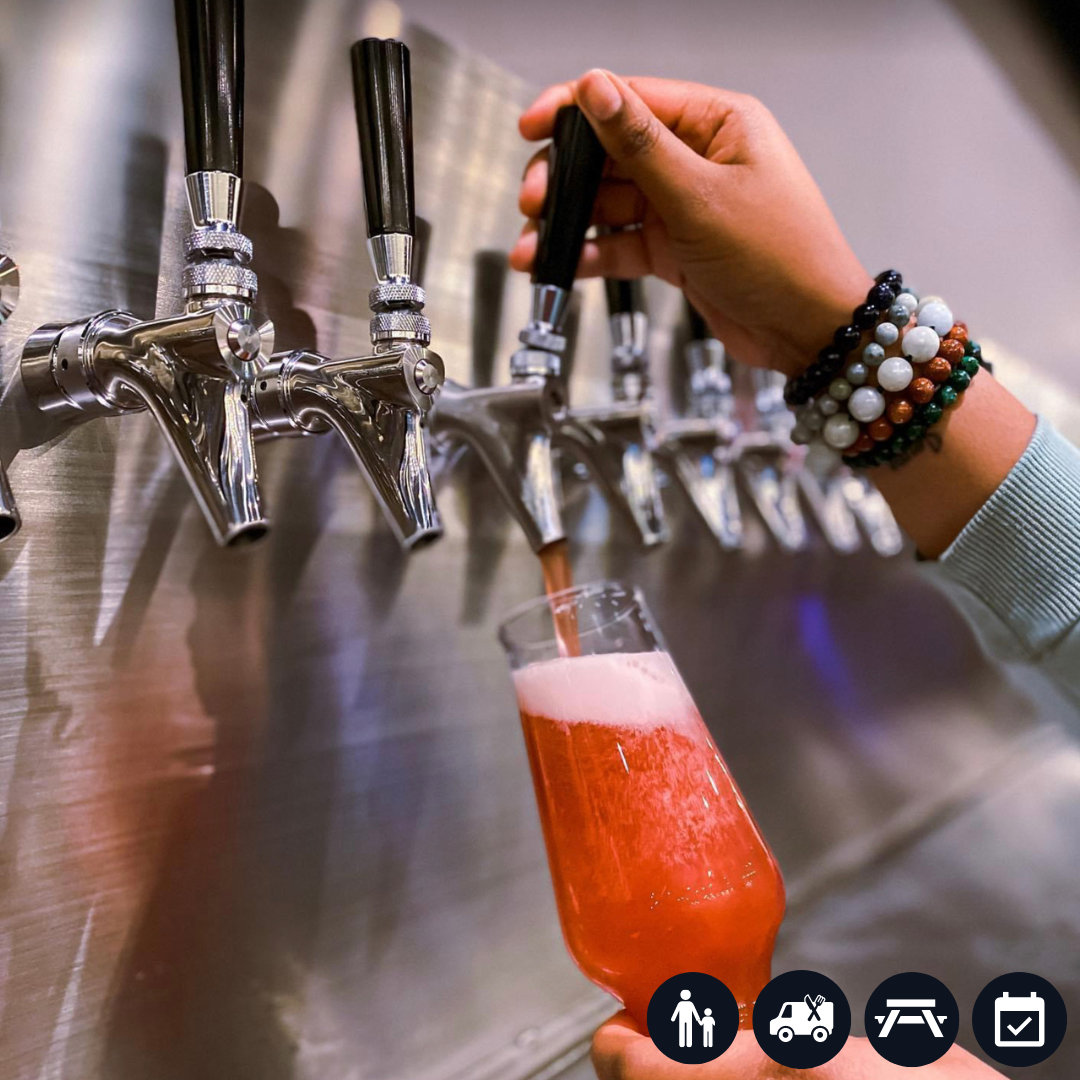 Stop #8: Ghost Train Brewing Company
There's nothing spooky about Ghost Train Brewing Company! They have been brewing beer since 2016 and host large events like NJOII Latin Parties and Steel City Night Markets. You won't want to miss out on their weekly Tacos Trivia nights on Tuesdays, either!
Beer highlight: Gulf Coast IPA
Our Gulf Coast IPA is exactly that, a Gulf Coast style IPA. What is a Gulf Coast style IPA you ask? Our Gulf Coast style IPA is a light bodied, lightly hopped and easy drinking IPA meant to be enjoyed on the beach, on the boat, by the pool, or on a warm day.
ABV: 6% IBU: 4 SRM: 4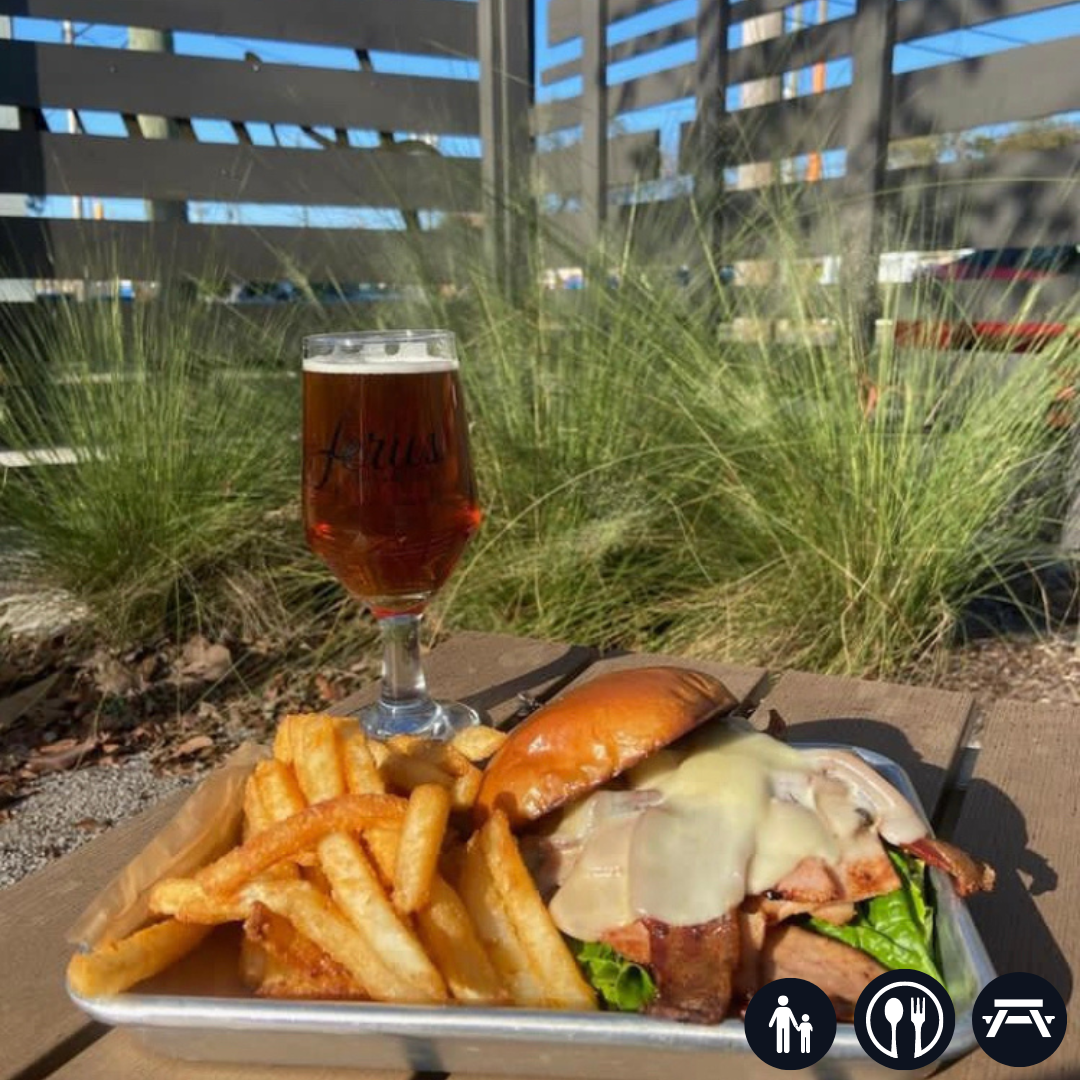 Stop #9: Ferus Artisan Ales
Originally from Trussville, Ferus expanded closer to the Magic City in 2021. Ferus is located in the heart of Avondale next to Avondale park and a couple of blocks away from Saturn. Their selection of food pairs great with their handcrafted brews, like the Adult Grilled Cheese!
Beer highlight: Ursa Imperial Milk Stout
Roasty, Smooth, and decadent milk stout brewed with a generous amount of oats, chocolate, lactose, and coffee sourced from locally-owned Seeds Coffee Co.
ABV: 10%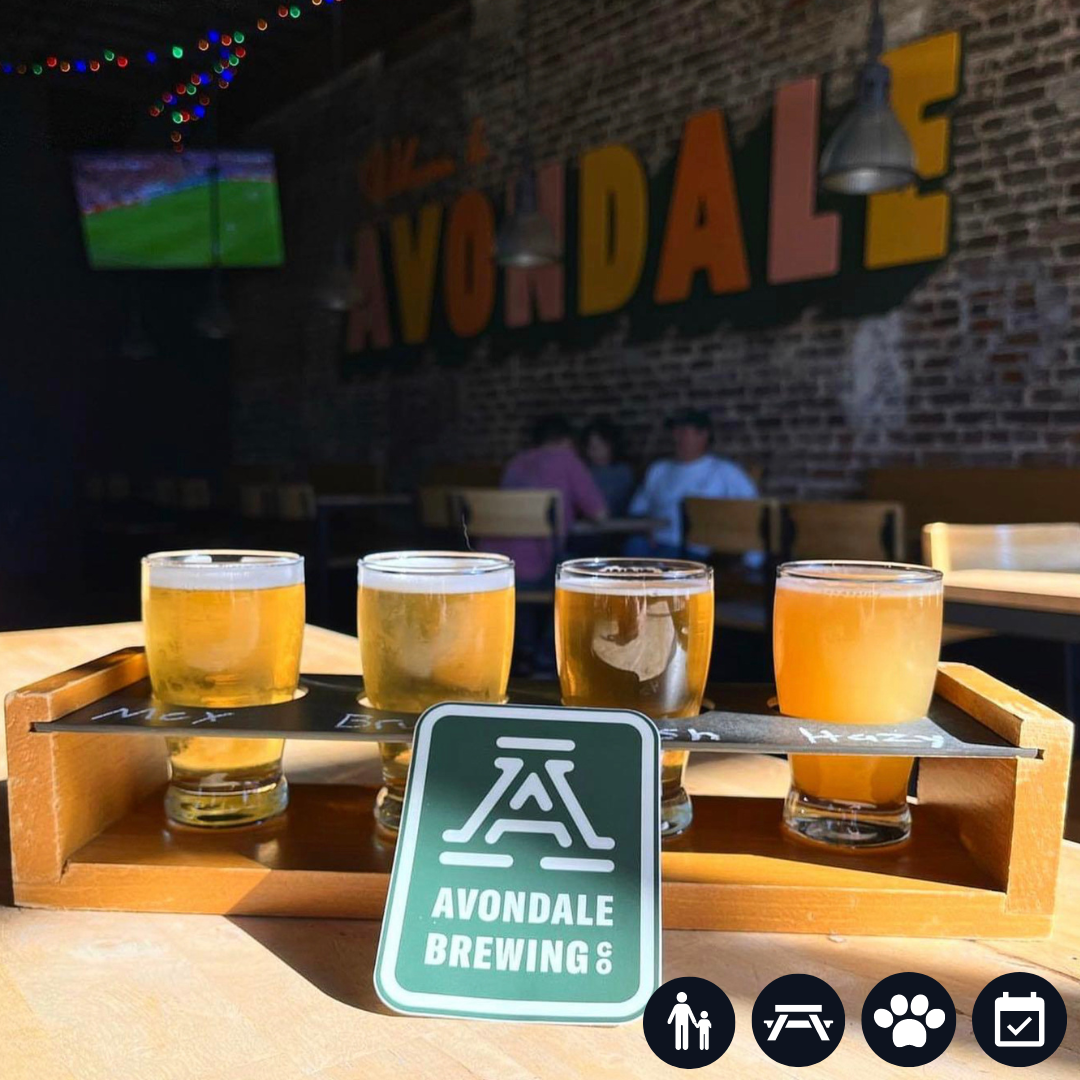 Stop #10: Avondale Brewing Company
From The Brook and the Bluff to Young Gravy you can enjoy an ice-cold beer and listen to live music weekly at Avondale Brewery Company. Famously known for holding big-named musicians, Avondale has a lineup ready for months to come! Their open backyard is the perfect place to spend those summer nights with friends and family and even watch sports on their big screen!
Beer highlight: Mosey
To Mosey is to take it easy and that's exactly what we intended with this amber lager. Easy drinking with a crispy clean maltiness. If you like beer, you'll love Mosey.
ABV: 4.6%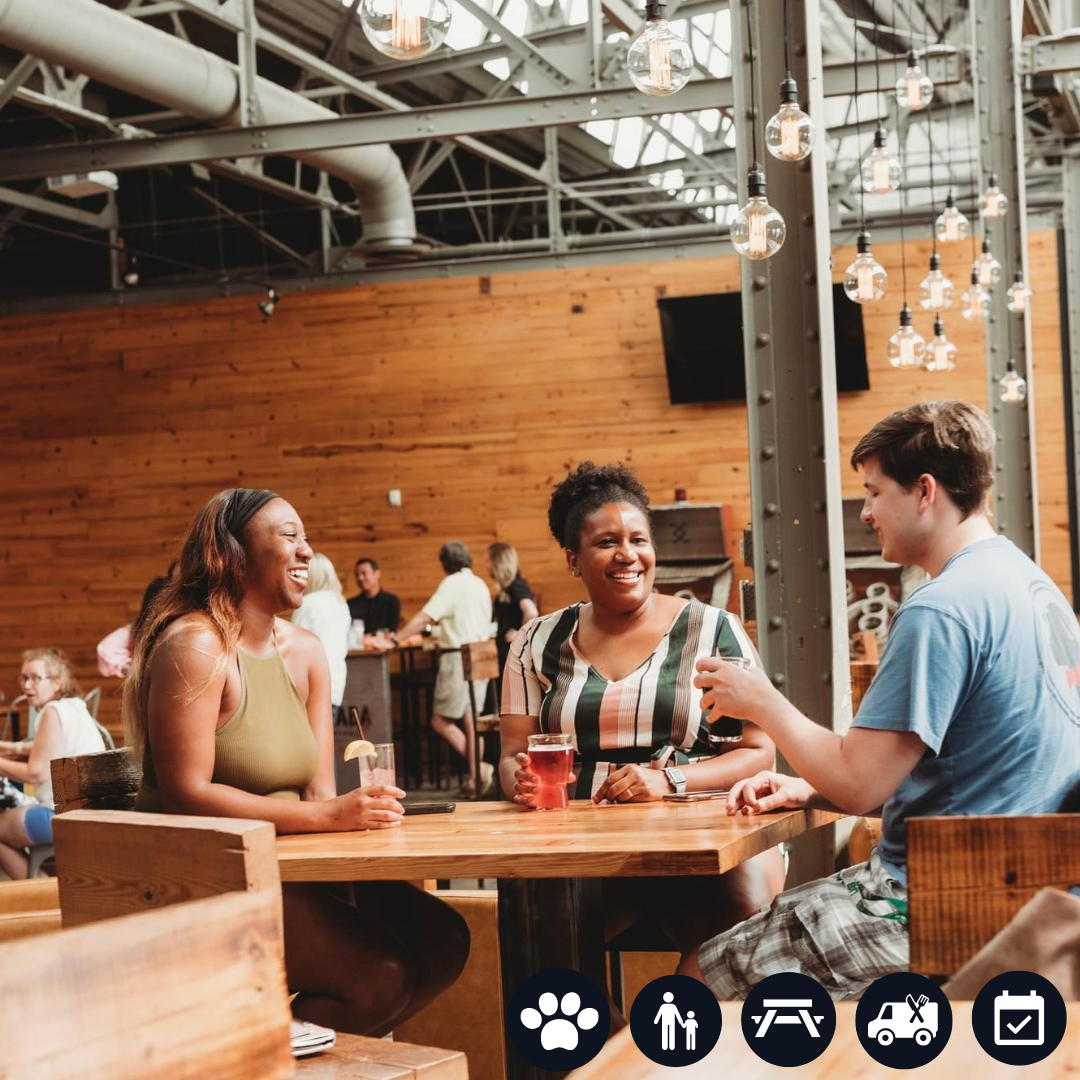 Stop #11: Cahaba Brewing Company
Named after The Cahaba River, the longest free-flowing body of water in the state of Alabama, you can find refreshing and unique pints in their large Taproom that spills outside. Grab a bite to eat at The Current at Cahaba, an anchored food truck that offers a variety of food options perfect for your Cahaba Blonde.
Beer highlight: Cahaba Blonde
The most notorious of Cahaba's brews, this drinkable beer has an IBU of just 23. Our American Blonde Ale is brewed with an unmistakable blend of European malts and hops, resulting in a clean finish. Blonde is light-bodied with just enough malt and hop to keep your interest. This beer pairs well with warm Alabama summer days and has become a local favorite for the pool, beach, or a lazy afternoon floating down the Cahaba River.
ABV: 5.2% IBU: 23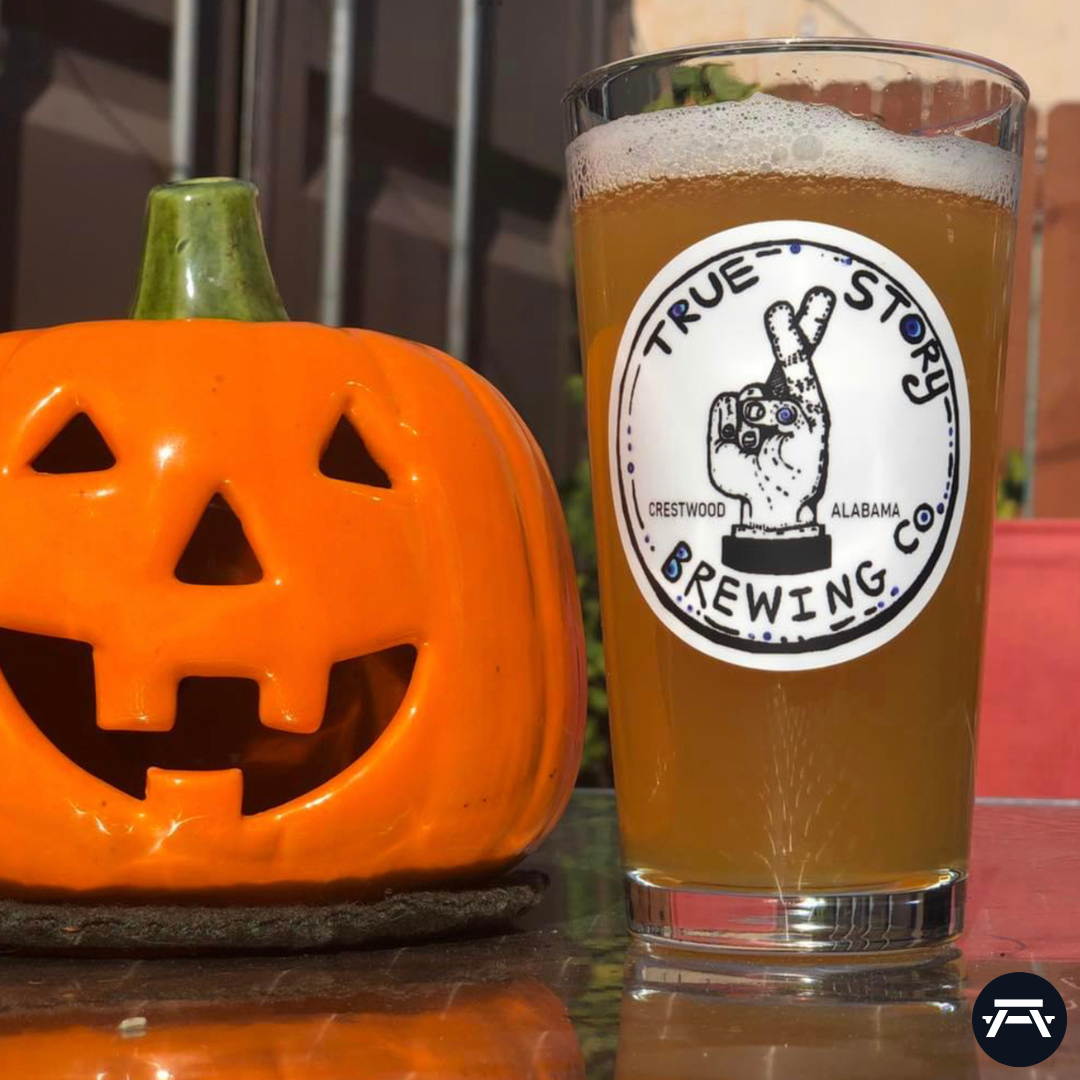 Stop #12: True Story Brewing Company
Located on the city's outskirts, True Story Brewing Company is a small microbrewery that makes small-batch beer in Crestwood. True Story feels like home, where you can sing karaoke or even catch a comedy show!
Beer Highlight: Uff Da!
Norwegian ale yeast and some fancy hops to be the star of this amazingly smooth and easy to drink IPA.
ABV: 8%
Related News
Filed Under: Downtown Birmingham, Front Page, Small Business, Why BHM

Beer…it's what makes Birmingham unique, game days better, and the world go round. Beermingham is home to over 10 breweries and hundreds of unique craft flavors. Amidst this cornucopia of choices, one often overlooked yet crucial element in the craft beer world is the tap handle. It's the final touch that guides that ice-cold brew into your frosted glass. But have you ever wondered about the work that goes into these intricate handles?

Filed Under: Business-Proving, Downtown Birmingham, Events, Filling Vacant Spaces, Front Page, Get Involved, Magic City Match, Potential-Proving, Small Business

Magic City Match is a program that transforms lives and opens doors for Black entrepreneurs and business owners. Led by REV Birmingham and powered by Prosper, this initiative aims to create opportunities for Black-owned businesses by matching them with brick-and-mortar spaces where they can thrive. After a successful pilot program in 2022, Magic City Match is back in action and ready to empower a new wave of entrepreneurs.

Filed Under: Front Page, Historic Preservation, Small Business, Uncategorized, Woodlawn

One of the most legendary and storied neighborhoods of Birmingham is Woodlawn.  It is a community, anchored by one of the great public high schools of Birmingham, that has produced many citizens who contributed to the life of our city and has had an impact beyond the neighborhood itself.  In a short post like this true justice cannot be done to the rich heritage and legacy of Woodlawn.  However, we hope that this narrative brings together many of the diverse threads that make up the fabric of the community's historic arc in a concise piece.