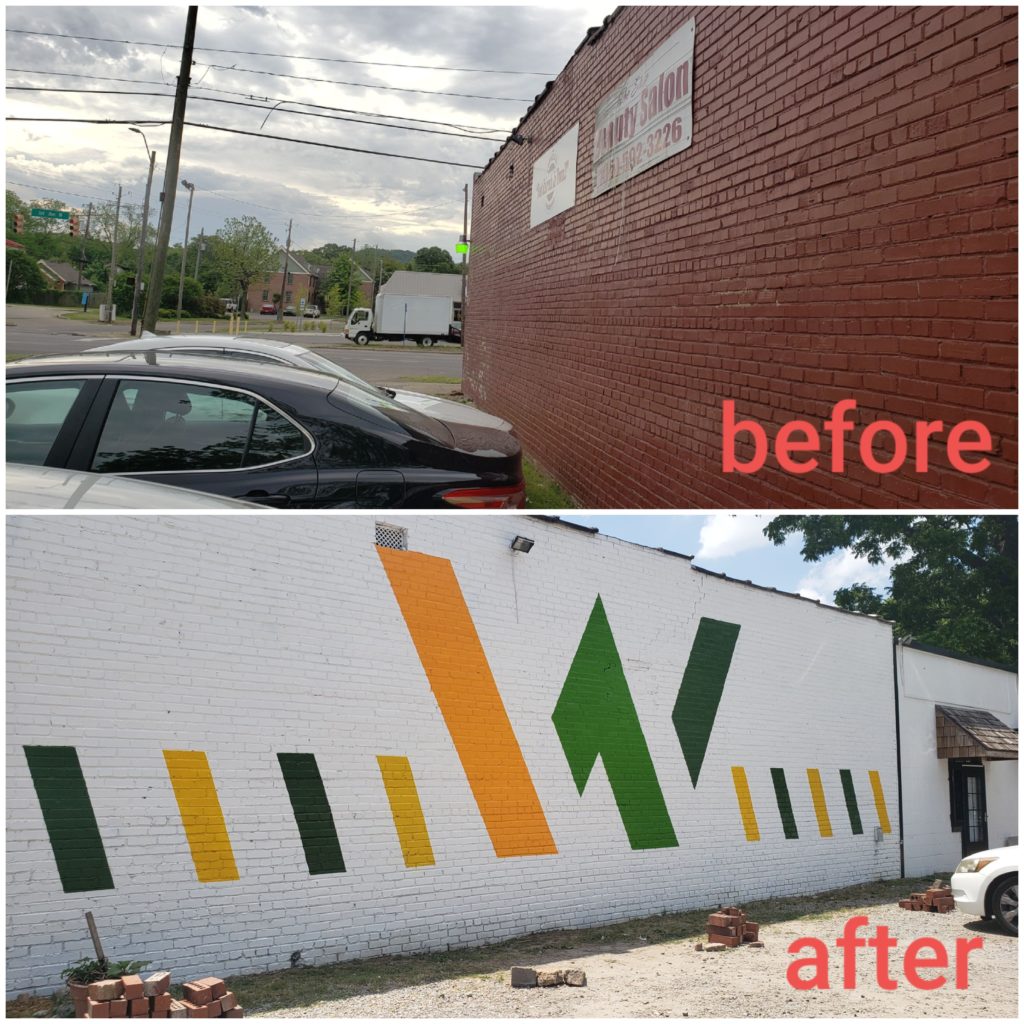 Longtime Woodlawn business owner Wayne Honeycutt says his recent façade refresh project has him feeling…well, refreshed.  
That's not just a play on words.
Work is almost done repainting the exterior of his 1st Avenue North building and adding an eye-catching mural on its side. So far, he said the changes have helped both him and his business evolve.  
"When something grows, it's not what it used to be," Honeycutt said. "Here, it's not like I'm adding more space or anything, but as far as the business persona and the way we are going to do things—this is growth. This is putting some more years of excitement in my life." 
Honeycutt has been in the space for 20 years and is a prominent member of the neighborhood. He also serves as president of the Woodlawn Business Association.
Jason Avery, a community volunteer, organized the façade refresh project through a community partnership called Woodlawn Urban Main, a partnership of REV Birmingham and Woodlawn Foundation with planning support from Main Street Alabama and Main Street America. One of the goals of the project is to elevate legacy businesses so they can share in new markets coming to Woodlawn.
He said it also serves as a 'thank you' from the neighborhood to Honeycutt.  
 "From giving free haircuts to kids who can't afford them to leading the business association, I think everyone in Woodlawn has been touched by Wayne and his story," he said. "It's time for us to give back to him." 
Honeycutt feels the love.  
"By me being in business so long, you find yourself doing everything yourself," he said. "When someone reaches out to help you…I've never had that done before. It makes me feel blessed." 
"It helped me do things that I should have already done to my building," he continued.  "Once they began to just put paint on the building, that made me do things to the physical part of the building to match up with the design that we came up with." 
This refresh is a part of a larger rebrand of the building into The Shoppes of Wood Station, which Avery says is a call back to Woodlawn's original name.    
The Shoppes house a barbershop, a beauty shop, an eyelash bar and a boutique. Avery and his team worked with Honeycutt to design an overall spa feel for customers once they step inside.  
On the outside, the building now serves a sense of place reminder. The mural is a logo shared by the community, the Woodlawn Neighborhood Association and the Woodlawn Street Market. 
"We figured that would make a statement for not only branding of Woodlawn as a whole, but kind of pulling that business district altogether, especially going down 1st Avenue," Avery said. 
The Shop won't be the only project of its kind.  
In 2019, the team is focused on making way for equitable entrepreneurship in the neighborhood. Improved design – like refreshing building facades—give established Woodlawn businesses a leg up in the face of rapid growth in the area.   
Work on The Shoppes began in late April and continued over weekend work days with volunteers painting the exterior of the building and eventually the mural.  
It was truly a team effort, according to Avery. 
Corporations such as Home Depot chipped in by giving the crew gift cards and offering discounts. Painter Chris Hughins volunteered his services and expertise. REV Birmingham donated a paint sprayer that Avery said allowed the project to have a professional look. 
He said that so far, the community has "totally flipped out" for the new façade.  
People even tried to take selfies in front of the mural while volunteers were still painting it. 
"We could have just stopped with painting the building white," he said. "Everybody was going on and on about how beautiful it was. They thought we were done. When we added the mural, people were standing and watching us. People would stop, honk their horns and yell, 'Woodlawn!' out of the door." 
"When they see the big 'W' and the gold and green, they automatically associate it with Woodlawn High School, the Colonels, and it's sort of bringing people together," he said.  
Honeycutt said that the refresh and rebrand also represent the constant evolution of his business. He said he's also seen an increase in business since work began. 
"All of the people who've been with us for a long time are so proud that we've not only remained this long but are still growing, changing and evolving with the times," he said.  
He said it's also caused a domino effect among other business owners in the area. They are now expressing interest in working on their business exteriors. 
"It's creating an atmosphere that is so productive," Honeycutt said. "People are ready to get up and make something happen. It's a definite boost in the community."  
Related News
Filed Under: Big Pitch, Front Page, Small Business, Uncategorized

If you've been following REV for a while, you probably remember The Big Pitch Competitions we used to hold back in the day. The Big Pitch presented by PNC was essentially our own little version of Shark Tank. And a lot of your favorite local businesses that participated in this competition now have active retail storefronts that you can go check out. Let's start with some of our finalists that are based in the City of Birmingham and see what they've been up to!

Filed Under: Developer, Downtown Birmingham, Filling Vacant Spaces, Front Page, Potential-Proving, Uncategorized

Have you been to Downtown Birmingham's newest development located on 25th Street? If not, you need to head down there ASAP and check it out! This new single story development is a product of a collaboration between David Baker Architects (DBA) and Locke General Contractors, led by DBA's very own Amanda Loper. It is intended to be a "collaborative commercial space in a catalyst development area of Birmingham." Both DBA and Locke General Contractors will be tenants of the space, along with June Coffee Roasters, Zephyr Barber, and Last Call Baking Cooperative!

Filed Under: Downtown Birmingham, Events, Front Page, Uncategorized

One of Birmingham's many hidden treasures is the music scene downtown. The sheer volume of concert venues we have in downtown Birmingham is something most people aren't even aware of – but it really is remarkable! There is truly something for everyone, whether you're into the smaller, more intimate venues or the large-scale venues for those big name artists. Keep reading to check out some of the cool venues downtown Birmingham has to offer.