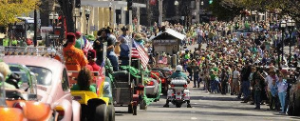 The 33rd Annual Five Points South St. Patrick's Celebration will take place March 9th through 17th, 2017 in Birmingham's culinary district. Follow our hashtag #stpats5pts!
Five Points South has become home to Birmingham's Premier St Patrick's Day Celebration – come enjoy nine days of Irish drink and food specials, an Irish flag raising, The Great Birmingham Irish Toast, The 36th Annual Irish dinner, The 33rd Annual St. Patrick's Day Parade and end on St. Pat's Day.
[Thursday, March 9th, 5:30pm to 7:30pm]
Irish Flag Raising  & The Great Birmingham Irish Toast
[Friday, March 10th, 7pm til late]
37th Annual Birmingham Irish Cultural Society Irish Dinner
[Saturday, March 11th, 11am to 11pm]
33rd Annual St. Patrick's Parade Day
[Friday, March 17th, 11am to 11pm]
St. Patrick's Day in Five Points South
Get more details at stpatsfivepoints.com!
Are you interested in participating in the parade, being a sponsor, musician or vendor during the celebration? Click here for sponsor form and click here for the parade application. Musicians and others can contact James Little at jlittle@revbirmingham.org.
Related News
Filed Under: Business-Proving, Front Page, Small Business, Uncategorized, Woodlawn

Woodlawn is constantly growing and welcoming new businesses and the past few months have been no exception! There is a diverse mix of new openings in Woodlawn that caters to a variety of different audiences. Whether you're looking to take some dance classes or you're just in the mood to try out a new bar, here's a list of all the new places for you to checkout in Woodlawn!

Filed Under: Uncategorized

Get to know our team better by learning more about what we do and hearing some fun facts about each team member. This week we are introducing Ben Wieseman, our Director of Catalytic Development!