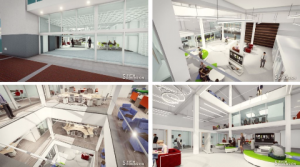 Plans to renovate the former US Post Office building at 317 20th Street North got a major boost in November when the project was awarded an allocation of State Historic Tax Credits made available when one of the projects originally awarded was unable to move forward. Now work is underway to transform the property, historically called Exchange Bank, for new office uses.
The Miami-based company that owns the building is partnering with Harbert Realty to rehab the 21,000 square foot property and market it to commercial office tenants. Interested in an address in the heart of the Financial District? There's an exterior signage opportunity available for the anchor tenant! Contact Charlie Norton for more information.
The state historic tax credit has been a crucial financing tool for projects like Pizitz, TJ Tower, and now The Post, to move forward. REV has joined with other organizations across the state to work for restoration of the program during this session of the state legislature. We're also working with this property owner to layer historic tax credits with other potential incentives, so this long-vacant property can bring jobs and vibrancy back to downtown's main street.
Related News
Filed Under: Downtown Birmingham, Events, Front Page, Yaysayers

Brian Allen, a talented cornerback, has made the remarkable transition from a small town in Texas to the vibrant city of Birmingham. Choosing Birmingham for his football career for two consecutive seasons, Brian's unwavering dedication and exceptional skills have made him a standout figure in the world of football. To dive deeper into Brian's journey and discover his genuine appreciation for the city, watch this video with the link below!

Filed Under: Developer, Downtown Birmingham, Filling Vacant Spaces, Front Page, Potential-Proving

Many historic buildings, including the John Hand and The Frank, have been successfully redeveloped while preserving their original charm. May is Historic Preservation Month, which aims to raise awareness about the importance of preserving historic buildings. Currently, numerous buildings possess a solid foundation but have been left vacant and require immediate attention for preservation. Find out which treasures are in need of your help today!

Filed Under: Developer, Downtown Birmingham, Front Page, Transportation, Yaysayers

Parking lots are dead spaces. Nothing we can construct sucks the life and vibrancy out of a place more than a parking lot. Yet we cannot seem to live without parking. Views on parking dominate almost every issue related to downtown growth. From not enough parking to being too expensive, learn from David Fleming why parking is essential to Birmingham's growth.