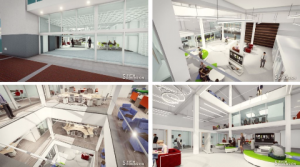 Plans to renovate the former US Post Office building at 317 20th Street North got a major boost in November when the project was awarded an allocation of State Historic Tax Credits made available when one of the projects originally awarded was unable to move forward. Now work is underway to transform the property, historically called Exchange Bank, for new office uses.
The Miami-based company that owns the building is partnering with Harbert Realty to rehab the 21,000 square foot property and market it to commercial office tenants. Interested in an address in the heart of the Financial District? There's an exterior signage opportunity available for the anchor tenant! Contact Charlie Norton for more information.
The state historic tax credit has been a crucial financing tool for projects like Pizitz, TJ Tower, and now The Post, to move forward. REV has joined with other organizations across the state to work for restoration of the program during this session of the state legislature. We're also working with this property owner to layer historic tax credits with other potential incentives, so this long-vacant property can bring jobs and vibrancy back to downtown's main street.
Related News
Filed Under: Downtown Birmingham, Front Page, Potential-Proving, Uncategorized, Yaysayers

This Friday, May 20th, we will be having a (20th) Street Party (which you can read more about here) to celebrate the end of our Birmingham Green Refresh! While this certainly calls for a celebration, the party doesn't stop there. We will still be adding some finishing touches to the street after the (20th) Street Party. These additional touches will help make Birmingham's main street more vibrant, interactive, and efficient! Additions will include smart trash cans, free libraries, street performers, and more!

Filed Under: Downtown Birmingham, Front Page, Uncategorized

We've talked about sports, but downtown has so much more to offer! Downtown Birmingham has so many experiences in store for you, which can also turn into life-long memories. And lucky for you, we've created a tool to make all that exploring so much easier!

Filed Under: Downtown Birmingham, Front Page, Potential-Proving

We are approaching the finish line for the 20th Street Refresh, which calls for a celebration – and you're invited! The City Center Business Improvement District (BID), funded by downtown property owners, is partnering with the City of Birmingham and REV Birmingham to celebrate a refreshed Birmingham Green. Come join the party on May 20th from 4 to 8 p.m (with a special celebration happening at 6 p.m.)!