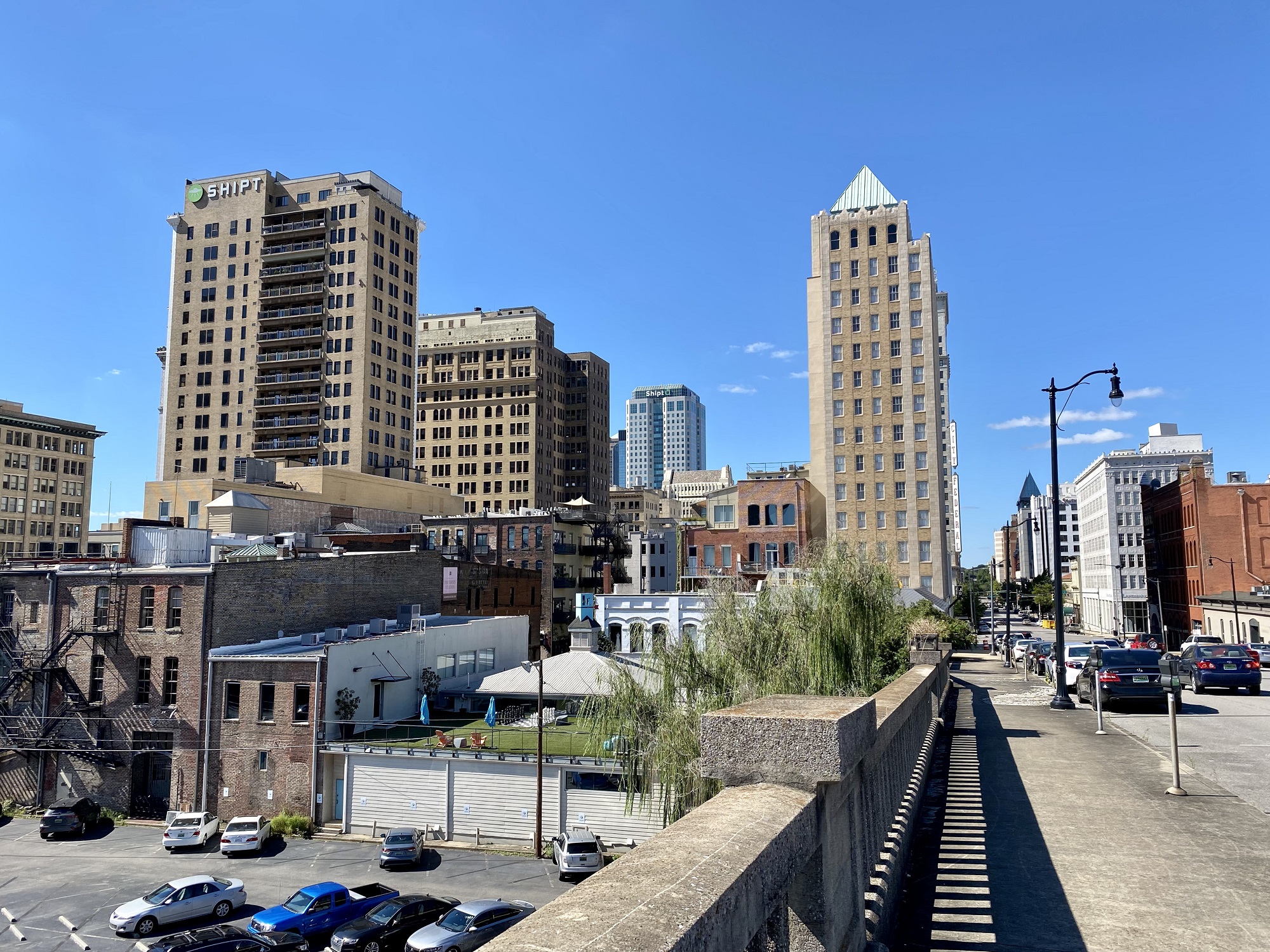 According to the IDA (International Downtown Association), the Vitality Index is a benchmarking tool that allows us to virtually view the vitality of downtown areas across the country. The vitality is measured through economy, inclusion, and vibrancy. Pretty cool, right? You can view our Value of Downtown report for a deep dive on where Birmingham stands in the grand scheme of things.
But we're going to break things down a little more in this blog post and focus on the economic sector of the Vitality Index. What does Birmingham do really well and what can we work on in the coming years to improve our employment rates downtown?
It's important to note that the IDA categorizes Birmingham as an "emerging" downtown within its three-tiered system, which assigns each downtown a label of emerging, growing or established.
Emerging downtowns show rapid growth in either residents or jobs (though not both), or have begun to show positive signs of growth.
Growing downtowns are those with the fastest-growing populations and job counts.
Established downtowns are home to a large percentage of citywide residents, jobs, and assessed value.
Within the emerging division, Birmingham is more or less in the middle as far as employment goes. We excel in certain areas like knowledge jobs and are still looking to improve in other areas, such as job growth. Let's take a closer look at what this means for us!
What are knowledge jobs?
To have a strong downtown economy it is crucial that there is a diverse mix of knowledge in the industry. This industry mix typically includes jobs based around finance & insurance, real estate, management, healthcare, and multiple other areas. When looking at the knowledge jobs in emerging downtowns vs. Established/growing downtowns, it is pretty clear that there is a gap.  
How do knowledge jobs in Birmingham compare to other downtown areas?
47% of downtown Birmingham – which is categorized as an emerging downtown district – is made up of knowledge jobs. This exceeds the average percentage of knowledge jobs in an emerging district (38%), growing district (42%), and established districts (46%). Birmingham is on par with other big cities such as Indianapolis, Dallas, and Tempe. 
How is Birmingham doing with job growth?
While Birmingham has been successful in certain areas, there is still room for growth in others. From 2010-2018 the percentage of job growth in downtown Birmingham was 0%. While that is more or less in line with the average growth for emerging districts (1%), it is evident that there is a need for more jobs in our downtown area. Plenty of sun belt cities have experienced significant job growth between 2010-2018. Some of the cities that Birmingham needs to catch up to in order to put its name on the map are Atlanta (7%), Dallas (23%), and Miami (20%) to name a few. One of Birmingham's closest and most prominent competitors, Huntsville, has also seen a 17% increase in job growth over the same time span that was previously mentioned.  
So there you have it! Birmingham is doing pretty well for the most part and is giving those other big cities a run for their money. But, in order to keep our name on the map and be seen as a true competitor, there is an immediate need for more job's downtown. And what better time to do it than in the new year? 2022 – let's do this thing!
Related News
Filed Under: Front Page, Get Involved, Historic Preservation, Residential

President and CEO of REV Birmingham David Fleming writes about the importance of historic preservation and highlights the advocacy efforts that saved the French Quarter in New Orleans and the Forest Park neighborhood in Birmingham. The article concludes with a call to action, urging for new leaders and the implementation of various strategies to protect and celebrate Birmingham's historic buildings and places.

Filed Under: Filling Vacant Spaces, Front Page, Small Business, Woodlawn, Yaysayers

Lights, Camera, Action! The rebirth of the Woodlawn Theater is happening this weekend in the heart of Woodlawn. The theater is opening its doors to the public with two extraordinary opening events that are FREE to the public. The 1400 square foot venue has a wide range of amenities and even has a full-service bar. Because of the Mason Music Foundation, this venue is filling a much needed resource for local musicians to perform. Keep reading to discover how the theater came back to life and its impact on the community.

Filed Under: Downtown Birmingham, Events, Front Page, Yaysayers

Brian Allen, a talented cornerback, has made the remarkable transition from a small town in Texas to the vibrant city of Birmingham. Choosing Birmingham for his football career for two consecutive seasons, Brian's unwavering dedication and exceptional skills have made him a standout figure in the world of football. To dive deeper into Brian's journey and discover his genuine appreciation for the city, watch this video with the link below!