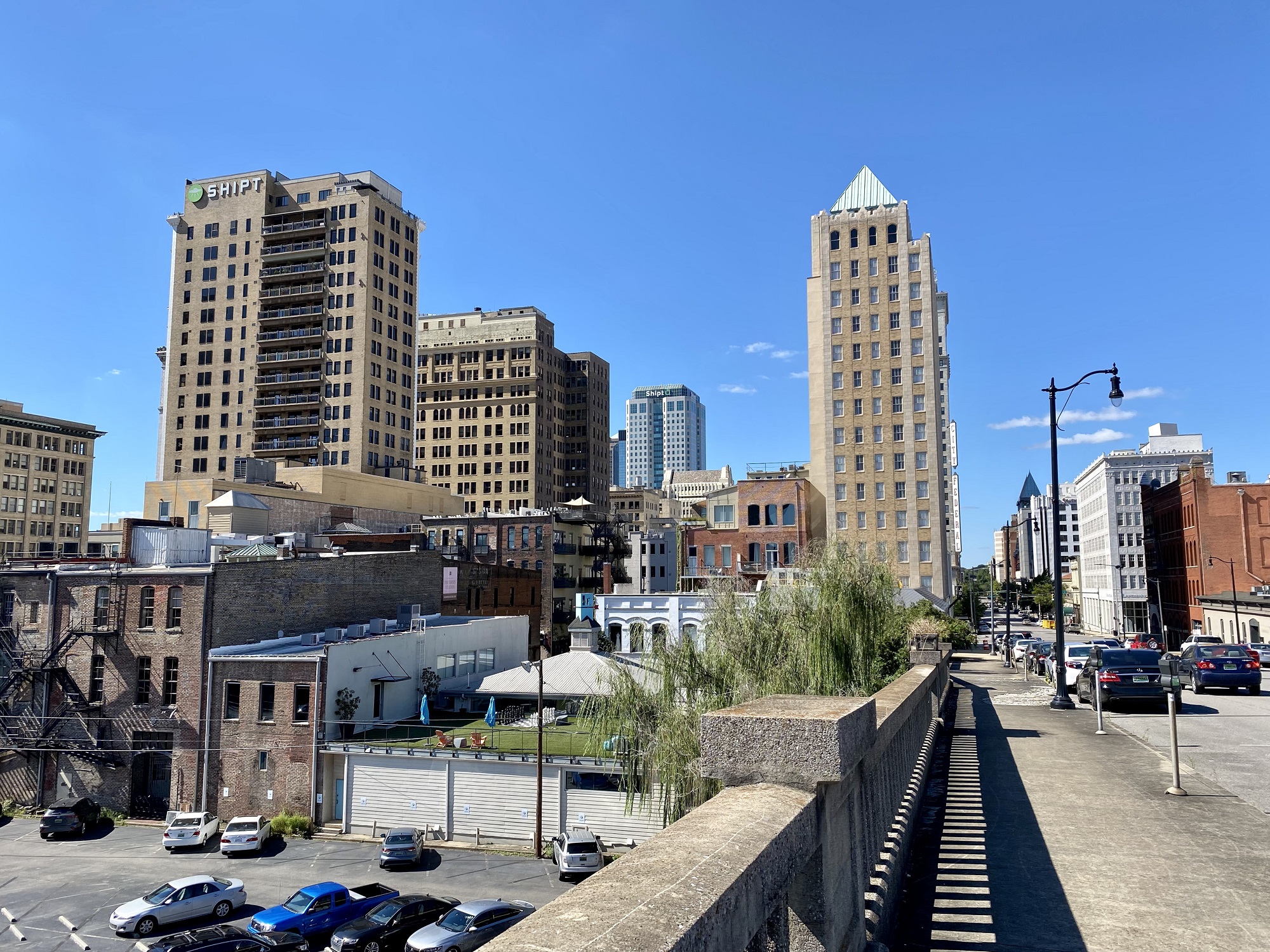 According to the IDA (International Downtown Association), the Vitality Index is a benchmarking tool that allows us to virtually view the vitality of downtown areas across the country. The vitality is measured through economy, inclusion, and vibrancy. Pretty cool, right? You can view our Value of Downtown report for a deep dive on where Birmingham stands in the grand scheme of things.
But we're going to break things down a little more in this blog post and focus on the economic sector of the Vitality Index. What does Birmingham do really well and what can we work on in the coming years to improve our employment rates downtown?
It's important to note that the IDA categorizes Birmingham as an "emerging" downtown within its three-tiered system, which assigns each downtown a label of emerging, growing or established.
Emerging downtowns show rapid growth in either residents or jobs (though not both), or have begun to show positive signs of growth.
Growing downtowns are those with the fastest-growing populations and job counts.
Established downtowns are home to a large percentage of citywide residents, jobs, and assessed value.
Within the emerging division, Birmingham is more or less in the middle as far as employment goes. We excel in certain areas like knowledge jobs and are still looking to improve in other areas, such as job growth. Let's take a closer look at what this means for us!
What are knowledge jobs?
To have a strong downtown economy it is crucial that there is a diverse mix of knowledge in the industry. This industry mix typically includes jobs based around finance & insurance, real estate, management, healthcare, and multiple other areas. When looking at the knowledge jobs in emerging downtowns vs. Established/growing downtowns, it is pretty clear that there is a gap.  
How do knowledge jobs in Birmingham compare to other downtown areas?
47% of downtown Birmingham – which is categorized as an emerging downtown district – is made up of knowledge jobs. This exceeds the average percentage of knowledge jobs in an emerging district (38%), growing district (42%), and established districts (46%). Birmingham is on par with other big cities such as Indianapolis, Dallas, and Tempe. 
How is Birmingham doing with job growth?
While Birmingham has been successful in certain areas, there is still room for growth in others. From 2010-2018 the percentage of job growth in downtown Birmingham was 0%. While that is more or less in line with the average growth for emerging districts (1%), it is evident that there is a need for more jobs in our downtown area. Plenty of sun belt cities have experienced significant job growth between 2010-2018. Some of the cities that Birmingham needs to catch up to in order to put its name on the map are Atlanta (7%), Dallas (23%), and Miami (20%) to name a few. One of Birmingham's closest and most prominent competitors, Huntsville, has also seen a 17% increase in job growth over the same time span that was previously mentioned.  
So there you have it! Birmingham is doing pretty well for the most part and is giving those other big cities a run for their money. But, in order to keep our name on the map and be seen as a true competitor, there is an immediate need for more job's downtown. And what better time to do it than in the new year? 2022 – let's do this thing!
Related News
Filed Under: Front Page, Small Business, Woodlawn

We are so excited to announce that the Woodlawn Street Market is here to stay in 2023! The tenth season will kick off April 1st on 55th place, featuring over 60 vendors. The WSM has been a staple for the Woodlawn Community for years and has helped stimulate entrepreneurship in The Magic City.

Filed Under: Birmingham Food & Drink, Front Page, Small Business, Woodlawn, Yaysayers

Have you tried Naughty But Nice Kettle Corn, located right outside of downtown? With over eight different flavors to choose from, NBNKC is the perfect snack to satisfy your sweet OR salty tooth. However, NBNKC is more than just popcorn; Tanesha Sims-Summers, owner and founder, believes "We make Birmingham sweeter one kernel at a time.

Filed Under: Downtown Birmingham, Front Page, Residential, Yaysayers

Meet Lauren and Marina Moore! These sisters have lived at The Watts residents for the past two years. Learn why the Moores choose to live downtown rather than stay in the suburbs.