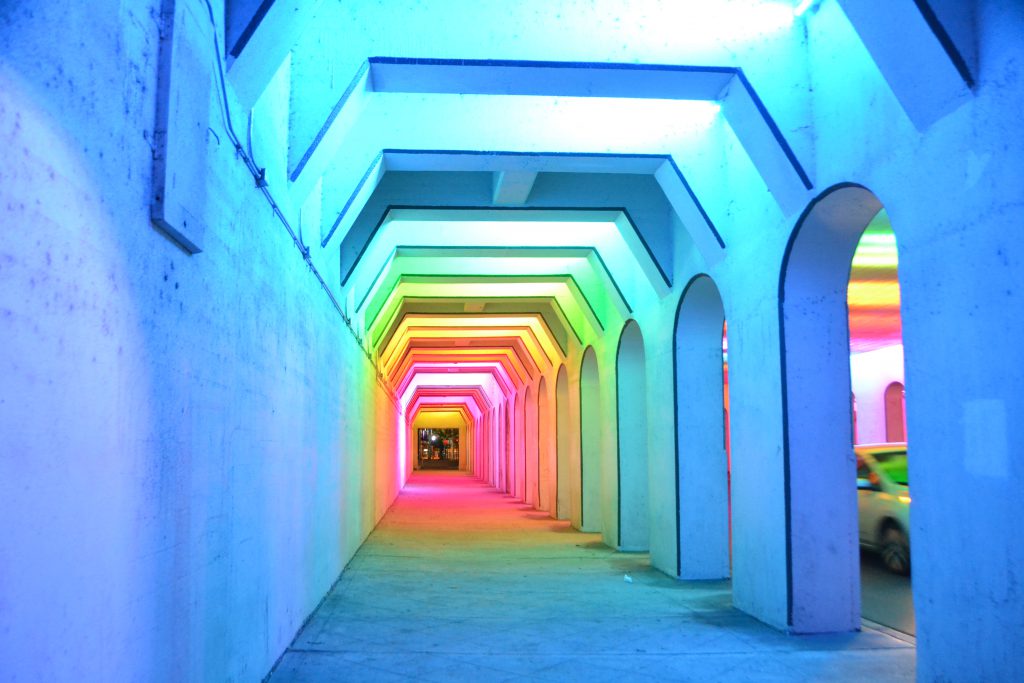 REV's Birmingham Lights in the historic train underpasses at 14th, 18th, 20th and 22nd Streets, will shine in shades of blue and green on April 13 for the celebration of National Blue & Green Day. 
National Blue & Green Day takes place each April during National Donate Life Month. The public is encouraged to wear blue and green, hold events and fundraisers, and partner with community organizations to spread awareness about the success of organ, eye and tissue transplantation and the extreme need for registered donors.  
"The act of registering your decision to be an organ, eye and tissue donor takes less than a minute.  This one action can serve as a life-saving opportunity for those in need," states Chris Meeks, Executive Director of the Alabama Organ Center.  "One donor can save or enhance the lives of more than 75 people." 
Why blue and green? Those are the colors of Donate Life America! Each year, Donate Life America and the Alabama Organ Center use this initiative to help focus state and national attention on how every individual has the potential to make life possible by registering his or her decision to be an organ, eye and tissue donor. 
Donate Life America centers their colors and artwork around the image of a rainbow paired with a quote from Maya Angelou, "be a rainbow in someone else's cloud." Often following a storm, the presence of a rainbow provides optimism and motivation to endure darker times. Organ, eye and tissue donation, like a rainbow, is the bridge of comfort between one family's mourning and another's healing – turning tragedy into renewed life. The vibrant Donate Life rainbow in the artwork rises from stormy clouds, recognizing that it takes both rain and light to create the gift of a rainbow. 
In addition to the downtown train underpasses, several locations across the state will be blue and green on and around April 13th, including: 
You can register your decision to make life possible by becoming an organ, eye and tissue donor at www.alabamaorgancenter.org. 
If you have a cause you would like represented through Birmingham Lights for Causes, contact REV project coordinator Tyler Hooper at thooper@revbirmingham.org or by phone: 205-623-0625
Related News
Filed Under: Downtown Birmingham, Front Page, Uncategorized

We've talked about sports, but downtown has so much more to offer! Downtown Birmingham has so many experiences in store for you, which can also turn into life-long memories. And lucky for you, we've created a tool to make all that exploring so much easier!

Filed Under: Downtown Birmingham, Front Page, Potential-Proving

We are approaching the finish line for the 20th Street Refresh, which calls for a celebration – and you're invited! The City Center Business Improvement District (BID), funded by downtown property owners, is partnering with the City of Birmingham and REV Birmingham to celebrate a refreshed Birmingham Green. Come join the party on May 20th from 4 to 8 p.m (with a special celebration happening at 6 p.m.)!

Filed Under: Developer, Downtown Birmingham, Front Page, Potential-Proving, Uncategorized

If you've been paying close attention, you may have noticed that we've been hinting at a new Linn Park project coming soon – and we're finally ready to share it with you! A planning process to redesign and reactivate Linn Park kicked off recently when public and private organizational partners met on site with the nationally acclaimed park designers OJB Landscape Architecture (OJB) to begin an eight-month master plan development process to improve Linn Park.