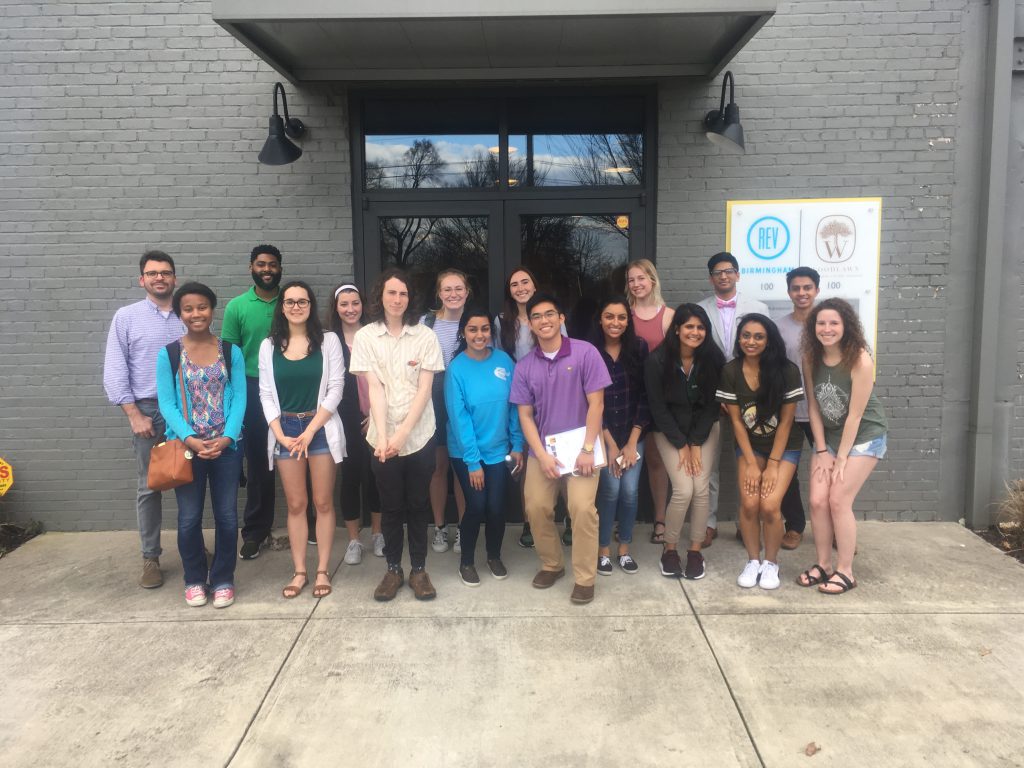 Students in the University of Alabama at Birmingham's Global and Community Leadership Honors program visited Woodlawn this week to learn about community and economic development. REV Birmingham was glad to welcome the incomparable professor Anthony Hood and his class as we talked about inclusive revitalization in Woodlawn and other urban commercial districts. 
The students are enrolled in a course called Leadership in Action, which is an offering of the Honors Program. One of the aims of the course is to guide students in taking a deep dive into some of the pressing issues and opportunities present in Birmingham as well as the people and organizations who are addressing them. 
The students visit area nonprofits to learn about how change is being made in Birmingham. By learning about how inclusive revitalization is working in Birmingham, these students can be inspired and continue to contribute to the change in Birmingham and around the world. 
Prior to their visit to REV, students were introduced to the key ideas and concepts associated with CO.STARTERS for Causes. They then conducted background research on REV using the CO.STARTERS version of the business model canvas. The students were then tasked with identifying key contacts and coordinating a site visit for the peers. In preparation for the visit, students shared their research with one another.  
CO.STARTERS is a 12-week program of Create Birmingham on which REV is a proud partner. 
During the class period after the visit, students engaged in a facilitated debrief to share and document their lessons learned. 
"Overall, they were impressed with the thoughtfulness and comprehensiveness of REV's approach to economic development and catalytic growth," said Hood. "They were also excited about the opportunity to share information with other students across campus regarding any volunteer and internship opportunities with REV." 
Since their visit to REV, the students have begun coordinating site visits to other organizations such as the Woodlawn Foundation, Birmingham Education Foundation, Saturn, DISCO, Jones Valley Teaching Farms, Forge, Pizitz Food Hall and the Birmingham Land Bank Authority.  
By expanding the boundaries of the classroom beyond UAB's campus, these students are becoming equipped with the knowledge and unique perspectives necessary to be effective leaders in their communities. 
Related News
Filed Under: Downtown Birmingham, Front Page, Get Involved

We've made it to the third and final public workshop for Re-vision Linn Park! Partners behind Re-Vision Linn Park will wrap up the community engagement process at the last public workshop on Tuesday, October 4, at Boutwell Auditorium. Community members can participate and provide feedback on a park design concept in the noon or 5:30 p.m. session – so come out one last time and let your voice be heard!

Filed Under: Big Pitch, Front Page, Small Business, Uncategorized

If you've been following REV for a while, you probably remember The Big Pitch Competitions we used to hold back in the day. The Big Pitch presented by PNC was essentially our own little version of Shark Tank. And a lot of your favorite local businesses that participated in this competition now have active retail storefronts that you can go check out. Let's start with some of our finalists that are based in the City of Birmingham and see what they've been up to!

Filed Under: Developer, Downtown Birmingham, Filling Vacant Spaces, Front Page, Potential-Proving, Uncategorized

Have you been to Downtown Birmingham's newest development located on 25th Street? If not, you need to head down there ASAP and check it out! This new single story development is a product of a collaboration between David Baker Architects (DBA) and Locke General Contractors, led by DBA's very own Amanda Loper. It is intended to be a "collaborative commercial space in a catalyst development area of Birmingham." Both DBA and Locke General Contractors will be tenants of the space, along with June Coffee Roasters, Zephyr Barber, and Last Call Baking Cooperative!