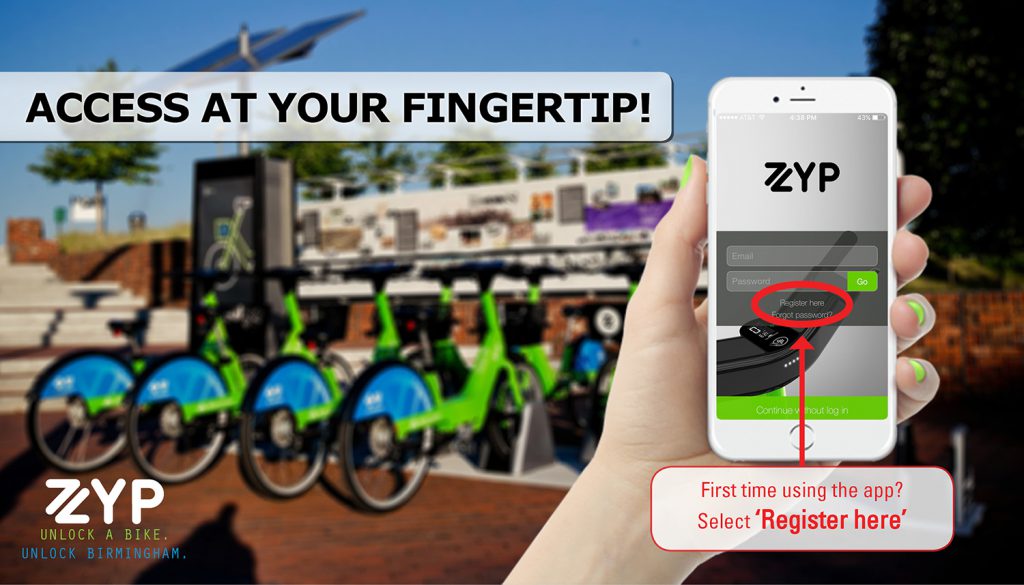 You're probably already familiar with the happy green bikes Zypping around the Magic City. The city's Zyp bikeshare program, made possible by generous sponsors like Regions, Blue Cross and Alabama Power, recently turned two years old and has become a staple on the streets of Birmingham.  
But did you know the Zyp mobile app can enhance your riding experience? Check out a few of the cool features available to Zyp riders through the app: 
Unlock Bikes – Did you know all Zyp bikes are equipped with individual SIM cards? They're like bright green, rolling cell phones! Once you have purchased a pass on our app, simply select the Unlock icon and type in the bike number you wish to ride (can be found near the back fender). 
Interactive live map – Even if you don't have an active pass or membership, you can still view real-time bike availability through the live map. This will keep you from walking to an empty station – or riding to a full one – before we are able to visit with the rebalancing van! 
Report an Issue – Notice a flat tire or loose brake? Let us know! We rely on our users to give us the most current status of the bikes. It helps us identify issues prior to scheduled maintenance and put that bike back on the street ASAP! 
Plan your route – Sometimes downtown can be confusing… For a suggested route to the station nearest your destination, just select the icon and tap "Get Directions." 
Calories burned and CO2 saved – Give yourself a pat on the back for using a green form of transportation! Under usage history, you can peek at your routes traveled, miles ridden, calories burned, and CO2 saved. Take a screenshot and show off your contribution to a healthier Birmingham! 
Ensure your route has ended – On occasion, a bike may not register as "Docked" when placed in a station. One way to check is by pulling up your Usage History. Ensure there is an End Station on your route! This will avoid any issues when undocking a bike on your next trip. 
Set a Timer – Want a little reminder when your 45-minute ride time is coming to an end? Hit the Timer icon before hitting the streets! This useful function just may save you an extra $2 in Overtime Charges. 
Download the Zyp App from the App Store and Google Play 
Related News
Filed Under: Developer, Downtown Birmingham, Filling Vacant Spaces, Front Page, Potential-Proving, Uncategorized

Have you been to Downtown Birmingham's newest development located on 25th Street? If not, you need to head down there ASAP and check it out! This new single story development is a product of a collaboration between David Baker Architects (DBA) and Locke General Contractors, led by DBA's very own Amanda Loper. It is intended to be a "collaborative commercial space in a catalyst development area of Birmingham." Both DBA and Locke General Contractors will be tenants of the space, along with June Coffee Roasters, Zephyr Barber, and Last Call Baking Cooperative!

Filed Under: Downtown Birmingham, Events, Front Page, Uncategorized

One of Birmingham's many hidden treasures is the music scene downtown. The sheer volume of concert venues we have in downtown Birmingham is something most people aren't even aware of – but it really is remarkable! There is truly something for everyone, whether you're into the smaller, more intimate venues or the large-scale venues for those big name artists. Keep reading to check out some of the cool venues downtown Birmingham has to offer.

Filed Under: Downtown Birmingham, Front Page, Yaysayers

We are Live on 20th folks! Have you been downtown and checked out our busker performances yet? If not, you're seriously missing out! We have talent from all over The Magic City come out on Friday evenings from 4-6 p.m. and put on performances for the public to enjoy. Performances take place at the corner of 20th Street and 3rd Avenue North. Next time you're heading home after a long day at the office or on your way to dinner, stop by and check it out! Let's recap some of our awesome performers below!