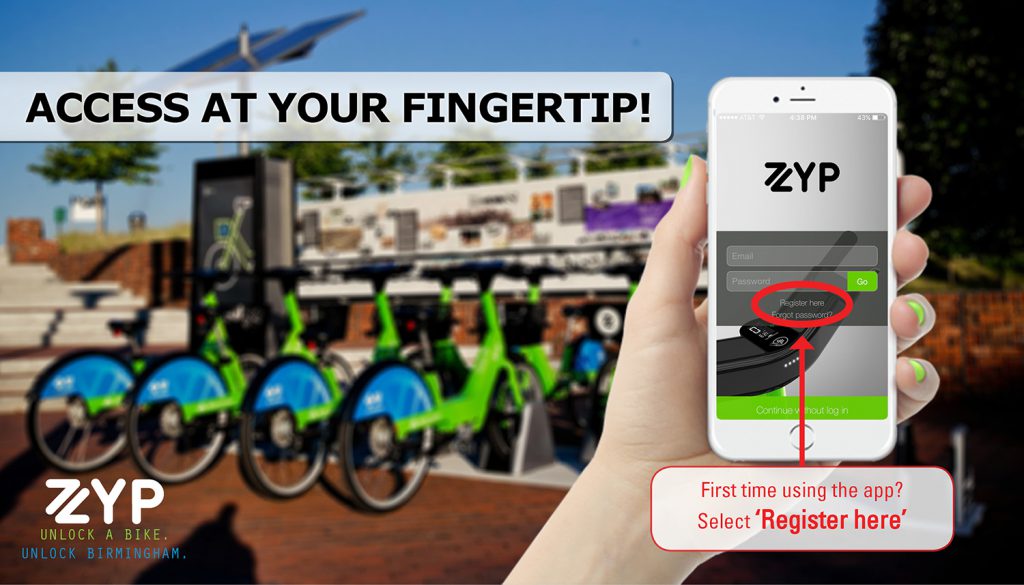 You're probably already familiar with the happy green bikes Zypping around the Magic City. The city's Zyp bikeshare program, made possible by generous sponsors like Regions, Blue Cross and Alabama Power, recently turned two years old and has become a staple on the streets of Birmingham.  
But did you know the Zyp mobile app can enhance your riding experience? Check out a few of the cool features available to Zyp riders through the app: 
Unlock Bikes – Did you know all Zyp bikes are equipped with individual SIM cards? They're like bright green, rolling cell phones! Once you have purchased a pass on our app, simply select the Unlock icon and type in the bike number you wish to ride (can be found near the back fender). 
Interactive live map – Even if you don't have an active pass or membership, you can still view real-time bike availability through the live map. This will keep you from walking to an empty station – or riding to a full one – before we are able to visit with the rebalancing van! 
Report an Issue – Notice a flat tire or loose brake? Let us know! We rely on our users to give us the most current status of the bikes. It helps us identify issues prior to scheduled maintenance and put that bike back on the street ASAP! 
Plan your route – Sometimes downtown can be confusing… For a suggested route to the station nearest your destination, just select the icon and tap "Get Directions." 
Calories burned and CO2 saved – Give yourself a pat on the back for using a green form of transportation! Under usage history, you can peek at your routes traveled, miles ridden, calories burned, and CO2 saved. Take a screenshot and show off your contribution to a healthier Birmingham! 
Ensure your route has ended – On occasion, a bike may not register as "Docked" when placed in a station. One way to check is by pulling up your Usage History. Ensure there is an End Station on your route! This will avoid any issues when undocking a bike on your next trip. 
Set a Timer – Want a little reminder when your 45-minute ride time is coming to an end? Hit the Timer icon before hitting the streets! This useful function just may save you an extra $2 in Overtime Charges. 
Download the Zyp App from the App Store and Google Play 
Related News
Filed Under: Downtown Birmingham, Family Friendly, Front Page, Get Involved, Small Business, Yaysayers

With summer just around the corner, kids will soon be out of school and insisting on getting out of the house. Luckily, Downtown Birmingham has an abundance of family-friendly activities that will keep your kiddos entertained and create lifelong memories.

We know taking kids out for extended periods can be challenging; that's why we have curated a list of experiences designed to be enjoyable within a manageable 3 – 4 hour timeframe. This way, both children and parents can make the most of their time without feeling overwhelmed or exhausted. These four experiences include lunch options and are tailored to different ages and personalities.

Filed Under: Downtown Birmingham, Front Page, Get Involved, REV Team, Yaysayers

Meet Michael Symes, the new City Center District Manager for the Business Improvement District (BID). As a long-time resident of Birmingham, Michael brings a wealth of knowledge and experience to the role, having been an active member of the community since graduating from the University of Alabama. In this article, we will explore Michael's journey and learn about his "accidental roots" in the city, as well as his passion for working with the Business Improvement District (BID) of the Magic City. Follow along  as we get to know the person behind the job title and uncover the unique perspective he brings to the role.

Filed Under: Downtown Birmingham, Events, Front Page, Yaysayers

Brian Allen, a talented cornerback, has made the remarkable transition from a small town in Texas to the vibrant city of Birmingham. Choosing Birmingham for his football career for two consecutive seasons, Brian's unwavering dedication and exceptional skills have made him a standout figure in the world of football. To dive deeper into Brian's journey and discover his genuine appreciation for the city, watch this video with the link below!