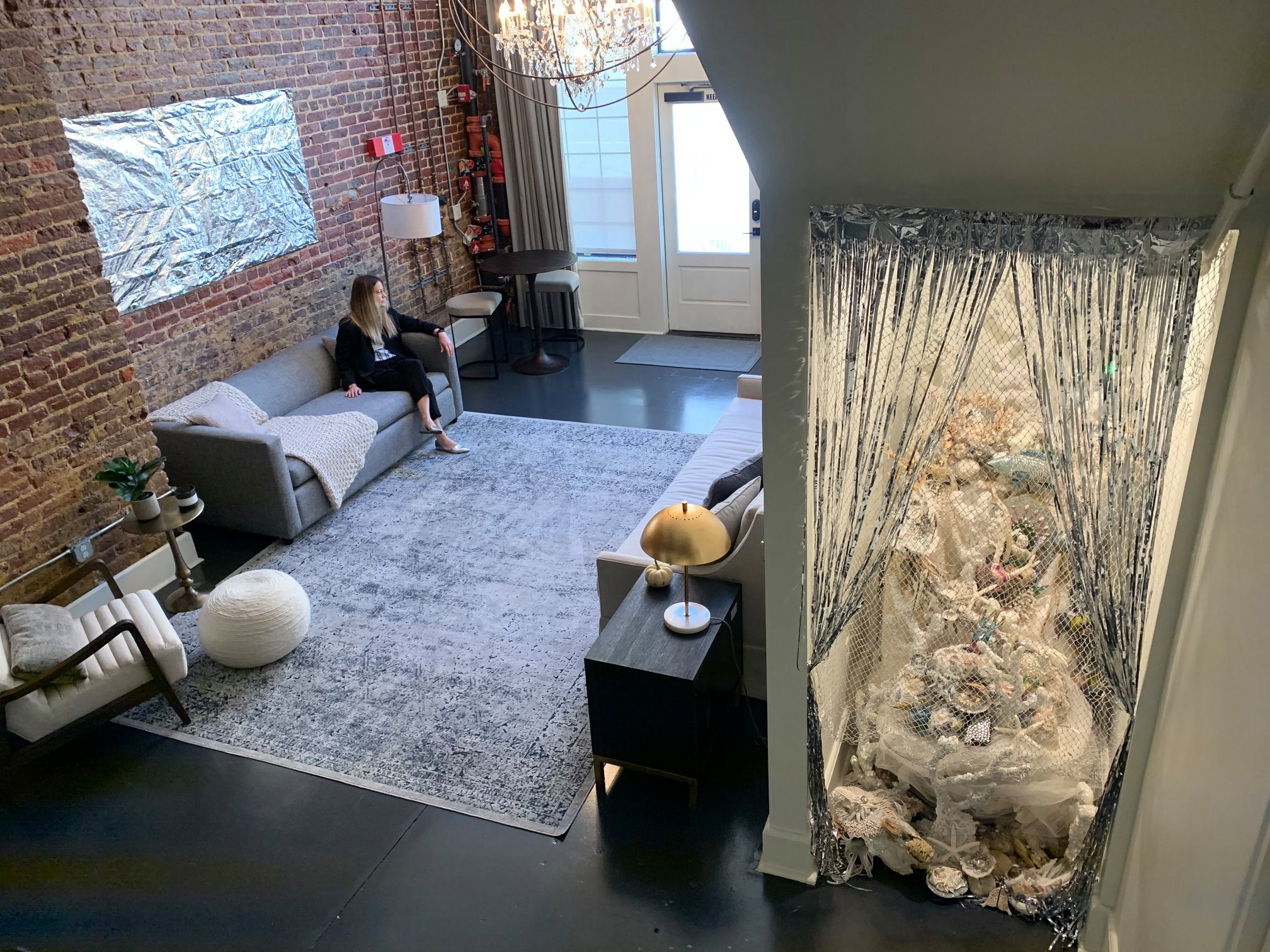 Ann Trondson and Melissa Robert Yes describe the two spaces that house Vinegar as "two halves of a beating heart."  
The two artists started Vinegar in 2018 as an art collective throwing shows in a shed and have since morphed it into a nonprofit with two properties— Airbnb x Vinegar, which is now open on 2nd Avenue downtown and Vinegar Contemporary in Forest Park, which opens on Feb. 21.  
REV assisted the organization in the process and Trondson also served as a mentor in The Big Pitch presented by PNC Bank, a shark tank-style business competition organized by REV.  
The two properties serve two sides of the same purpose—to expose people to art.  
Airbnb x Vinegar allows visitors to see what Birmingham's local art scene is about as they book the space for their stay. Locals can also check out the installations in the space during open houses hosted every second Wednesday of the month.  
"It's meant to be a place where people are visiting to engage with art and even live with art," Trondson said. "Most people don't live with contemporary art. They might live with some print from IKEA, Target or whatever, but they don't really live with art. It gives an opportunity for people to be like, 'Well, I could live with a video, cool. I could live with this big sculpture. I love this."  
Yes and Trondson say they got the name from the multi-purpose solution that's a staple in most kitchens. Like actual vinegar, they say that art has nourishing and transformative properties.  
"The reason we like that name is that it's a substance that comes from a process of fermentation," Yes said. "There is a live culture that's actively transforming the substance that it lives in. That's a great metaphor for art. There's also that culinary thing where if you add just a dash of vinegar to a dish, it totally transforms it and makes it even more awesome than it already was." 
Vinegar Contemporary is a chance for the organization to bring in art from other places, with aims for Birmingham becoming even more of a player in the international art community.  
"The more we demonstrate this amazing, thought-provoking, forward-thinking, boundary bending art stuff happening in Birmingham, people from outside of Birmingham will notice that and will have more positive associations with this city," Yes said.  
Check out photos from Airbnb x Vinegar below:  
Related News
Filed Under: Events, Front Page

It's officially spooky season and the Innovation Depot is wasting no time getting into the Halloween spirit! They are hosting their first ever "Tech or Treat" event on Thursday, October 28 from 3:30 to 6:00 p.m. The event is free and open to the public – what better way to kick off Hallo-weekend?!

Filed Under: Downtown Birmingham, Front Page, Yaysayers

Downtown Birmingham is full of beautiful buildings, both new and old! A good portion of those buildings consist of churches, and while many of them are beautiful to look at, they also have a rich history that often gets overlooked.