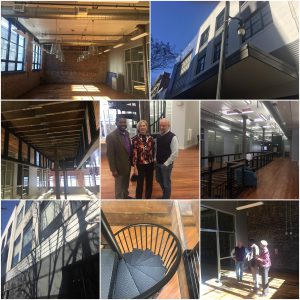 When Action Resources made the decision to relocate its headquarters from Hanceville to downtown Birmingham two years ago and renovated the space over Paramount Bar at the corner of 2nd Ave North and 20th Street,  the specialized transportation services company expected to grow. And it has – faster than expected! Now, a multi-million renovation of the adjoining space facing 2nd Avenue North has transformed an eyesore into a stunning example of urban, open-architecture office space. CEO Dean Flint says downtown provides the amenities and vibe that appeals to the young, educated workforce the firm primarily recruits.
The project to transform historic space into a modern gem is the result of collaboration and participation by several organizations including Action Resources developer Shannon Waltchack and property owner Ladd Real Estate. We were proud to play a role in moving the project along and solving problems along the way!
Related News
Filed Under: Downtown Birmingham, Front Page

Sept. 15, 56 years to the day that a bomb killed four little girls— Addie Mae Collins, Denise McNair, Cynthia Wesley and Carole Robertson— a new interactive museum will open honoring the girls and the chain of events their murders set off in the Civil Rights Movement.