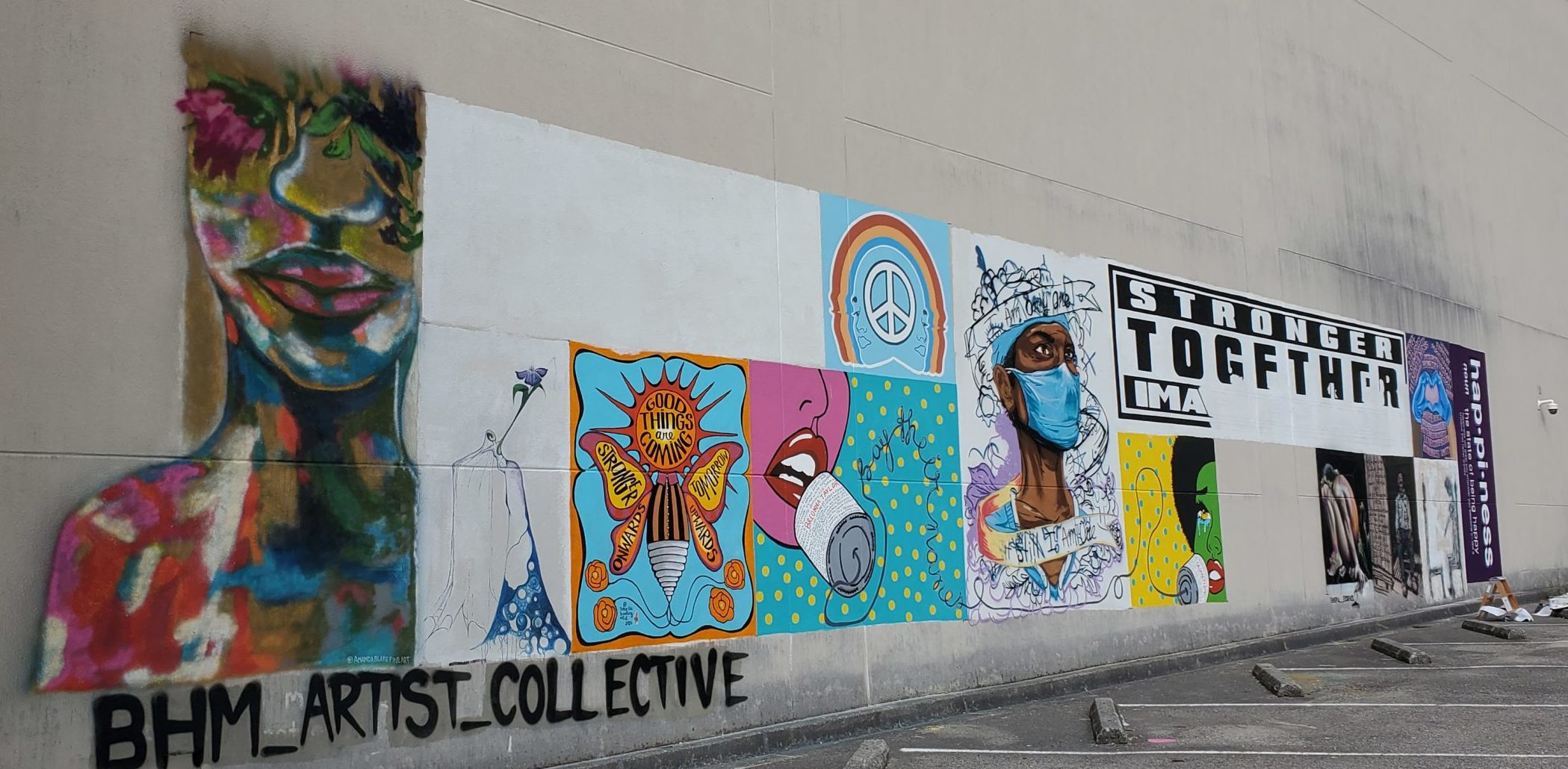 Birminghamians are looking for a way to give back and share their voices during this time—and that's doubly true for creatives.
Art has turned downtown into a temporary outdoor art museum, and one mural on the side of the building that houses the Upswing lot is taking shape and showcasing the voice of several artists from Fitz Hand Painted Signs, Blank Space Bham, BHM Artist Collective in collaboration with REV.
REV recently caught up with Meghan McCollum of Blank Space, co-organizer of the mural, about the evolving meaning behind the piece and how public art can spark much-needed conversations.
Q: How did this mural come together?
A: Shawn from Fitz Signs, who did the "We're All In This Together" mural in Homewood, made a post on his Facebook page saying he would like to work with some of the best artists of Birmingham to do a collaborative project. He wanted to find a big wall, put a big message of encouragement on it, and work with as many people as possible. Because of my experience working with the community and organizing bigger projects, I wanted to help in whatever way possible. I jumped on it. He looped me in, and that's when I reached out to my connections at REV.
Q: What was the initial point of the project?
A: The whole point of it was to encourage essential workers because when we were conceptualizing this project, they were the only ones who were really downtown during the quarantine. It was to send a message of encouragement and positivity—To kind of keep their chins up, and that people were thinking of them and thankful for them.
Q: What has it evolved into?
A: It took about two-and-a-half months for it to really materialize. In that time, the climate has changed. 2020 is showing us that it will change quickly. We thought that we would be remiss to not take the opportunity to address George Floyd's death, police brutality. But, not everyone took that approach. We were all independent in what we were bringing to the mural. It's just a collaborative effort, so if you wanted to say something about COVID-19, you could. If you wanted to say something about the current climate and Black Lives Matter, you could. There was very little organizational structure that said, 'you must do this.'
Q: Can you describe what people can expect to see?
A: We have 18 different artists, ranging from full-time sign painters, art teachers, freelance designers people who do art as a side business. Everyone brought their own style to it, which was really nice. This beautifully organic piece came together with portraits of strength and beauty. You're seeing very colorful things, and, through that, came a lot of portraitures. I would say that generally, the over-arching theme is togetherness, whether through COVID or standing in unity with our neighbors. The idea is that we're in this together. We just want people to know that whatever fight it is they're fighting, they're not in it alone.
Q: What have been some of the reactions of passers-by so far?
A: It almost feels very selfish. A lot of the artists, like myself, weren't expecting the reaction that we're getting because originally when we signed on to it, we thought no one else would be downtown. We thought we'd have to install in shifts and if wouldn't be that sense of community. It's just something that we wanted to give back and knew that in those moments when people encountered it, it would be special. But, what's been such a gift to us has been this immediate return of gratefulness.
I was actually at the wall this past weekend, and a mother, her husband and their two children came out and approached us asking about our piece. The mom asked Lydia, a Black artist and collaborator, what it means and wanted to know more about it. Lydia was explaining the concept and it was really heavy on her. She was explaining that every time she has to speak it [George Floyd's death] or confront it, it's just heavy. The mother starts to cry and cry, her husband starts to cry, and then Lydia starts to cry. The mother asked if she could hug Lydia and they embraced. It was so good. To me, creating the art is so often more important than the end piece. And, that's why I believe in bringing the community together in how we create. It has these opportunities to build something. It was the embodiment of 'we're in this together.'
Related News
Filed Under: Front Page, Get Involved, Historic Preservation, Residential

President and CEO of REV Birmingham David Fleming writes about the importance of historic preservation and highlights the advocacy efforts that saved the French Quarter in New Orleans and the Forest Park neighborhood in Birmingham. The article concludes with a call to action, urging for new leaders and the implementation of various strategies to protect and celebrate Birmingham's historic buildings and places.

Filed Under: Filling Vacant Spaces, Front Page, Small Business, Woodlawn, Yaysayers

Lights, Camera, Action! The rebirth of the Woodlawn Theater is happening this weekend in the heart of Woodlawn. The theater is opening its doors to the public with two extraordinary opening events that are FREE to the public. The 1400 square foot venue has a wide range of amenities and even has a full-service bar. Because of the Mason Music Foundation, this venue is filling a much needed resource for local musicians to perform. Keep reading to discover how the theater came back to life and its impact on the community.

Filed Under: Downtown Birmingham, Events, Front Page, Yaysayers

Brian Allen, a talented cornerback, has made the remarkable transition from a small town in Texas to the vibrant city of Birmingham. Choosing Birmingham for his football career for two consecutive seasons, Brian's unwavering dedication and exceptional skills have made him a standout figure in the world of football. To dive deeper into Brian's journey and discover his genuine appreciation for the city, watch this video with the link below!