The Birmingham City Council Committee of the Whole recently introduced a draft of a Complete Streets Ordinance, a significant step forward in the ongoing advocating of a balanced transportation initiative in the City of Birmingham.  
Complete Streets is an initiative led by a growing number of organizations and individuals who would like to create a network throughout Birmingham of streets that are safe and comfortable for everyone – whether they are walking, riding the bus, using a wheelchair, cycling or driving.   
The new Complete Street Ordinance would require the City of Birmingham to consider all modes of transportation when roadway projects are being completed within the city. This means that instead of just designing a street to accommodate cars, street projects will be evaluated for the possible addition of sidewalks, crosswalks, bus stops and bike lanes.  
One such project already on the horizon is in Woodlawn. The city has committed a budget to reconstructing about five blocks of 1st Avenue South in the community's core. To raise awareness and gain community input for the street design, REV's Catalytic Development team conducted a tactical urbanism project last fall.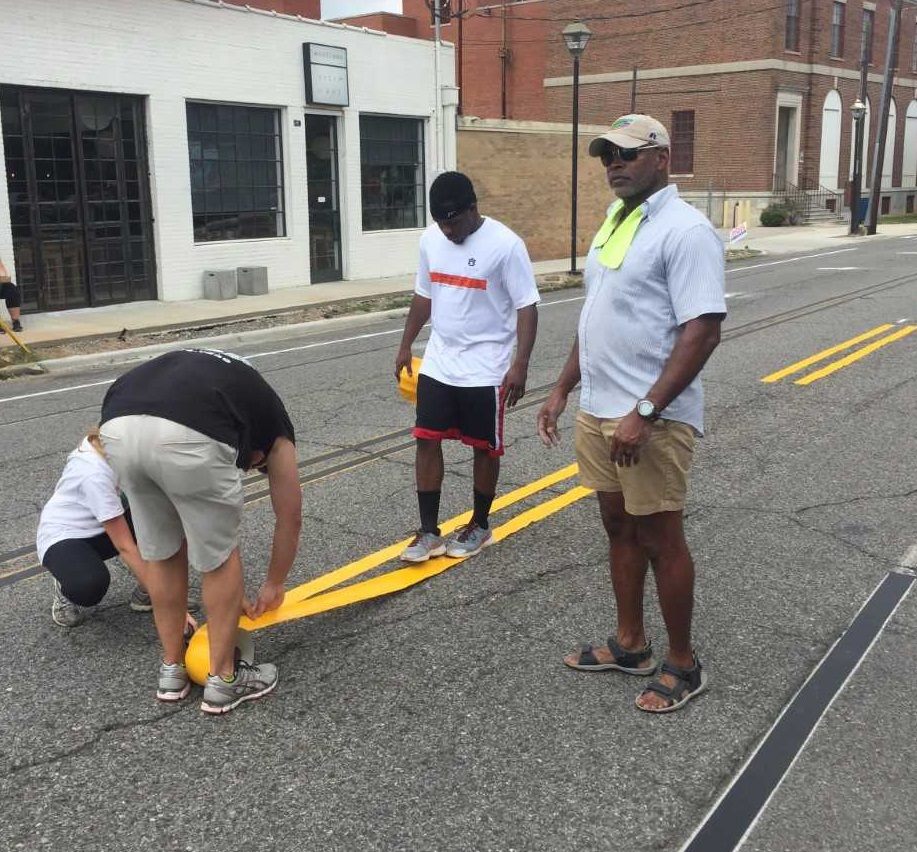 Tactical urbanism projects are community-led with the purpose of reflecting what a specific change in the community would look like, with hopes of the change becoming permanent. In this case, Complete Streets advocates were able to demonstrate how a Complete Streets design could work in Woodlawn. 
In September 2017, a team of volunteers including some REV staff focused their efforts on two Woodlawn blocks, reducing the travel lanes from two to one in each direction. The group created temporary bike lanes, crosswalks and parallel parking with traffic tape to allow the community a preview of how Complete Streets would impact the area.  
To create Complete Streets, public officials must balance competing demands for funding and for space. Each street project will have a unique set of circumstances and opportunities, so they cannot all be the same. However, making a commitment to Complete Streets means ensuring that every new roadway project will balance all these factors to create the safest, most accessible roadways possible.   
If the ordinance is adopted, Birmingham will join more than 1,000 other communities nationally in formally recognizing the importance of Complete Streets. According to WBRC news the Birmingham City Council will hold a public hearing on March 6 to discuss the Complete Streets Ordinance. The policy will likely come up for a formal vote at one of the council's Tuesday meetings in late February or in early March.  
Roadways that are safe and accessible to everyone are critical to building a vibrant community. If you are in support of the Birmingham City Council adopting the Complete Streets Ordinance, sign the petition here. 
Related News
Filed Under: Downtown Birmingham, Front Page, Potential-Proving, Uncategorized, Yaysayers

This Friday, May 20th, we will be having a (20th) Street Party (which you can read more about here) to celebrate the end of our Birmingham Green Refresh! While this certainly calls for a celebration, the party doesn't stop there. We will still be adding some finishing touches to the street after the (20th) Street Party. These additional touches will help make Birmingham's main street more vibrant, interactive, and efficient! Additions will include smart trash cans, free libraries, street performers, and more!

Filed Under: Downtown Birmingham, Front Page, Uncategorized

We've talked about sports, but downtown has so much more to offer! Downtown Birmingham has so many experiences in store for you, which can also turn into life-long memories. And lucky for you, we've created a tool to make all that exploring so much easier!

Filed Under: Downtown Birmingham, Front Page, Potential-Proving

We are approaching the finish line for the 20th Street Refresh, which calls for a celebration – and you're invited! The City Center Business Improvement District (BID), funded by downtown property owners, is partnering with the City of Birmingham and REV Birmingham to celebrate a refreshed Birmingham Green. Come join the party on May 20th from 4 to 8 p.m (with a special celebration happening at 6 p.m.)!