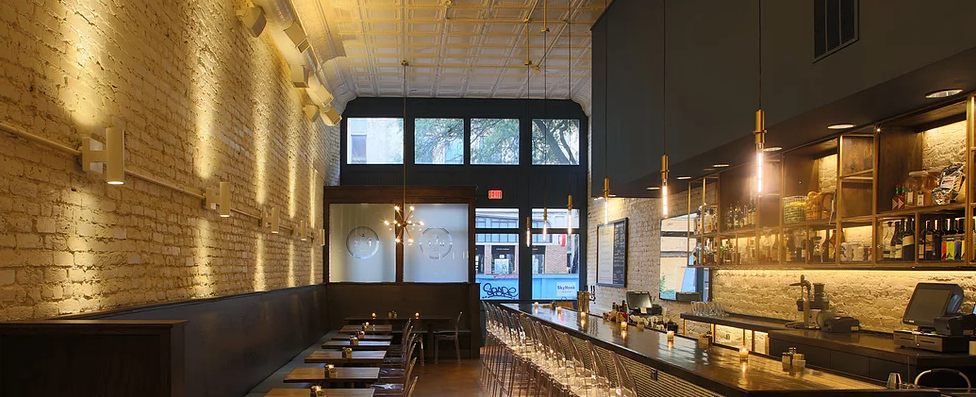 Birmingham is a city practically made for adaptive reuse projects—and Poole and Company Architects is right in the middle of the fray.
"Birmingham in particular as a New South city has a very good stock of existing buildings," said Poole and Company Principal Kyle D'Agostino. "Other southern cities went through urban renewal and got rid of a lot of their turn-of-the-century buildings. We happen to have them. They're sitting here right there staring us in the face. It doesn't always make sense to tear them down."   
Poole and Company has been involved in several such projects around the city such as Bayleaf, Unplugged, and Rodney Scott's BBQ to name a few.   
While everyone can agree that adaptive reuse is a good thing, there are some things that the average person may not be thinking about when they see an older building coming back to life.
Here are a few D'Agostino pointed out in a recent conversation with REV:   
So you have to measure a whole building…
It's essential to get an accurate drawing and accurate dimensions of any building at the beginning of each project, D'Agostino said. So, how does one measure an entire building?    
"We have laser-measuring devices. We have 3D photographic equipment to do this," he said. "It's basically getting on-site and putting your eyeballs on the existing conditions and using whatever means are necessary to document it."   
Knowing what the building is made of and how big all of the windows and doors are also important to spot existing code violations.   
All of this falls under what architects call "due diligence."    
Architects may also do archival research at the library for original plans for the building. Sometimes, those plans will still be inside the building in an old office or in the basement.    
How's the roof up there?
"The roof is the umbrella that protects your entire project," D'Agostino said.    
A building's roof has to be able to withstand holding heavy equipment. A leaky roof can also damage the wood and concrete structure of the building over time. The roof of an older building sometimes has to be reinforced, which can incur a hidden cost. Architects work with structural engineers who assess a building's integrity and can make suggestions on what needs to be reinforced.    
Let's talk (about) trash   
No one wants to think about trash, but someone one has to—especially during an adaptive reuse project.   
Any occupied building is going to create trash. That means thinking about where to put a dumpster—especially at the local restaurants that Poole and Company has designed.     
"It seems so banal, but where are people going to put their trash," D'Agostino said. "Restaurants produce an enormous amount of waste and that waste is nasty. When you're in these adaptive reuse projects, they don't always offer an opportunity for an appropriate dumpster to be located along with the enclosure required for that dumpster."   
That can mean crowded alleyways. Some owners have options such as dumpster sharing or street trash pick-up. Others have to store the waste until it can be taken to the appropriate site. Either way, the health department always asks about waste disposal plans, according to him.     
Who's parking where?
Every piece of property in the city of Birmingham is zoned and comes with parking requirements. Owners have to figure out how to meet parking needs with the new use of the building.    
"That often gets left out," D'Agostino said. "People are like, 'I didn't realize that I'm going to have to get 80 cars on the site.' That's a bad day. You don't want to know that after you've bought the building and asked someone to design it for you."   
Sometimes, owners can lease parking spaces to meet their needs, which goes into monthly overhead costs. A developer should also consider whether tenants or visitors will be willing to use street parking and walk to the building.   
It's all about the flow
Understanding how people and systems will move through the building should be top of mind with any project.    
Materials have to be moved in and out of the building. D'Agostino said it's important to think about how that will happen.    
"Is there a loading dock or is one required? If so, where should it be located? Where does the code say that it should be located? What type of truck is going to service the building? How big is it? All of those things need to be taken into consideration so that the access and flow of all of that can be accommodated," he said.    
Learn more about Poole and Company's adaptive reuse projects here.   
Related News
Filed Under: Business-Proving, Front Page

All too often we catch ourselves reading the news wanting to help, but not knowing where to begin. That's why Maria Underwood created Fundrage, a social impact platform that connects users to nonprofits they can support based on the exact news article that they're reading. Keep reading to find out more about how this app is playing a huge role in creating positive change in real time!

Filed Under: Downtown Birmingham, Front Page, Potential-Proving, Uncategorized, Yaysayers

This Friday, May 20th, we will be having a (20th) Street Party (which you can read more about here) to celebrate the end of our Birmingham Green Refresh! While this certainly calls for a celebration, the party doesn't stop there. We will still be adding some finishing touches to the street after the (20th) Street Party. These additional touches will help make Birmingham's main street more vibrant, interactive, and efficient! Additions will include smart trash cans, free libraries, street performers, and more!

Filed Under: Downtown Birmingham, Front Page, Uncategorized

We've talked about sports, but downtown has so much more to offer! Downtown Birmingham has so many experiences in store for you, which can also turn into life-long memories. And lucky for you, we've created a tool to make all that exploring so much easier!