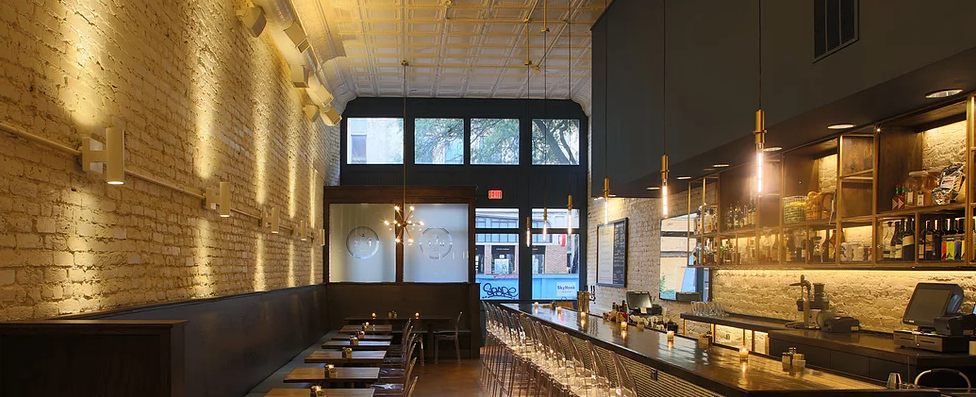 Birmingham is a city practically made for adaptive reuse projects—and Poole and Company Architects is right in the middle of the fray.
"Birmingham in particular as a New South city has a very good stock of existing buildings," said Poole and Company Principal Kyle D'Agostino. "Other southern cities went through urban renewal and got rid of a lot of their turn-of-the-century buildings. We happen to have them. They're sitting here right there staring us in the face. It doesn't always make sense to tear them down."   
Poole and Company has been involved in several such projects around the city such as Bayleaf, Unplugged, and Rodney Scott's BBQ to name a few.   
While everyone can agree that adaptive reuse is a good thing, there are some things that the average person may not be thinking about when they see an older building coming back to life.
Here are a few D'Agostino pointed out in a recent conversation with REV:   
So you have to measure a whole building…
It's essential to get an accurate drawing and accurate dimensions of any building at the beginning of each project, D'Agostino said. So, how does one measure an entire building?    
"We have laser-measuring devices. We have 3D photographic equipment to do this," he said. "It's basically getting on-site and putting your eyeballs on the existing conditions and using whatever means are necessary to document it."   
Knowing what the building is made of and how big all of the windows and doors are also important to spot existing code violations.   
All of this falls under what architects call "due diligence."    
Architects may also do archival research at the library for original plans for the building. Sometimes, those plans will still be inside the building in an old office or in the basement.    
How's the roof up there?
"The roof is the umbrella that protects your entire project," D'Agostino said.    
A building's roof has to be able to withstand holding heavy equipment. A leaky roof can also damage the wood and concrete structure of the building over time. The roof of an older building sometimes has to be reinforced, which can incur a hidden cost. Architects work with structural engineers who assess a building's integrity and can make suggestions on what needs to be reinforced.    
Let's talk (about) trash   
No one wants to think about trash, but someone one has to—especially during an adaptive reuse project.   
Any occupied building is going to create trash. That means thinking about where to put a dumpster—especially at the local restaurants that Poole and Company has designed.     
"It seems so banal, but where are people going to put their trash," D'Agostino said. "Restaurants produce an enormous amount of waste and that waste is nasty. When you're in these adaptive reuse projects, they don't always offer an opportunity for an appropriate dumpster to be located along with the enclosure required for that dumpster."   
That can mean crowded alleyways. Some owners have options such as dumpster sharing or street trash pick-up. Others have to store the waste until it can be taken to the appropriate site. Either way, the health department always asks about waste disposal plans, according to him.     
Who's parking where?
Every piece of property in the city of Birmingham is zoned and comes with parking requirements. Owners have to figure out how to meet parking needs with the new use of the building.    
"That often gets left out," D'Agostino said. "People are like, 'I didn't realize that I'm going to have to get 80 cars on the site.' That's a bad day. You don't want to know that after you've bought the building and asked someone to design it for you."   
Sometimes, owners can lease parking spaces to meet their needs, which goes into monthly overhead costs. A developer should also consider whether tenants or visitors will be willing to use street parking and walk to the building.   
It's all about the flow
Understanding how people and systems will move through the building should be top of mind with any project.    
Materials have to be moved in and out of the building. D'Agostino said it's important to think about how that will happen.    
"Is there a loading dock or is one required? If so, where should it be located? Where does the code say that it should be located? What type of truck is going to service the building? How big is it? All of those things need to be taken into consideration so that the access and flow of all of that can be accommodated," he said.    
Learn more about Poole and Company's adaptive reuse projects here.   
Related News
Filed Under: Big Pitch, Front Page, Small Business, Uncategorized

If you've been following REV for a while, you probably remember The Big Pitch Competitions we used to hold back in the day. The Big Pitch presented by PNC was essentially our own little version of Shark Tank. And a lot of your favorite local businesses that participated in this competition now have active retail storefronts that you can go check out. Let's start with some of our finalists that are based in the City of Birmingham and see what they've been up to!

Filed Under: Developer, Downtown Birmingham, Filling Vacant Spaces, Front Page, Potential-Proving, Uncategorized

Have you been to Downtown Birmingham's newest development located on 25th Street? If not, you need to head down there ASAP and check it out! This new single story development is a product of a collaboration between David Baker Architects (DBA) and Locke General Contractors, led by DBA's very own Amanda Loper. It is intended to be a "collaborative commercial space in a catalyst development area of Birmingham." Both DBA and Locke General Contractors will be tenants of the space, along with June Coffee Roasters, Zephyr Barber, and Last Call Baking Cooperative!

Filed Under: Downtown Birmingham, Events, Front Page, Uncategorized

One of Birmingham's many hidden treasures is the music scene downtown. The sheer volume of concert venues we have in downtown Birmingham is something most people aren't even aware of – but it really is remarkable! There is truly something for everyone, whether you're into the smaller, more intimate venues or the large-scale venues for those big name artists. Keep reading to check out some of the cool venues downtown Birmingham has to offer.