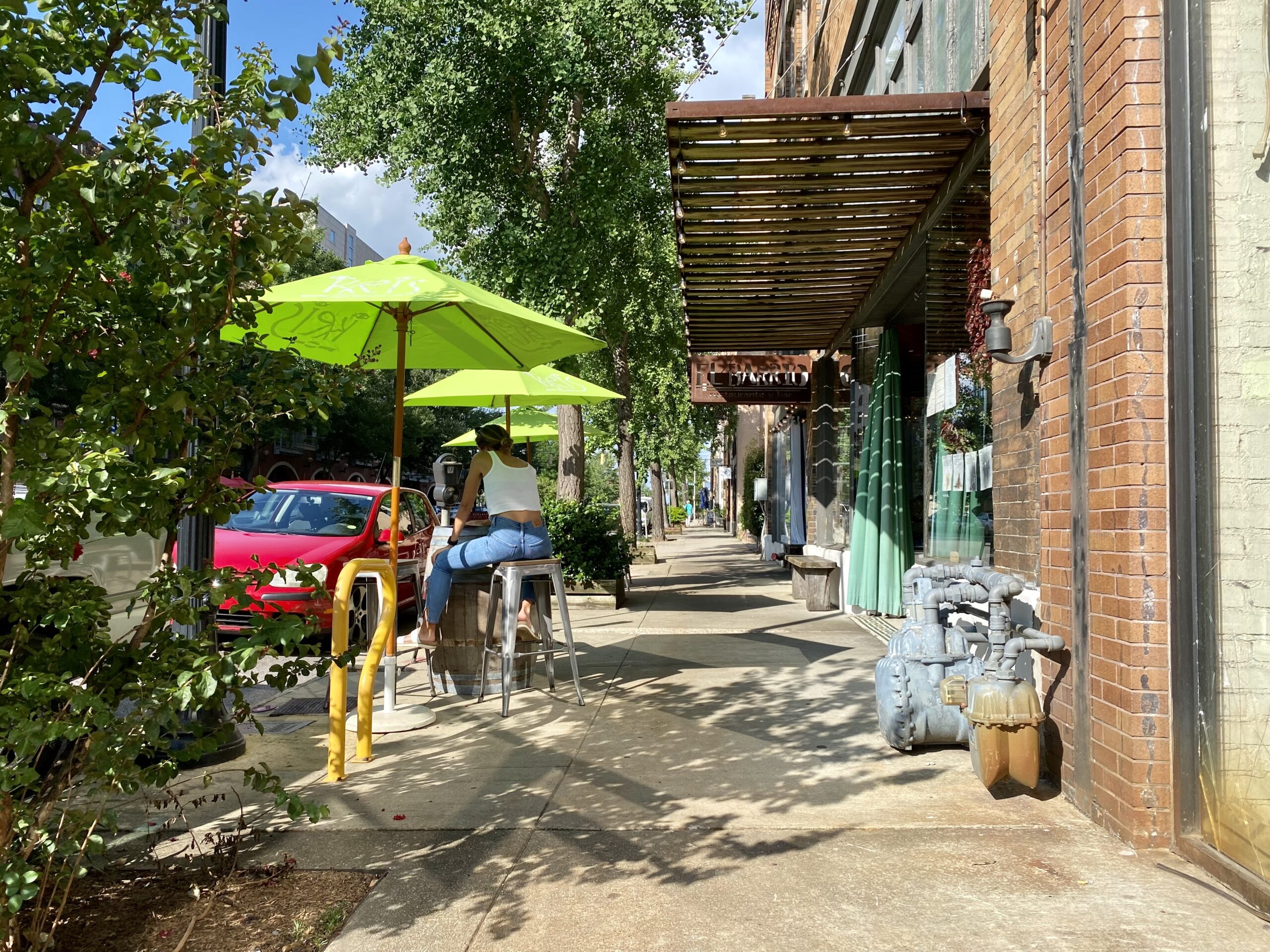 When the pandemic began, there was a lot of economic uncertainty for many businesses, including restaurants that had once relied on packed dining rooms. With advocacy and policy-drafting support from REV, the City of Birmingham approved a Shared Space Permit in September 2020 that would allow restaurants and bars to utilize outdoor public space and follow social distancing guidelines.  
The new Shared Space Permit allowed Birminghamians to start thinking about public space differently. It gave us a wider set of tools to address the needs of businesses and patrons during the pandemic and beyond. Plus, it looks cool.
Tables and chairs, umbrellas, planters and more creative touches have popped up on sidewalks outside some of our favorite Birmingham eateries. Local restaurants—including Rojo, Trattoria Zaza, The Lumbar, El Barrio and more—created fun spaces for al fresco dining that attracted customers.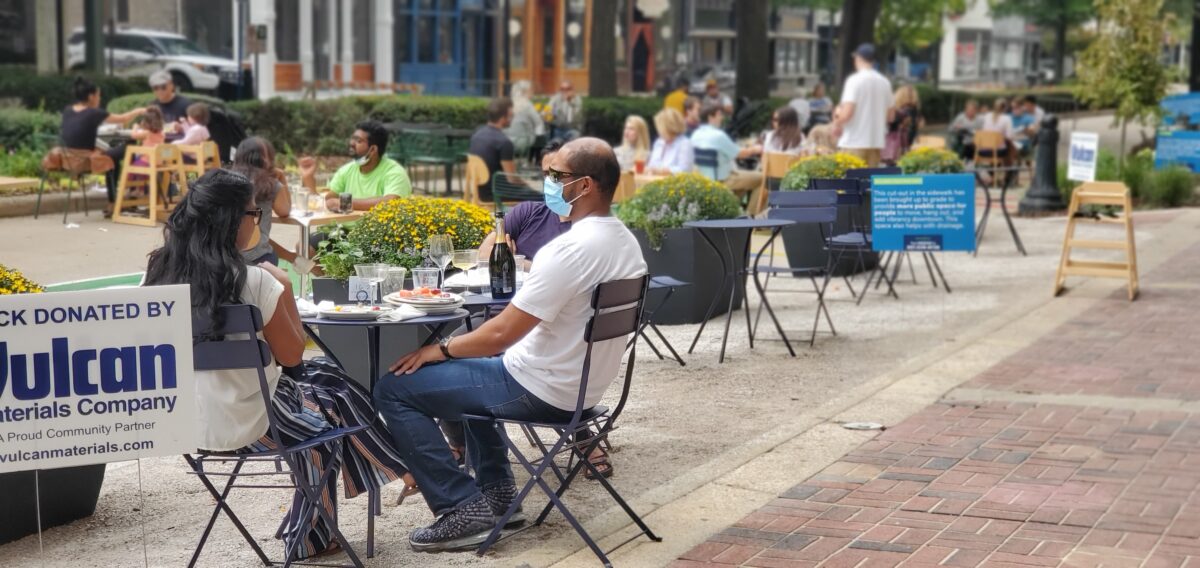 The 20th Street flex lane—created by the City and REV in 2020 and made permanent in 2021—went one step further by encouraging innovation within the lane reclaimed from vehicular traffic, using a new colorful pattern to express that this was something new and different.
One Birmingham hot spot reported an 11% increase in sales compared to the same period in 2019. That jump began only after Birmingham's Shared Space Permit was implemented.  
At REV, we love seeing the added vibrancy on the street as patrons enjoy outdoor dining in our beautiful city. As indoor dining reopens, cities across the country are realizing that ending expanded outdoor dining could mean leaving money on the table.  
We need to look at these examples as we start thinking about the future of outdoor dining in Birmingham. City officials, restaurant owners, and residents of Boston all agree that outdoor dining has positively impacted their community. Not only does it benefit the community, but it is also a great way to help the restaurant industry bounce back post-pandemic. Read more about Boston's experiences with outdoor dining here!
Have you enjoyed outdoor dining in Birmingham?
Let us know what you'd like to see in the future of outdoor dining by taking a short two-question survey below. Your feedback can help us shape our next steps!
Related News
Filed Under: Big Pitch, Front Page, Small Business, Uncategorized

If you've been following REV for a while, you probably remember The Big Pitch Competitions we used to hold back in the day. The Big Pitch presented by PNC was essentially our own little version of Shark Tank. And a lot of your favorite local businesses that participated in this competition now have active retail storefronts that you can go check out. Let's start with some of our finalists that are based in the City of Birmingham and see what they've been up to!

Filed Under: Developer, Downtown Birmingham, Filling Vacant Spaces, Front Page, Potential-Proving, Uncategorized

Have you been to Downtown Birmingham's newest development located on 25th Street? If not, you need to head down there ASAP and check it out! This new single story development is a product of a collaboration between David Baker Architects (DBA) and Locke General Contractors, led by DBA's very own Amanda Loper. It is intended to be a "collaborative commercial space in a catalyst development area of Birmingham." Both DBA and Locke General Contractors will be tenants of the space, along with June Coffee Roasters, Zephyr Barber, and Last Call Baking Cooperative!

Filed Under: Downtown Birmingham, Events, Front Page, Uncategorized

One of Birmingham's many hidden treasures is the music scene downtown. The sheer volume of concert venues we have in downtown Birmingham is something most people aren't even aware of – but it really is remarkable! There is truly something for everyone, whether you're into the smaller, more intimate venues or the large-scale venues for those big name artists. Keep reading to check out some of the cool venues downtown Birmingham has to offer.