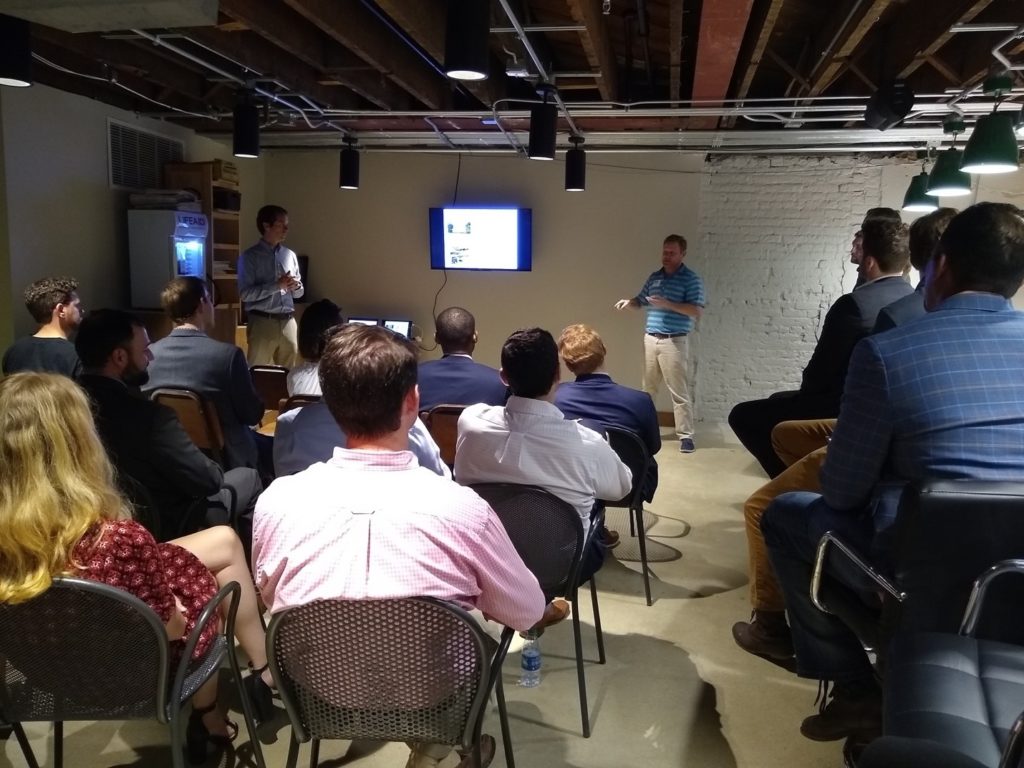 The Local Loft at the brand-new Harvest Market held more than 30 people for a discussion on The Importance of Place with the Alabama Futures Fund recently in downtown Birmingham.
After introductions from Young Pioneers, Harvest Market, and REV CEO David Fleming, the event kicked off an open discussion with Redhawk Consulting, the managers of the Alabama Futures Fund.
Redhawk Consulting partners Matt Hottle and Mickey Millsap manage the $25 million venture capital fund, which they raised with a number of organizations and individuals including Raymond Harbert and Charles Barkley.
Hottle and Millsap spoke and answered questions for 45 minutes on what their vision for the AFF is, why they as transplants from other states chose to make Birmingham their home, on the companies they've helped relocate to or stay in Alabama, and on what makes Birmingham unique.
The Fund, which will invest all $25 million in seed-stage startups over the next several years, requires all firms to stay in or relocate to Alabama. When asked what makes Birmingham unique, Hottle declined to pick just one aspect.
"The thing about picking one aspect is that I wouldn't ever pick just one," Hottle said. "Birmingham and the state have so many great things going for it."
The partners also addressed some common myths about doing business in Birmingham, saying that the companies they're courting have all loved their community experience in the city and that, unlike famous startup cities like San Francisco, there's no shortage of talent in Birmingham.
Hottle highlighted how Birmingham's welcome, warm, communal culture played a major role in securing one of the Fund's earliest companies, Joonko. An Israel-based startup, Joonko relocated from San Francisco after a seven-month evaluation period of Birmingham. Joonko's founder specifically told Hottle and Millsap how important the kibbutz-like community in the city was to her decision.
The Fund specifically works with seed-stage, high-growth startups with the hopes of helping a handful achieve tremendous success. The startup industry understands that many startups will fail while a few go on to be wildly successful. The Fund's hope is to support startups the right way so that few startups fail along the way.
The presentation left a big impact on the attendees.
"The biggest takeaway is encouragement and hopefulness for the vibrancy in downtown Birmingham. It makes me want to find more ways to get involved," said Matt Cantor.
"It's really exciting to hear from people who have a vision for Birmingham and are actively working to realize that potential. Matt and Mickey are doing important work. I'm looking forward to keeping an eye out for the companies that they're funding and mentoring," said Brita Brudvig.
"I thought that it was a comprehensive overview of the Alabama Futures Fund and I have a greater understanding of how it originated and its purpose as well as the next steps," said Martin Briggs with ULECx.
Attendees also heard from Harvest Market about their plans, including to build a full-service beer and wine bar, and eventually co-working spaces, into the Local Loft in the back of the Market.
Formerly Organic Harvest, the Market serves Birmingham's urban core with locally-sourced food, beer, wine, supplements, a juice bar, grab-n-go meals, pet food and even hardware.
Like AFF, the Market built its entire business model around knowing how important place is in a city. The Harvest Market team believes that "eating right should not be a privilege, and we want to change that."
Be on the lookout for news from Young Pioneers about our next event
The Young Pioneers and REV would like to thank everyone who attended our discussion on The Importance of Place with the Alabama Futures Fund, hosted at Harvest Market! REV's mission is to create vibrant commercial districts and Young Pioneers supports that mission by helping create advocates for the City of Birmingham!
Interested in learning more about REV or the Young Pioneers? Reach out on Facebook or by email at youngpioneersbham@gmail.com.
Related News
Filed Under: Events, Front Page

It's officially spooky season and the Innovation Depot is wasting no time getting into the Halloween spirit! They are hosting their first ever "Tech or Treat" event on Thursday, October 28 from 3:30 to 6:00 p.m. The event is free and open to the public – what better way to kick off Hallo-weekend?!

Filed Under: Downtown Birmingham, Front Page, Yaysayers

Downtown Birmingham is full of beautiful buildings, both new and old! A good portion of those buildings consist of churches, and while many of them are beautiful to look at, they also have a rich history that often gets overlooked.