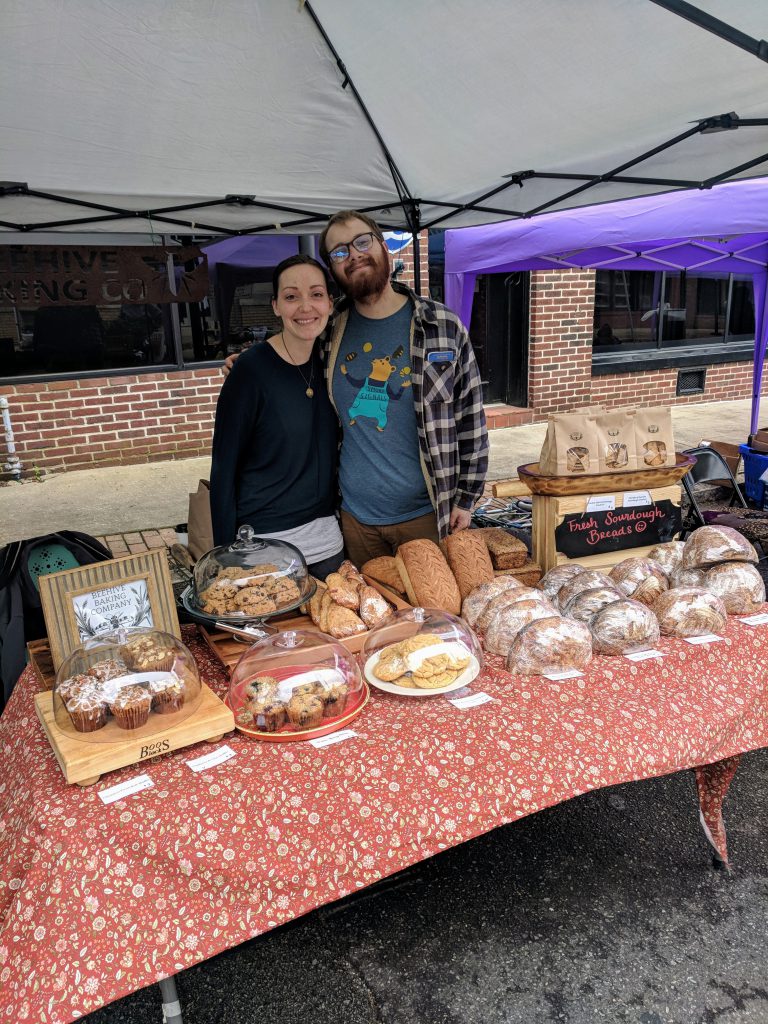 As the Birmingham food scene grows, Beehive Baking Company owners Sarah Schlund and Caeden Oliver are using Woodlawn Street Market to reach new customers. The co-owners first participated in the market last fall, and both say they've learned a lot through the process.
REV Birmingham asked Sarah and Caeden a few questions about how the Woodlawn Street Market has helped take their business to the next level.
REV: Why was Birmingham your choice city for your business?
Beehive: Birmingham is quickly becoming a food hub of the Southeast with more people searching for unique, high quality, locally sourced eats. We love the idea of being an active participant in that movement.
REV: Why did you decide to join the Woodlawn Street Market lineup?
Beehive: We love the sense of community that it brings to this corner of the city – and it's just a fun market! What other farmer's markets host dance offs!? The vendor selections are unique, and we appreciate that y'all choose to support small businesses who are just at the start of their journeys.
REV: Why do you think it is so essential that communities support local businesses, specifically local startup businesses?
Beehive: Local businesses promote a strong sense of community – when you buy from a small business owner, you're buying from someone who actually cares about what they are offering and has put in a lot of time and often made a lot of sacrifices to try and build something from the ground up.
REV: How has your offering to the community changed from your first Woodlawn Street Market to now?
Beehive: We have a better understanding now that less is more when it comes to the variety of baked goods that we offer. At our first few markets we tried to bring a little of everything that we thought people would want. We are now much more precise and thoughtful in our selections and try to bring only the baked goods that we know we are great at and that set us apart.
REV: How do you apply what you learn in the CO.STARTERS classroom to your business operations?
Editorial note: CO.STARTERS is a 10-week program that equips aspiring entrepreneurs with the insights, relationships and tools needed to turn business ideas into action. CO.STARTERS is a program of Create Birmingham. REV is proud to partner with Create on this initiative.
Beehive: CO.STARTERS focuses a lot on getting feedback from not only current customers but potential customers, competitors, and really just anyone and everyone. They've taught us to reach outside of our bubble and seek advice and feedback from people that we probably wouldn't have considered before.
REV: What connections have you made?
Beehive: Because we deliver to our customer's homes, we have very personal relationships with many of them. We have amazing customers and they are always very helpful in providing us with useful insight and suggestions to improve our business and make it better.
REV: In what other ways do you get your name and product out there?
Beehive: We'll be at West Homewood Farmer's Market starting in May. Many of our customers also use our service to send gifts to friends, neighbors and clients, so fortunately our customers do a lot of marketing for us!
Follow Beehive Baking Company on Facebook and Instagram.
—
The next Woodlawn Street Market is Saturday, June 9! Make plans to spend your day in the heart of historic Woodlawn, and discover up to 80 vendors selling art, clothing, food and more at the neighborhood market
Related News
Filed Under: Front Page, Get Involved, Woodlawn, Yaysayers

In his work with REV and Woodlawn Urban Main, Jason focuses on enhancing historic buildings and planning public art—things that breathe life and beauty into the Woodlawn landscape.

Filed Under: Front Page, Small Business, Workshops

Grow with Google coaches are mentors, teachers and leaders who want to help entrepreneurs achieve their goals. See upcoming webinars!