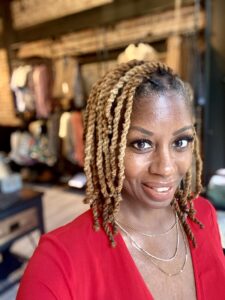 Aisha Taylor is no stranger here at REV. She went from being a vendor at Woodlawn Street Market to opening her very own Brick and Mortar store – Bridge + Root – in Downtown Birmingham, which specializes in men's fashion and has been wildly successful. We have followed her journey very closely and, as with every new endeavor, there are bound to be lessons learned along the way. Taylor is here to share eight of the most valuable lessons she has learned since opening her store this summer. Fellow business owners – take notes!
Lesson #1: Be COMMITTED
You have to show up! You have to be fully committed to wearing each hat that you're called to wear in your day to day life as an entrepreneur. At least until you're able to hire! You have to show up. If you can afford to outsource, do it! This will allow you to free yourself up so that you're able to be in your creative element more often. But if you can't, you have to be committed to doing what you have to do until you can.
Lesson #2: Accountability
Although you're your own boss, you have to hold yourself accountable. Accountability can be tough sometimes but so necessary. Return the call, mail out the package, tag the products, get it done! And be timely doing so.
Lesson #3: Focus on YOU
Now that I've stepped out on faith and opened a store, getting sucked into the non-stop scroll of social media is a huge no-no. It depletes so much of your time so quickly when that time could be poured into growing your own business versus looking or watching other businesses that have poured into theirs. Be intentional about handling your business.
Lesson #4: Expect the unexpected
Stay ready for the unexpected. Expecting things to always go as planned is, unfortunately, unrealistic. For example, I planned to be open for Father's Day but due to delayed construction, we didn't open for a month later. Or based on ship dates, Fall merchandise should've arrived early September but didn't begin to arrive until October. Have a pivot in place or at least in back of mind. Don't let it take you down an emotional spiral. It's just part of it. Man up and keep moving!
Lesson #5: Balance
Balance. It's so easy to go down the rabbit hole of being an 'if I don't get this done now then xyz will happen'. Give yourself an unplug time. It's so much easier said than done but time waits for no one and some of the most precious moments in life are when we press pause and smell the flowers. Balance, especially as an entrepreneur, requires intentionality. #notetoself
Lesson #6: Be authentic
Stay true to who you are and what makes you and what you offer special. Not everyone will like you or what you have. And that's totally okay. You're not for everybody. Your tribe is out there. If you continue being authentic, your people will find you and you will find your people.
Lesson #7: Never stop taking notes
Take great notes. Creatives are always thinking. Always. The worse thing is to have a great idea and you lose it. Whether huge or small, jot it in your phone, a notepad. It doesn't matter. Just jot it! Don't assume you'll remember. You probably won't.
Lesson #8: Do your research
Learn your products. Most things in my store I can give a full run down on but other things, I'm still learning. A guy asked me, what now seems like the most simple question, but because I didn't know the answer, felt huge. He asked me how long our candles burn. I didn't know. Of course I went straight to research our candle company to find out but in that moment, in that very moment, I didn't know. You won't know it all. Especially starting out, however, don't let that be a hindrance getting started. If we waited until everything was perfect we would never start, BUT over time, consistently educate yourself on your products.
Don't forget to head downtown and check out Bridge + Root and see how all these lessons have been put into play! The store is located at 2212 Morris Ave Ste# 200, Birmingham, AL 35203. Follow them on Facebook and Instagram @bridge_and_root to stay in the know about all store updates!
Related News
Filed Under: Big Pitch, Front Page, Small Business, Uncategorized

If you've been following REV for a while, you probably remember The Big Pitch Competitions we used to hold back in the day. The Big Pitch presented by PNC was essentially our own little version of Shark Tank. And a lot of your favorite local businesses that participated in this competition now have active retail storefronts that you can go check out. Let's start with some of our finalists that are based in the City of Birmingham and see what they've been up to!

Filed Under: Developer, Downtown Birmingham, Filling Vacant Spaces, Front Page, Potential-Proving, Uncategorized

Have you been to Downtown Birmingham's newest development located on 25th Street? If not, you need to head down there ASAP and check it out! This new single story development is a product of a collaboration between David Baker Architects (DBA) and Locke General Contractors, led by DBA's very own Amanda Loper. It is intended to be a "collaborative commercial space in a catalyst development area of Birmingham." Both DBA and Locke General Contractors will be tenants of the space, along with June Coffee Roasters, Zephyr Barber, and Last Call Baking Cooperative!

Filed Under: Downtown Birmingham, Events, Front Page, Uncategorized

One of Birmingham's many hidden treasures is the music scene downtown. The sheer volume of concert venues we have in downtown Birmingham is something most people aren't even aware of – but it really is remarkable! There is truly something for everyone, whether you're into the smaller, more intimate venues or the large-scale venues for those big name artists. Keep reading to check out some of the cool venues downtown Birmingham has to offer.