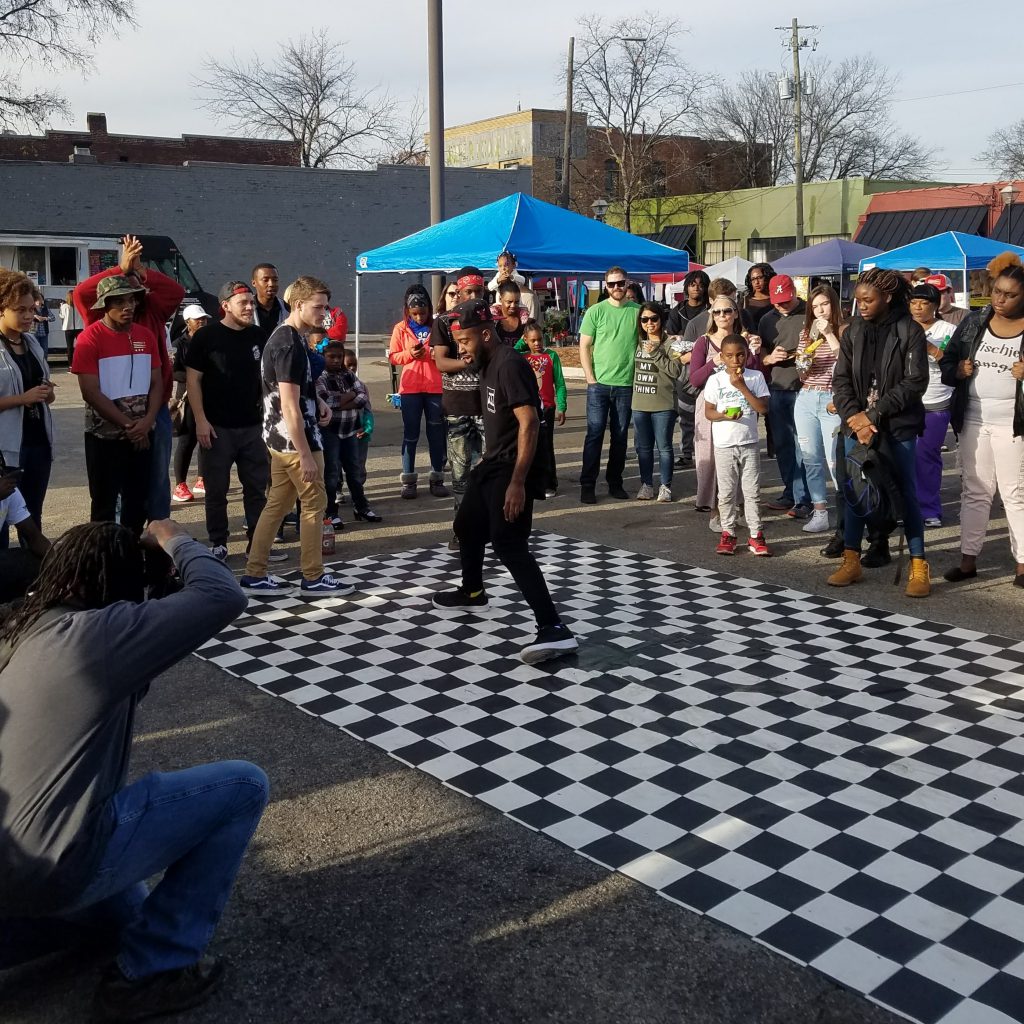 Woodlawn Street Market, now with five markets in its fifth year, is getting ready for its first-ever October Woodlawn Street Market! The Saturday, October 13 market on 55th Place South in Woodlawn will have a special focus on health and wellness.
In lieu of the market's usual dance battle, Muriel Tarver of Creative Mindz Dance has planned a more interactive health and wellness-focused experience. From 10 a.m. to noon, try your hand(s and feet) at MixxedFit Hip Hop Exercise; then from noon to 2 p.m., learn some graceful new moves from a  ballroom dance instructor.
"Health and wellness are important points of interest in the dance community," Tarver said. "We want people to understand that they can be fun!"
Marketgoers can also talk with a personal trainer, get a mini massage from a massage therapist and learn more about planning out healthy meals from a chef and meal prep specialist. The market's on-site graffiti artist is even planning some special wellness-themed art.
As always, Woodlawn Street Market shoppers can find art, jewelry, clothing, children's books and toys, fresh produce, plus delicious food – all from startup businesses that they may not have seen before.
The market works to welcome first-time vendors, and you can expect to see at least ten new vendors each market!
Woodlawn Street Market community partners include Woodlawn Business Association, Woodlawn United, The Dream Center, Imperial Formal Wear and Woodlawn United Methodist Church.
For more details about Woodlawn Street Market, Contact market organizer Bekah Fox at woodlawnstreetmarket@gmail.com.
Related News
Filed Under: Filling Vacant Spaces, Front Page, Get Involved, Small Business

In less than a year after arriving in the United States, the Vyshyvanyuk family, who recently fled from Ukraine, is now launching NiEl' Bridal Atelier, a custom wedding dress and alterations business in Forest Park. Olena and Mykola Vyshyvanyuk, along with their three children – Viktoriia Vyshyvanyuk, Eva Vyshyvanyuk, and Loanna Vyshyvanyuk – made the courageous decision to leave Ukraine on November 7, 2022. This family's inspiring story serves as a testament to the boundless opportunities that small businesses can achieve in Birmingham.

Filed Under: Business-Proving, Downtown Birmingham, Filling Vacant Spaces, Front Page, Small Business

Are you a startup looking for a foot in the door? Did you know we have an accelerator program that helps founders begin their entrepreneurial journey right here in the Switch district? TechStars is a dynamic three-month program that empowers entrepreneurs in their quest to discover product-market fit, gain traction, and access both capital and global mentorship. Operating in more than 30 cities worldwide, Techstars added Birmingham as a host for their energy-focused cohort.

Filed Under: Front Page, Small Business, Woodlawn, Woodlawn Street Market

The Woodlawn Street Market is a platform for small businesses to showcase their talents and products. From handmade jewelry to locally sourced produce, you can find a wide variety of items that highlight the creativity and craftsmanship of the Birmingham community Among the talented individuals who have found a home in this vibrant marketplace is none other than Johnathan Westbrook, fondly known as Jon Jon, and the majority owner of the Broncho Food Truck. This new food truck made its debut back in August and will be back again for this week's market.