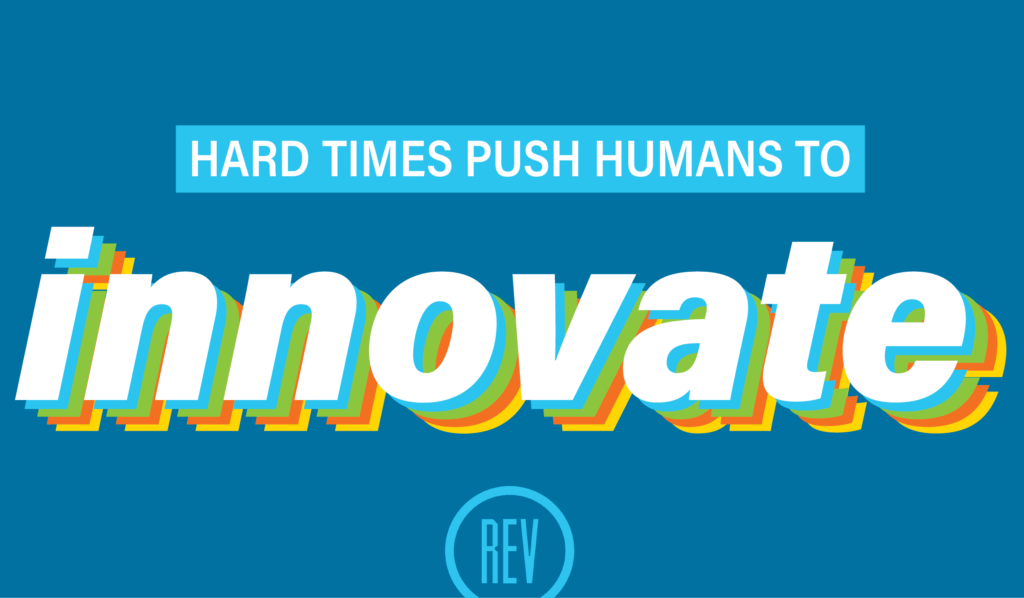 By David Fleming
President & CEO, REV Birmingham 
We, as humans, love routines. Their familiar structure is comforting because we know what to expect and what to do next.   
But, across the world, the COVID-19 pandemic is pushing us out of our routines. Based on recommendations from the World Health Organization (WHO) and the U.S. Centers for Disease Control (CDC), we are making hard decisions to keep ourselves and our families safe. And we're also working to figure out what to do next.  
Here's the silver lining of COVID-19: Hard times push humans to innovate.  
You may have seen the Washington Post's history lesson on the birth of Isaac Newton's theories on optics, gravity and motion (oh, and also calculus!) – which he began when he self-quarantined during the Great Plague of London in 1665.  
We don't have plans to add any new math to the mix, but we do plan to use this time wisely and practice one of REV's favorite core values: Daring Problem Solving. REV's team is actively planning for how to address the short-term challenges our partners and clients are facing, and we're already planning for how to ensure that, on the other side of social distancing and quarantines, our city is the most vibrant Birmingham it can be.  
We're involved in conversations with partners in City Hall and across the community about how we can organize to support Birmingham's physical and economic health. #BhamStrong is a movement–fueled by private, public, and civic leadership–to facilitate Birmingham's resilience during the Coronavirus outbreak. You can text BHMCOVID to 888-777 to receive updates about COVID-19 in our community. If you believe your small business will be affected, I encourage you to take the survey at https://bhamstrong.com/smallbusiness to help this group gather information about Birmingham businesses' needs in the coming weeks. 
We're in contact with the Small Business Administration about federal resources available to small business owners. Learn more about the SBA's COVID-19 response here. 
We're reaching out to all of our small business clients who may be impacted to schedule one-on-one coaching sessions (via Zoom) to understand their individual concerns, and we'll do our best to help creatively problem–solve our way through some of the challenges they're currently facing. 
We are working with CAP, its homeless outreach team and our partners at One Roof to address challenges facing downtown's homeless community. Our teams have identified sanitation and education as gaps, and we're actively working to bridge them.
Our own team is working remotely and embracing new tools to increase communication and productivity amid social distancing.  
And finally, we're postponing several events that would bring together crowds of people until after the COVID-19 threat has passed. Woodlawn Street Market on April 4 and Upswing launch on April 2 will no longer happen on those dates. We'll set new dates when timelines are clearer from the WHO and CDC. And, this is important – when we come back, we will come back stronger than ever and invite you to support the makers, starters and dreamers who will need a local customer base more than ever! 
We may be out of our routines right now, but we will emerge from this challenge a stronger, more vibrant city because of how we're innovating right now. Let's wash our hands and do this! #YayBham
News
Filed Under: Downtown Birmingham, Front Page, Small Business, Uncategorized

If you're anything like us, Mother's Day has snuck up on you and now you're scrambling to find a gift before next weekend. Well lucky for you, we're here to save the day! We put together a gift guide for Mother's Day that will not only leave mom with a smile on her face, but it'll help you support local businesses right here in the Ham!
Related News
Filed Under: Downtown Birmingham, Front Page, Uncategorized

We've talked about sports, but downtown has so much more to offer! Downtown Birmingham has so many experiences in store for you, which can also turn into life-long memories. And lucky for you, we've created a tool to make all that exploring so much easier!

Filed Under: Birmingham Food & Drink, Front Page, Get Involved

Ever host an event where you ordered way too much food and end up with more leftovers than you can even fathom? We've been there too – until we learned about Magic City Harvest! Magic City Harvest is an organization working towards ending food waste & hunger in the Magic City. They acquire perishable food from schools, wholesale food distributors, restaurants, caterers, churches, event venues and grocery stores to donate to 30 community partners on the frontlines feeding the city's hungry neighbors.

Filed Under: Downtown Birmingham, Front Page, Potential-Proving

We are approaching the finish line for the 20th Street Refresh, which calls for a celebration – and you're invited! The City Center Business Improvement District (BID), funded by downtown property owners, is partnering with the City of Birmingham and REV Birmingham to celebrate a refreshed Birmingham Green. Come join the party on May 20th from 4 to 8 p.m (with a special celebration happening at 6 p.m.)!